Palladium:

$1,601.00
$33.00
Bitcoin:

$22,884.17
$14.08
Ethereum:

$1,633.27
$6.27
America's First Gold Eagles: Part I
The first of a two-part series on the United States' first ten dollar gold coins from the 18th century.
In the 1780s the newly-formed United States had defeated the most powerful army in the world and won its independence from Great Britain. As the country recovered from the war, our government was being formed. In 1788, the former General of the Armies, George Washington, stood for election as the country's first president. Washington realized that the fledgling country needed to establish a strong central government and that he was the man to do exactly that. Additionally, every country needs its own coinage to allow its commerce to grow and to be able to easily pay its debts. Washington understood that America would need to have that strong coinage. But he was adamant that our coinage should not follow the traditions of countries ruled by monarch, as was common in Europe. America was a democracy, not a monarchy, and Washington did not want his image to be displayed on our coinage; rather he and his Secretary of the Treasury, Alexander Hamilton, believed that allegorical representations of our ideals—such as Liberty or Columbia—should adorn our coinage.

The Coinage Act of 1792, also known as the Mint Act, called for the establishment of an American Mint in Philadelphia, as well as calling for the issuance of numerous denominations of coins. The largest of those denominations was the $10.00 gold coin which was called the Eagle. The two other gold coin denominations were to be the $2.50 (Quarter Eagle) and the $5.00 (Half Eagle). All of our gold coins were mandated to be alloyed of .9167 gold with .0863 of a mixture of silver and copper to provide durability. The coins were to display the following:

The obverse was to have a representation emblematic of liberty, and it would bear the inscription "Liberty", and the year of the coinage.
The reverse side of the gold coins was to have a representation of an eagle with the inscription "UNITED STATES OF AMERICA."
The US Mint opened in Philadelphia in 1793 and began striking copper Half Cents and Large Cents. But the need for security and bonding of personnel prohibited the Mint from striking the coins that were truly needed for international commerce—the Silver Dollar and the $10 Gold Eagle.

But by 1795 those issues had been overcome and the Mint was ready to strike its first gold coinage. The new U.S. Mint Director Henry de Saussure had replaced David Rittenhouse as Director. de Saussure wanted to strike gold coins immediately due to the pressure to do so from Congress. The designs were created by Robert Scot, the first Chief Engraver of the Mint. In fact, all three of the gold coins utilized Scot's design. Further, Scot designed the 1794 Flowing Hair Half Dollar and Silver Dollar and he took designs from the American painter, Gilbert Stuart, and created the engravings used to produce our earliest lower denomination silver coinage.
Because of the intrinsic value of these large, heavy gold coins, the mintage figures for our first Eagles were surprisingly small for each year of production—only 5,583 coins were struck in 1795. For this first series, bearing the Small Eagle reverse, mintages were scant during all three (1795–1797) years of their production.
But as a matter of practicality, mintages were based on actual demand from the public for these coins, so only a total of 13,344 of this type were struck during the three years of production.
SCOT'S DESIGN
The design by Scot followed the mandates of the 1792 Coinage Act. His obverse depicted Miss Liberty, facing right, wearing a turban or cap. Cornelius Vermeule's Numismatic Art in America describes it as follows, "The Liberty cap is a great tumultuous affair of soft felt that it somehow manages to tower amid a large, curled forelock and long, wavy tresses. It is hard to say what is cap and what is hair entwined about it. The face is flat, blunt and thoroughly bourgeois. The draped bust is a truncated curiosity. Greco-Roman classicism has been misunderstood here, for this is the type of draped neck ordinarily found in ancient art when a marble bust has been created for insertion into the body of a draped statute... The eagle with wings half spread that first appears on these gold coins, before the adoption of the heraldic reverse, is even more difficult to describe in ornithological terms than the bird first placed on the silver coins. Criticism comes easy, and it must not be overlooked that Robert Scot's first gold coinage has a positive character of its own, a healthy individuality and almost rustic charm that conveys the message of a young nation seeking its identity as well as any monumental manifestation of the early arts in America." Vermeule also stated that the possible model for Miss Liberty for Gilbert Stuart may have been none other than the President's wife, Martha Washington.
Because of the overall appearance of these Small Eagle coins, they have been referred to by multiple names such as "Capped Bust Eagles," "Draped Bust Eagles" or "Turban Bust Eagles."
FIRST YEAR OF ISSUE
There are two distinct varieties of 1795-dated Eagles. They differ in the numbers of leaves on the branch that the eagle on the reverse is holding in its talons. There is a 13 leaves variety as well as a 9 leaves variety and the 13 leaves variety is encountered somewhat more often than the 9 leaves, but neither of these coins is at all common.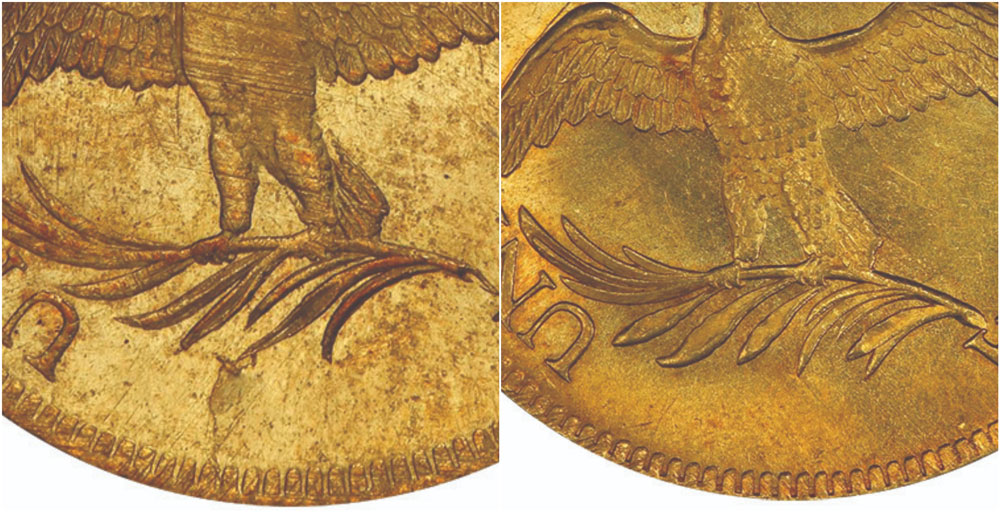 The obverse has a depiction of Miss Liberty, facing right, wearing her overly large turban, surrounded by 15 six-pointed stars on the obverse—10 to the left and 5 to the right with the date below. The 15 stars on the obverse represent the 15 states in the Union at that time. The reverse has an eagle that has often been described as 'scrawny,' holding an olive wreath in its mouth and a palm branch in both talons.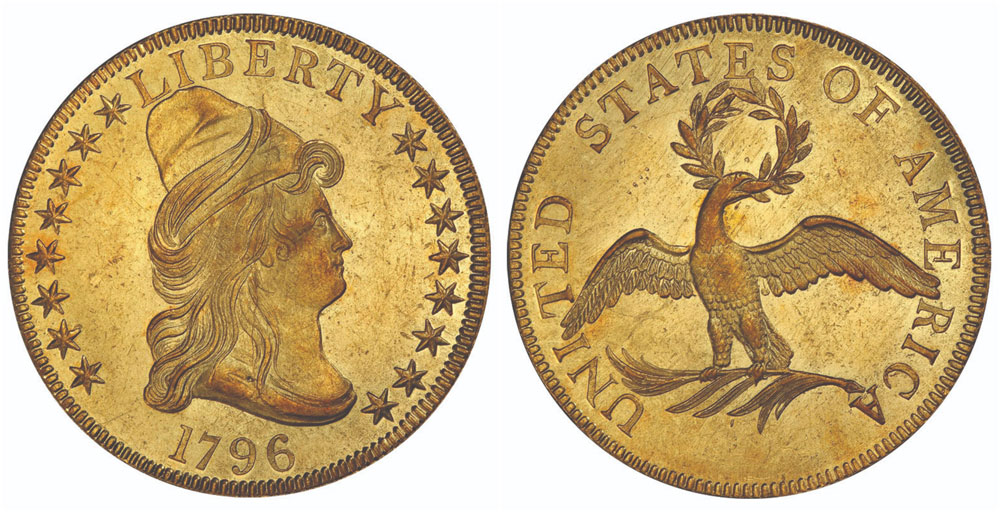 Eagle coins were likely struck in August and in September of 1795 and by September 22nd, nearly 1,100 coins were made publicly available. Of that number, 400 went to the Bank of Pennsylvania which already had gold on deposit with the US Mint.

As an instrument for international trade, the $10 Gold Eagle was not as successful as its $5 counterpart. International bankers and traders much preferred the Half Eagle as it was much closer to the most important coin of that era—the British Sovereign. The Sovereign contained .2354 of a Troy Ounce of pure gold, while the American $5.00 coin contained 0.2579 of a Troy Ounce of pure gold. And due to the rising price of gold around the world, many early US $10 Gold Eagles were melted as soon as they arrived in Europe since the melt value quickly became higher than the face value.
Of the 5,583 coins struck, there is no definitive number of how many of those coins comprise each variety, although PCGS estimates that 500-600 of the 13 leaves variety exist in all grades and only 30–40 of the 9 leaves variety exists. Since dies were so difficult to produce in 1795, they were used until they shattered. The dies were modified as much as possible so that is why the earlier coins had 13 leaves on the palm branch; the latter ones had only nine.
THE SECOND YEAR
1796 saw but one variety of $10 Eagle struck by the United States Mint. The total mintage was limited to a scant 4,146 pieces. The design received two major changes—on the obverse, now there were 16 six-pointed stars, due to the addition of Tennessee to the Union as the 16th state—8 stars to the left and 8 stars to the right. Additionally, the palm branch underneath the Eagle on the reverse now had 11 leaves, as opposed to the prior year's 9 or 13 leaves.
The 1796-dated coins are considerably rarer than the 1795-dated coins. It is a very tough date to acquire, especially in mint state. All of these coins in this series were produced on manual coin screw presses which can impart an uneven strike. Adjustment marks abound on the series as many planchets were overweight and that was the 18th Century solution to the problem.
1796 is a date that attracts a fair amount of attention at auction because of its rarity and the 4,146 coins struck bearing that date.
THE FINAL YEAR
1797 was the final year for the Small Eagle variety of $10 gold coin. The Mint struck a tiny number of coins—only 3,615 examples so it truly is a popular coin. The yellow fever outbreak in Philadelphia that year accounted for a lower production overall at the Mint and fewer $10 Eagles, as more popular and smaller denominations were in greater demand. This issue also had 16 six-pointed stars on the obverse surrounding Miss Liberty—twelve to the left and just four on the right. On the reverse, the palm branch has eleven leaves.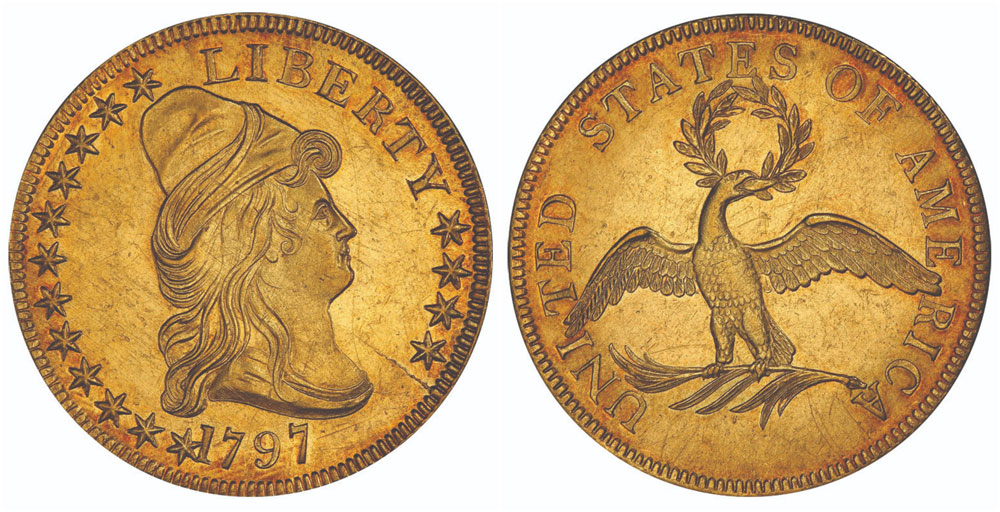 This 1797 date is rarer in any grade than either of the 1795 issues or the 1796 issue. The design is exactly the same as the 1796-dated coins displaying 16 six-pointed stars— twelve to the left and four to the right. However, as most states were being settled and joining the Union, Mint officials determined that adding stars for each state would be cumbersome and would impact the design dramatically so they decided that from that point forward only 13 stars would be displayed on the coinage, representing the original 13 states. This rare date has only a tiny handful of Mint State examples in existence today.

GRADING THIS SERIES
One must remember that these coins were struck on manual screw presses where the amount of pressure exerted was inconsistent at best. That means that many of these coins were unevenly struck or that details may be missing or weakly struck. However with such low mintages some quality-control should have easily been possible.
When grading this design, wear on the obverse should be visible on Miss Liberty's hair, cheek, shoulder and cap. On the Reverse, wear should be evident on the eagle's wings, breast and down the left leg.
Many of the 1795-dated coins were kept as first-coin-ever souvenirs so a higher percentage of these coins may have survived in mint state condition than one would suspect. Offsetting that is the fact that these coins were mediums of exchange, rather than coins set aside for collections, so keeping them in pristine condition was not a priority.
Likewise a number of 1795-dated coins especially survived in slightly proof-like condition. This is attributable to the lower number of coins actually struck and the pressure exerted on the dies. Generally, when a new die is used, the proof-like reflectivity may last up to a few hundred coins, but using the hand screw-press may have extended that feature. Neither 1796 nor 1797 have as many prooflike examples.
Between PCGS and NGC, they have graded and encapsulated 641 Small Eagle Draped Bust $10 Gold Coins, in all grades.
Additionally, over the passage of 200+ years many coins will have received a light to harsh cleaning to remove surface dirt or dust. Grading services tend to never 'straight-grade' cleaned coins. Straight grading means the grading service assigns a slightly lower grade to the coin than it might generally warrant, due to the light cleaning, rather than calling the coin a 'details' coin and assigning it problem characteristic. But numerous examples of this series exist where a very lightly cleaned coin, with only a tiny number of very light hairlines may get a straight grade. For example an AU58 coin with a few tiny hairlines might be straight-graded as AU53 or AU55 as opposed to AU details.
BUYERS AND THE MARKET TODAY
That 1797 date coin is particular favorite of very knowledgeable dealers and collectors. Kevin Lipton, President of Kevin Lipton Rare Coins Incorporated, is a highly skilled buyer and has purchased and sold many of the greatest rarities in American coinage. Kevin points to this date as his favorite of all of the early Draped Bust $10 Gold coins.
"I have owned all of these coins and all of the varieties, except for the 1804, Plain 4 in Proof (of which there are only 4 known), the 1797 coin is my favorite date. It is usually well struck for the issue and that exceedingly small mintage makes it even more attractive than its counterparts," said Lipton.


He continues, "This entire series is interesting and fun to assemble for a collector. These are big, heavy gold coins. They have a fabulous look to them. They are the very first major gold coins that the United States issued. What's not to love? Looking at these coins, the early history of America is reflected in them. Did George Washington hold these coins in his hands?

It's entirely possible!"
President and Founder of Certified Acceptance Corporation (CAC), John Albanese, echoed some of Lipton's assessments. CAC identifies PCGS and NGC graded coins that are of premium quality for the grade and attaches a small green sticker to the holder. If a coin is undergraded, it affixes a small gold sticker.
"We are still seeing a good number of Small Eagle $10 Gold coins on a somewhat consistent basis coming to CAC for review. It is the 2nd most popular early gold coin series, after the $5 Half Eagles. But back in 2007 when CAC started, we saw a great number of early Small Eagle $10 gold coins. If I had to estimate, I would say that close to 90% of all early Small Eagle $10 gold coins have already been graded by NGC or PCGS. When we see a nice early Small Eagle $10 that is PQ for the grade we affix our green sticker. But NGC and PCGS have not undergraded many of those coins. Since we started in 2007, we have never affixed a gold (undergraded) sticker to any Small Eagle $10." Albanese said.
That same 90% number applies to most US rare coins. "We believe that maybe as high as 90% of the rarest U.S. coins have been graded and a high percentage of those coins have come to CAC for a review. Don't misunderstand, we still see beautiful high-grade coins every day, it's just we are seeing fewer and fewer of the real rarities than we did 14 years ago," Albanese concluded.
As for who is assembling sets of these coins, Lipton said that many of the most advanced collectors are trying to purchase nice examples of this series. "Some collectors do an easy two-coin set—a Small Eagle and a Heraldic Eagle. Two coins and their set is complete. But some advanced collectors are up for the challenge of trying to buy the 13 available varieties and only skip the impossible 1804 in Proof. It is challenging but if you are patient, it is definitely doable. NGC and PCGS have done a good job of grading these coins and I see a fairly good number of them with CAC stickers.
"I tend to avoid buying those with the CAC stickers because of the significantly higher prices that they bring. Those are the coins that the advanced collectors tend to flock to because of their appearance. I try to buy coins that have great eye-appeal and no problems and are priced right," Lipton concluded.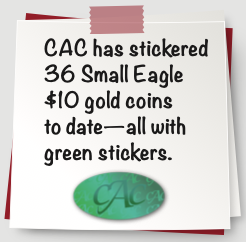 WORLD RECORD PRICING
At public auction this series has garnered the attention of collectors/dealers who want the finest possible coins. Some world record prices for the coins are shown in the chart above.
Mint state specimens are available and quite often they are the 1795 issues. In fact the 1795-dated coins are sometimes even proof-like in appearance, as apparently many were saved as first-year-of-issue coins. Of particular note is the highest-graded specimen of the 1795 was an MS66+ PCGS coin, belonging to the Pogue family that sold for $2,585,000 in September of 2015.
As July of 1797 approached, Robert Scot was instructed to redesign the 'scrawny eagle' on the reverse to something that was more majestic and emblematic of the strength and power that America wanted its major gold coins to convey to the entire world, especially to Europe.
In Part II next month, we will discuss the new Heraldic Eagle design that began halfway through 1797 and continued through the completion of the series in 1804.
Images courtesy of PCGS (PCGS.com) and Heritage Auctions (Ha.com).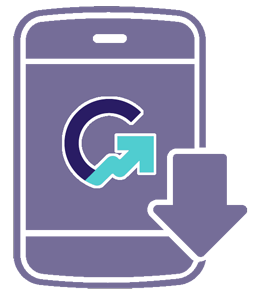 Download the Greysheet app for access to pricing, news, events and your subscriptions.
Visit these great CDN Sponsors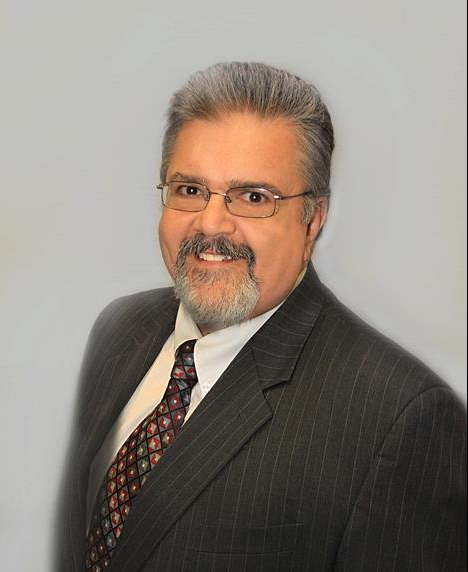 Mike Garofalo has been a coin dealer for over 40 years and recently retired as Director of Numismatics from APMEX. He has been both a wholesale dealer and a retailer. A prolific writer, he enjoys bringing to light previously unknown numismatic facts. He can be reached at
Mike@NumismaticAuthor.com
---