November 23, 2020
Industry
News
Vital rare coin & paper money industry updates
Palladium:
$2321.94
$29.94
Palladium:
$2321.94
$29.94
SEARCH BY CATEGORY
OR PUBLICATION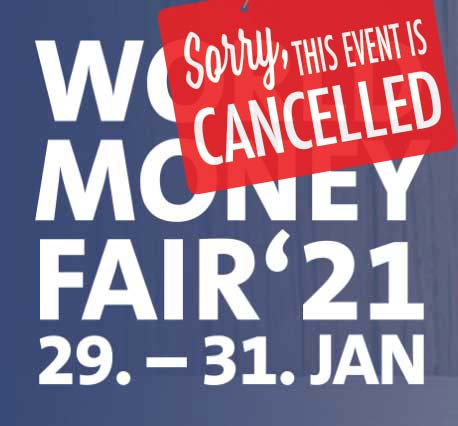 We have found this decision difficult to make, but we do not ultimately have any other choice. The World Money Fair 2021 will not be taking place in January, and is to be postponed to a later date and time. As soon as we have more information, we will, of course, fill you in.

Despite everything, we are looking to the future with optimism. If we are unable to meet in Berlin, we will have to hold an online trade fair instead. Specifically, we are planning to enable our exhibitors to attend the virtual World Money Fair based on our homepage. This will provide a platform at which coin dealers will be able to present their goods. We will also provide virtual meeting rooms that allow for a direct communication with prospective customers.

A Media Forum – with a press conference – and a Technical Forum will also take place as virtual meeting places. Perhaps these will result in brand new possibilities. I am convinced that for these activities, we will gain an exceptionally large and longer-lasting reach.

We are working as hard as possible to be able to provide you with the details in the second week of November. Please continue to set the original January date in your diary aside for the World Money Fair.

With kind regards,

Barbara Balz

Leave a comment
Please sign in or register to leave a comment.
Your identity will be restricted to first name/last initial, or a user ID you create.
Register
World Money Fair
The annual Berlin World Money Fair is one of the largest coin shows of the year.

related news
directory listing