Bitcoin:

$27,191.03
$33.63
Ethereum:

$1,901.46
$1.41
Central States Auction 2022, Part 2: U.S. $10 Gold Coins
A few of the prices realized for $10 gold coins (eagles) in the May 5 Heritage Platinum Night sessions were astonishing and many auction results were reflective of ascents in market levels that had already occurred during 2021 and early 2022.
A few of the prices realized for $10 gold coins (eagles) in the May 5 Heritage Platinum Night sessions were astonishing and many auction results were reflective of ascents in market levels that had already occurred during 2021 and early 2022. General remarks about current market conditions and the history of coin prices were put forth in part 1, as was a discussion of the 1854-S $2.50 gold coin (quarter eagle) in this auction. Although that quarter eagle brought an extremely strong price, the results on May 5 were consistent with the widely held view that U.S. $10 gold coins (eagles) and $20 gold coins (double eagles), on average, continued to outpace related gold coins of other denominations.
The 1797 Heraldic Eagle ten from the Simpson Collection was certainly one of the most exciting and desirable gold coins in the whole auction. The luster on the reverse is fabulous. The light green and medium green colors are very appealing. This coin is excellent overall.
The Simpson Collection 1797 Heraldic Eagle $10 coin was CAC approved after being PCGS graded as MS63. It scores higher in the eye appeal category than it does in the technical category. It has much more eye appeal than a typical PCGS or NGC graded MS63 Bust eagle.
There are a substantial number of abrasions on the obverse, including scratches in the vicinity of stars three, four and five, plus noticeable hairlines. It was, though, cleaned only mildly, and not extensively. The whole coin grades in the high end of the MS63 range, for sure, though I will not predict that any coins will upgrade. My expressed views here are not necessarily consistent with those of graders at PCGS and NGC, and are not intended to be.
I like that the Simpson Collection 1797 Heraldic Eagle ten scores fairly high in the category of originality. It was stored properly, as best as I can tell. It does not appear to have ever been dipped. I did not detect any signs of doctoring. Before the auction, I recommended this coin to a client. He did not buy it because he, with some justification, thought that the price realized, $276,000, was too high.
I believe that this exact same 1797 eagle was auctioned by Heritage on April 23, 2015, for $164,500. I did not attend that auction in 2015, though a comparison of online images from both auctions suggests a match.
On May 2, three days before the auction, the Greysheet Bid for a CAC approved MS63 grade 1797 eagle was $155,250 and the CPG-CAC medium retail price estimate was $186,300. As of May 27, the PCGS price guide value for an MS63 grade 1797 Heraldic Eagle ten remained at $185,000 and the NGC price guide value was $200,000.
In my view, a fair collector price on May 5 would have been from $200,000 to $230,000, and a very strong price would have been above $235,000. In fairness to the buyer who paid $276,000, however, CAC approved 18 th century gold coins are red hot! It is possible that analysts, including myself, have not entirely kept pace with sharp increases in market levels for these.
The price realized for the CAC approved 1804 business strike eagle in this auction is pertinent. Despite the thundering prices realized for rare eagles and double eagles in auctions from January 2021 to May 2022, this 1804 eagle was a very fair value. The 1804 business strike is a favorite among collectors of eagles, not just because of its famous date, but also because it is rarer than the 1797 Heraldic Eagle, the 1799, the 1800, the 1801 and both major varieties of 1803 eagles.
I figured this 1804 eagle's grade as being in the high end of the AU58 range even before I saw the PCGS label and the CAC sticker. This 1804 eagle is really a very impressive coin, undoubtedly better than many early tens that have been PCGS or NGC graded in the AU58 to MS61 range. As is true of many early gold coins, there are a substantial number of mint-caused imperfections including stray lines from die finishing, and there are some real hairlines, too. Very long ago, this coin was lightly dipped; it has since naturally retoned to some extent. Additionally, there is evidence of a mild cleaning.
Most certified pre-1808 gold coins have many more hairlines and/or some distracting scratches. The hairlines on this 1804 eagle are not very serious. Moreover, there are no long scratches or deep contact marks. The overall green and yellow tints are normal. This coin is certainly one of the most desirable, surviving 1804 business strike tens.
On August 11, 2010, during a period when coin markets were in the process of recovering from the 2008-09 downturn and rare date gold coins were not in vogue, a non-CAC, PCGS graded AU58 1804 ten realized $71,875. That coin is worth considerably more now than it was worth in 2010. The presently discussed 1804 is PCGS graded AU58+ and has a CAC sticker
It was fortunate for bidders seeking this 1804 eagle on May 5 that Dell Loy Hansen has a higher grade 1804 business strike and thus probably did not bid on it. The $114,000 result was below the midpoint of a fair retail range. This purchase was one of the better values for any eagle or double eagle in this auction.
Although business strikes, especially early gold coins, have received more attention in the media, the prices of many Proof gold coins have moved substantially upward from May 2021 to May 2022. Some other Proof gold coins brought high-retail prices in this auction even if their respective market levels had not risen all that much. It is curious that the Kaufman-Simpson Proof 1862 eagle did not bring a strong price in this auction, a coin with impressive eye appeal and pedigree.
The Nathan Kaufman Collection was intact for decades before being auctioned by Ed Milas' RARCOA firm in 1978. It contained an amazing array of gold rarities. James Simek, a long-time cataloguer for RARCOA, wrote about this collection.
Simek reported that Nathan's brother Louis was equally responsible, if not more so, for building the collection. While still in his thirties, Nathan sold or gifted the collection to his brother before 1900. Louis developed a passion for coin collecting.
Louis was a banker. His signature, as L.G. Kaufman, may be seen on national bank notes of the Chatham & Phoenix Bank of New York and of the First National Bank & Trust Company of Marquette, Michigan (not Wisconsin).
Circa 1910, the Kaufman Collection was on display in New York. In 1927, it returned to Michigan and was placed on display at the First National Bank of Marquette, where it remained for around half a century! Although it was really Louis's coin collection, Simek revealed that Louis named the collection after his brother, Nathan, who had died in 1918. Louis G. Kaufman lived until 1942.
This RARCOA auction in August 1978 was an important event, which I believe then drew a considerable amount of attention yet has been largely forgotten. From the mid-1980s until around 2003, intermediate to advanced coin collectors were far more focused on rare silver coins, and 20 th century coins of all metals, than on rare gold coins of the 19th century. Put differently, the popularity of rare gold coins was relatively low for around twenty years before an upsurge during the market boom of 2003 to 2008.
Even during the coin boom from 2003 to 2008, rare silver coins and condition rarities of scarce U.S. coins increased in value, on average, more than rare gold coins increased in value, percentage-wise. Later, from 2010 to 2020, the ratios of prices for rare gold coins to analogous rare silver coins trended upward, to an extent. U.S. coin markets as a whole, however, became sluggish in the middle of 2015 and did not fare really well from 2016 to 2019; there were noticeable, though mild, ups and downs from 2015 to 2020.
If it is imagined that the Kaufman Collection of gold coins had been auctioned in 2014 or 2021 rather than in 1978, there would have been a great deal of animated discussions of the rare gold coins inside it. Indeed, such a sale would have been a tremendous event.
The Kaufman-Simpson Proof 1862 eagle was PCGS certified as Proof-64 Cameo and CAC approved. This same coin was auctioned for $103,500 in August 2011. Quite a few rare business strike gold coins have recently realized two to three times the prices that the same respective coins realized in auctions from 2010 to 2012. I was figuring that $200,000 would have been a fair collector price on May 5, 2022, almost twice as much as this Kaufman-Simpson Proof realized in 2011. Instead, this 1862 eagle went for $168,000, a good deal in the context of current market conditions.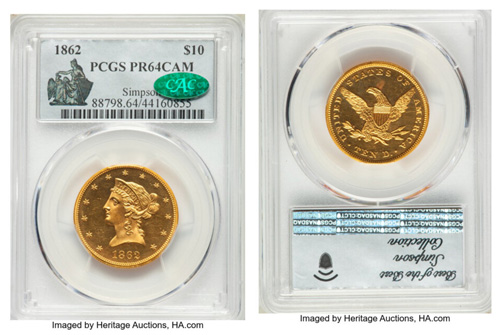 The Kaufman-Simpson Proof 1862 eagle is more than very attractive. The mellow orange and beige elements contrast wonderfully with the greenish fields. There are just a few hairlines. The vast majority of lines on this coin that are apparent in images are mint-caused.

A couple of indentations near Miss Liberty's nose and close to the letters 'OF' in the legend probably precluded a higher grade. Some extremely small contact marks on the rims are an issue, too, though they did not really bother me. The eye appeal of this 1862 outweighs its technical imperfections.
Curiously, the PCGS certified Proof-65 Deep Cameo 1864 eagle in this auction brought just 10% more, $264,000 than the same coin brought in the Heritage ANA auction of August 2018, $240,000. That price in 2018 was extremely strong at the time.
Like many other Proof gold coins in the Simpson Collection, the eye appeal of the CAC approved, PCGS certified Proof-67 Deep Cameo 1898 eagle is outstanding. It does, though, have some readily apparent imperfections. It is not close to being the highest quality Proof Liberty Head ten that I have ever seen. The $204,000 result was very strong, though not extremely strong.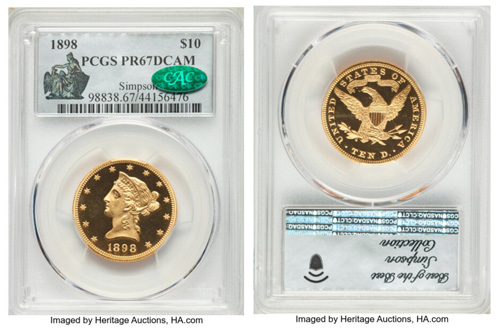 A 1907 Wire Edge and a 1930-S were important eagles in this auction, though I am not recommending these two coins. I am reporting results. This same PCGS graded MS65 1907 Wire Edge eagle realized $64,625 on August 10, 2016, $64,625 again in an auction on April 27, 2017, and $96,000 in the presently discussed Platinum Night session on May 5, 2022, an increase of almost 50%.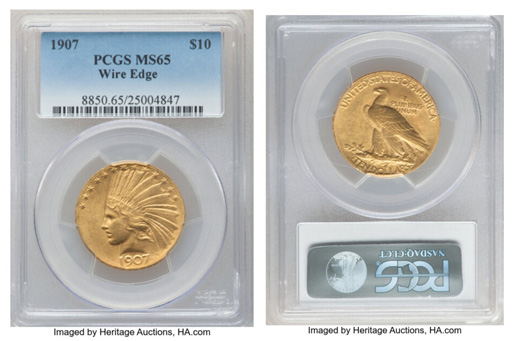 The NGC graded 1930-S eagle in this auction was in a relatively old NGC holder. It realized $78,020.40 on May 5, 2022 and $60,000 in an auction on March 14, 2019, an increase of about 30% in a little more than three years.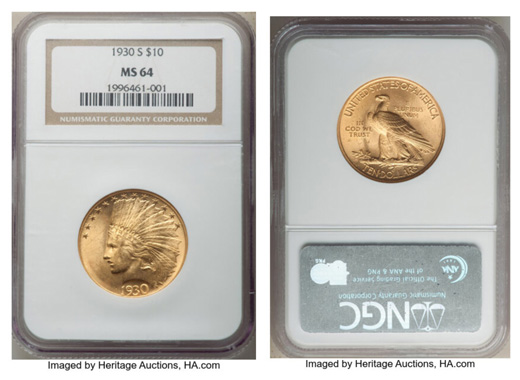 The price realized, $25,200, for the PCGS graded MS66+ 1932 eagle in this auction is newsworthy. The 1932 is by far the most common U.S. $10 gold coin. A massive number are around, though only a small percentage of them merit a MS66 grade. PCGS reports 136 1932 eagles as MS66, 26 as MS66+ and just one as MS67. NGC reports eight as MS67. CAC has approved only 32 as MS66 and zero as MS67.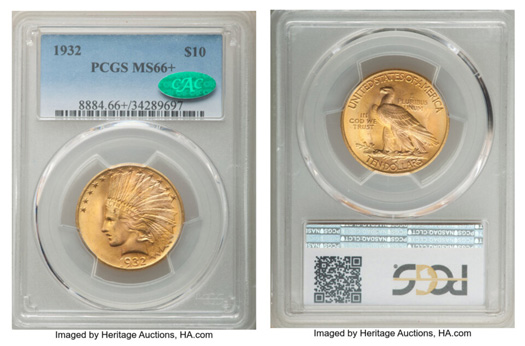 This 1932 eagle exhibits wonderful natural color. This exact same coin, with the same PCGS serial number, was auctioned by Heritage in January 2018 for $13,801.20, so it brought about 83% more in May 2022.

In sum, during the period from January 2021 to May 2022, and perhaps beyond, values for both business strike and Proof eagles increased at times, more so than value increases for quarter eagles, threes and half eagles, though threes moved upward during 2022. So far during this rally, rare gold business strikes have increased in value to a much greater extent than Proof gold coins.
Copyright 2022 Greg Reynolds
Insightful10@gmail.com
Visit these great CDN Sponsors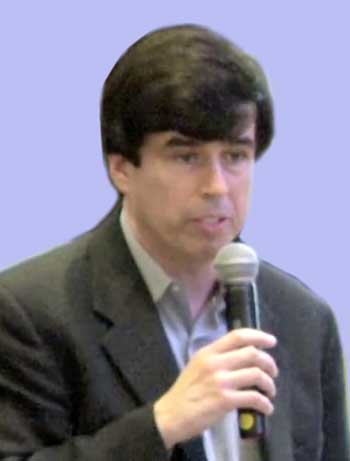 More than 750 of Greg Reynolds' articles about coins and related items have appeared in ten different publications. Reynolds has closely examined a tremendous number of rare, or conditionally rare, vintage U.S., British and Latin American coins. Furthermore, he has attended dozens of major coin auctions, including those of Eliasberg, Pittman, Newman, Gardner and Pogue Family. From the NLG, Reynolds has shared or won outright the annual award for 'Best All-Around Portfolio' a record seven times. Greg is available for private consultations and analyses, especially regarding rarities and auctions.
---