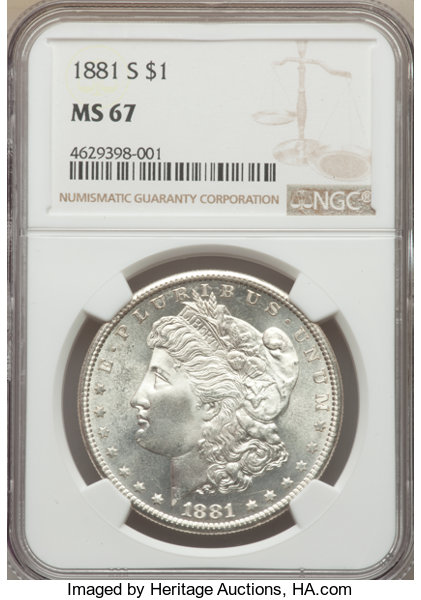 Strong Demand Means Higher Bids for Certified Mint State Morgan Dollars
John Feigenbaum · Aug 13, 2020

Pricing
Coin Dealers
Supply is tight and demand is high for certified Morgans. This can only mean one thing... higher prices!
Subscribe to Monthly Greysheet for the industry's most respected pricing and to read more articles just like this.
Rarcoa, Inc has jump-started the wholesale market for certified Morgan dollars with a large order for generic (common-date) Morgan dollars dated pre-1921 [link to CDN pricing] in grades MS63-67. The orders are for coins certified by PCGS or NGC and significantly raise levels in the grades they are seeking. In MS67, for example, the Willowbrook, IL firm is offering $625, sight-unseen, for coins that were previously bid at $485, a 29% increase. MS65's have jumped 25% since July 1 from $100 to $125, but the intangible factor is liquidity. One dealer reported that, "at $100 I couldn't give them away, while at $125 I can't keep them in stock." Based on our observations here at CDN, it would appear we may see many other coins jump in value now that there is increased attention on our hobby. As an example of this, Jack H. Beymer Rare Coins, of Santa Rosa, CA, has been raising his buy prices for circulated type coins across the board to build type sets for customers.
Leave a comment
Please sign in or register to leave a comment.
Your identity will be restricted to first name/last initial, or a user ID you create.
Register
John Feigenbaum
The Publisher and managing partner at CDN Publishing, John Feigenbaum, has been a professional numismatist since 1979. Formerly president of David Lawrence Rare Coins, John has taken on Publishing and executive responsibilities for CDN Publishing. John has written for numerous trade publications and published "The Complete Guide to Washington Quarters" in 1991. In 2014, John received the PNG Abe Kosoff Founders Award for "his steadfast dedication to the entire numismatic community".
more from John Feigenbaum
Spot Prices
Gold:
1859.19 0.00
Silver:
$22.79 0.00
Platinum:
$845.37 0.00