Bitcoin:

$23,171.46
$28.71
Ethereum:

$1,589.87
$5.40
Gold Quintuple Stella Could Exceed $2 Million at FUN US Coins Auction
An exceptionally rare gold quintuple stella could top $2 million when it is sold in Heritage Auctions' FUN US Coins Signature® Auction January 5-10 in Orlando, Florida.
DALLAS, Texas (December 14, 2021) – An exceptionally rare gold quintuple stella could top $2 million when it is sold in Heritage Auctions' FUN US Coins Signature® Auction January 5-10 in Orlando, Florida.
The event also features the seventh selection of coins from the Collection of Bob R. Simpson , a treasure trove that made its debut at Heritage when the Important Selections from The Bob R. Simpson Collection crossed the block in September 2020. To date, the spectacular items in the Simpson Collection have brought more than $77 million. Those seeking big treasure also will be drawn to the largest Justh & Hunter gold brick found aboard the sunken "Ship of Gold," a 54-pound Gold Rush ingot that disappeared at sea in 1857.
The 1879 Liberty Head Quintuple Stella, Judd-1643, Pollock-1843, High R.7, PR63 Cameo PCGS is an extremely rare gold pattern that is especially popular with collectors because of its close relationship to the famous 1879 and 1880 stellas. These coins were early attempts to establish an international coinage, much like the present-day euro. There are five examples known, but one of those is in the National Numismatic Collection at the Smithsonian Institution, forever out of reach of eager collectors. The coin offered here has an unbroken pedigree all the way back to the Mint in 1879 and has been a highlight of many famous collections over the years, including the Garrett Collection and Ed Trompeter's fabulous collection of proof gold coins. Heritage Auctions has not sold a quintuple stella since 2007.
"This is an extraordinary coin, one of only five known," Heritage Auctions President Greg Rohan said. "Patterns were struck in minuscule numbers to show what a proposed design or denomination would look like, how well it could be produced by the dies, and to test new alloys, but were never mass produced for circulation. Examples of the 1879 quintuple stella are known in copper and gold, the latter variant being the rarer of the two and by far the most sought after. This is the kind of coin people spend years trying to find."
An 1839/8 Liberty Eagle, Type of 1838, PR62 PCGS. JD-1, R.8 is a landmark rarity among early U.S. proof gold issues. This coin, which could approach or exceed $1 million, is one of just three examples known. One of the other known specimens is in the National Numismatic Collection at the Smithsonian Institution and the third is held in extremely strong hands in the Tyrant Collection, making this example the only one available to collectors. This coin was discovered by Heritage Auctions Director of European Operations Marc Emory as part of an original three-piece gold proof set in 1981. It is unlikely that any other example will become available for many years once this coin passes the auction block.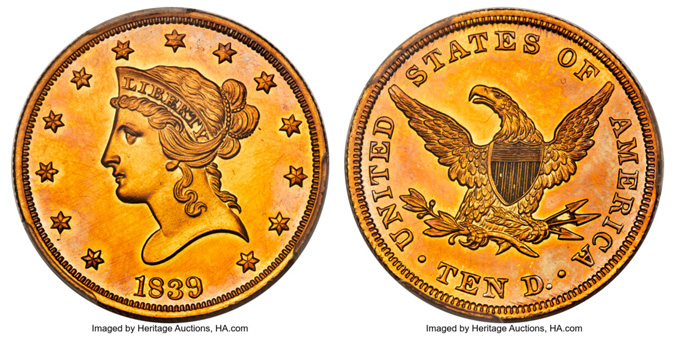 A beautiful 1821 Capped Head Left Quarter Eagle (BD-1, JD-1, R.8 as a proof), PR65 Cameo NGC , one of the earliest proof gold coins ever struck at the United States Mint, also could reach $1 million or more. Heritage Auctions experts believe only three examples are extant, but one of those is included in the National Numismatic Collection and never will be available to collectors. This coin has an illustrious pedigree going back to 1890, having graced such famous collections as those of Lorin G. Parmelee, Virgil Brand and James A. Stack. It has been off the market for 16 years and it may be that long again before a comparable example becomes available.

A 1792 Disme Judd-10, Pollock-11, High R.6, MS64 Brown PCGS , one of the finest certified examples of the coin. Only 65 pieces of 1792 coinage were struck in all denominations. Today a mere 18 individual pieces are known of the 1792 copper disme with a reeded edge; population figures dictate that each variety is a significant rarity. (The count does not include the 1792 silver half dismes, Judd-7, that are almost certainly regular issue coins.) The list of the first coins struck inside the Philadelphia Mint included 1792 dismes (as well as pattern cents and quarters); 1792 pattern coinage combined technical experimentation with differing representations of Liberty.
The 1879 and 1880 Coiled Hair stellas and the 1880 Flowing Hair stella are among the rarest of American gold coins, far more than their 1879 Flowing Hair counterpart, and the 1880 Coiled Hair is easily the rarest of all. An 1880 Coiled Hair Stella, Judd-1660, Pollock-1860, JD-1, Low R.7, PR61 NGC in this auction is one of no more than 10 known gold examples (a population that includes one that resides in the National Numismatic Collection at the Smithsonian Institution). Stellas were produced as patterns for a proposed international goloid coinage, and were included in three-piece goloid sets offered to favored collectors.
Rarely seen outside the highest-profile auction settings, an 1856-O – Double Eagle – Surfaces Smoothed – PCGS Genuine. XF Details. Variety 1 is "without doubt … one of the rarest, most desirable and most popular of all U.S. gold coins," according to the late, renowned numismatist David Akers. Its rarity within the Liberty double eagle series is comparable only to that of the 1854-O and the 1861 Paquet Reverse; the Paquet is largely uncollectible.
Another ultra-rare offering in the sale, once in the collection of King Farouk of Egypt, is an 1838 Gobrecht Dollar Name Omitted, Judd-88 Restrike, Pollock-98, R.8, PR64 PCGS , one of three known examples (all from the same die state), only two of which have been made available to the public. During his tenure as Mint Director, Henry R. Linderman created or allowed others to create many exotic numismatic rarities, including the Judd-88 Gobrecht dollar. This Starry Reverse Gobrecht Dollar, struck in April 1869 during the final days of his first term as Director, is among those rarities.
The finest known example of an 1861 Half Eagle PR66 Cameo NGC. JD-1, R.7 – by two full grade points – comes from what many experts consider the rarest issue of the series after 1859. From a mintage of 66 pieces, the coin that is just as rare in proof format as many gold proof issues of the 1860s, which had much smaller production totals. At least 10 examples reportedly were melted in January 1862 after going unsold the year before, and it is possible that others never were distributed, leading numismatic authors Jeff Garrett and Ron Guth to suggest that fewer than 10 from this issue survived.
For images and information on all lots in the sale, visit HA.com/1341 .
Heritage Auctions is the largest fine art and collectibles auction house founded in the United States, and the world's largest collectibles auctioneer. Heritage maintains offices in New York, Dallas, Beverly Hills, Chicago, Palm Beach, London, Paris, Geneva, Amsterdam and Hong Kong.
Heritage also enjoys the highest Online traffic and dollar volume of any auction house on earth (source: SimilarWeb and Hiscox Report). The Internet's most popular auction-house website, HA.com, has more than 1.5 million registered bidder-members and searchable free archives of five million past auction records with prices realized, descriptions and enlargeable photos. Reproduction rights routinely granted to media for photo credit.
For breaking stories, follow us: HA.com/Facebook and HA.com/Twitter . Link to this release or view prior press releases .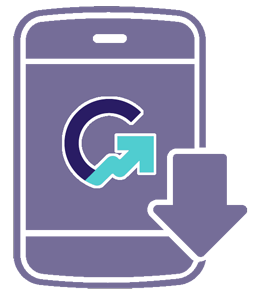 Download the Greysheet app for access to pricing, news, events and your subscriptions.
Subscribe Now.
Subscribe to Monthly Greysheet for the industry's most respected pricing and to read more articles just like this.
Visit these great CDN Sponsors
Source: Heritage Auctions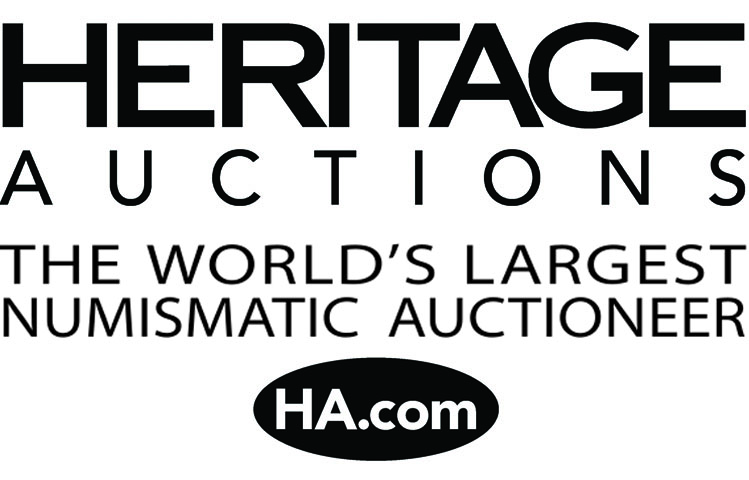 Heritage Auctions is the largest collectibles auctioneer and third largest auction house in the world, as well as the largest auction house founded in the U.S. We are also the undisputed Internet leader in our field, with more than 1 million online bidder-members registered on HA.com.
---