Palladium:

$1,592.50
$41.50
Bitcoin:

$22,886.16
$12.09
Ethereum:

$1,635.15
$8.15
Canadian Dollar:

$0.74
$0.01
Here's What You Need to Know About the New 2021 Morgan and Peace Silver Dollars
Morgan and Peace Silver Dollars are possibly the most collected coins in the world. The US Mint is re-imagining these exciting issues and creating a lot of buzz in the process.
Morgan and Peace Silver Dollars are possibly the most collected coins in the world. It's virtually impossible to go to a major coin show and find any dealers that do not offer these coins as part of their inventory, unless the dealer is a currency dealer, an exonumia specialist, an ancient coin dealer or a world coin or currency dealer. Virtually everyone else has them in their inventory and actively makes a market in the big, heavy, silver historic coins.
With over ¾ of a Troy ounce of silver and 100 years of history, rooted in America's West, what's not to like? The Morgan Dollar set starts in 1878 and were produced annually until 1904. The design was restarted in 1921 but just for that one year in order to alleviate a silver shortage, caused in part by the Great World War that ended in 1918.
Designed by George T. Morgan, the coin bears his name and displays an allegorical representation of Miss Liberty on the obverse. The reverse, of course, depicts a strong American Bald Eagle, majestically with wings outspread, clutching both arrows and an olive branch, demonstrating that it indeed was ready for war or peace.
Another consequence of the Great War was a desire for peace and so the United States Mint discontinued Morgan's design and looked to an Italian immigrant, Anthony de Francisci, to create a coin that was emblematic of America's desire for Peace. De Francisci created the Peace Silver Dollar. The coins were struck between 1921 and 1935 and his design was not radically too different from Morgan's! The obverse again displayed an allegorical representation of Miss Liberty while the reverse displayed an American Bald Eagle once again. But this time, the eagle designed was more subdued. There were no outspread wings this time. The eagle, perched on a rock, is carefully watching the events of the world unfold, but at the base of the rock was the word "PEACE". Peace Dollars were struck from 1921 until 1928 and then again in 1934 and 1935.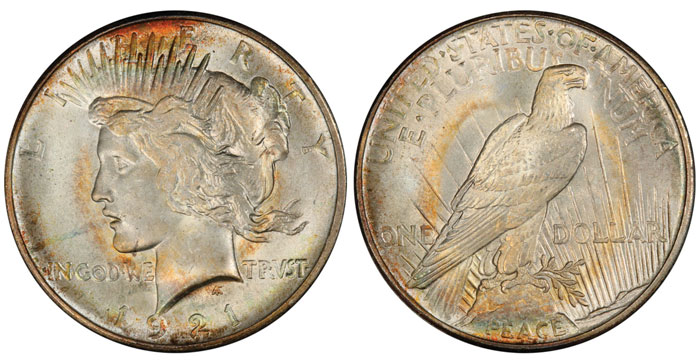 While the Morgan series has a few individual dates and mintmarks that are scarce and expensive, a date or mintmark set of Peace dollars is within the reach of most collectors.
Since 1935, these series have remained dormant, except for 1964, when President Lyndon Johnson authorized the striking of 45 million 1964-dated coins at the Denver Mint in order to alleviate a coin shortage. But that presidential order was later rescinded in 1965 and all of the coins were supposed to be destroyed. Although rumors exist that some of the coins escaped, none have surfaced to date so that remains just a rumor. The Morgan and Peace dollar series both settled back into their slumber for the next 56 years.
NEW LEGISLATION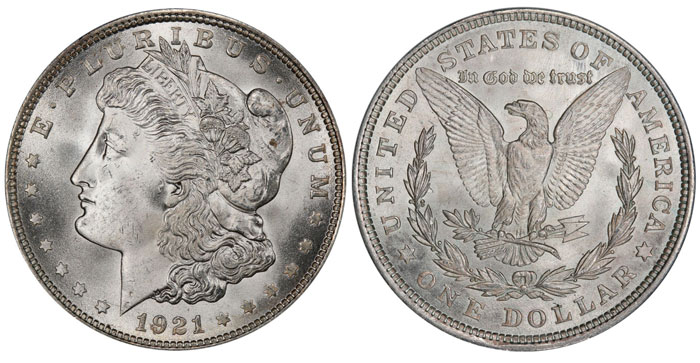 H. R. 6192 became Public Law 116-286 and is called "The 1921 Silver Dollar Coin Anniversary Act." This law instructed the Secretary of the Treasury to strike coinage in honor of the Centennial Anniversary in 2021 of the last of the Morgan Silver Dollars and the transition to the Peace Silver Dollar style.
Because these coins will replicate the original Morgan and Peace Silver Dollar designs, the Mint has assumed that these coins will be popular not only with coin collectors but also with the American public as well.
Most legislative Acts authorize maximum mintages that can be struck. However, this Act permits the Mint to determine how many coins will be struck, what finishes the coins will receive and where they will be produced.
The original Morgan silver dollar was struck at Philadelphia, Denver, San Francisco, Carson City, and the New Orleans mints, while the Peace silver dollar was struck in Philadelphia, Denver and San Francisco. Their 2021 Morgan counterparts would be struck at Philadelphia, Denver and San Francisco and all Peace Dollars would be struck in Philadelphia. Additionally, coins bearing an "O" privy mark for New Orleans and a "CC" privy mark for Carson City would also be struck in Philadelphia. That is how the Mint decided to pay homage to these two no-longer-functioning but important branch mint facilities.
OOOPS, WE DID IT AGAIN!
The United States Mint determined that customers for these coins could order up to 10 of each coin, per household, out of the mintage that they, themselves, set. They felt that striking 175,000 of the CC Privy coins and limiting orders to only 10 of each would eliminate the problems that they have had for years—the inability of the average collector to be able to easily order a desirable coin from the Mint. They did not want a repeat of all of the major issues that always seemed to happen when the U.S. Mint actually determines how many coins will be struck. Remember last November's End of World War II gold and silver coins with the V75 Privy Mark? But the product limit on these coins was only 175,000 of each. Well they were wrong—AGAIN!
On the 24th of May at 12:00 PM, the website and product pages for the "CC" and "O" privy marked coins went on sale. And, exactly as before, the website crawled and repeatedly went down. Even shoppers with coins in their shopping carts were not safe from the dreaded "UNKNOWN ERROR!"
Twenty minutes attempting to buy either or both privy coins only resulted in frustration, aggravation, indigestion and a rise of 30 or more points in my blood pressure. With four more of these web sales for the remaining coins scheduled for June, most collectors sounded like Roger Daltry, the lead singer of the Who: "We won't get fooled again…"

PAY THE PIPER
So now what do you do? Your Morgan and Peace Dollar sets are now incomplete with the sale of these two coins and there are four additional issues to come. How do you complete your set and keep it current?
Well you can look on eBay and find both the "O" and "CC" coins being pre-sold. There, prices currently run from $300 to $185 each… not a bad profit for coins that you just paid the US Mint $85 each. And the demand for them will not decrease!
Some dealers and enterprising entrepreneurs are also pre-selling NGC or PCGS graded MS70 coins! Those coins run the price gamut from a low of $800 to a high of $1,500. Who says you need to go to Las Vegas to gamble?
TIMING IS EVERYTHING!
As in life, timing is everything! Many collectors were able to get through and buy a couple of each coin and that is very good news for them. Certainly, the U.S. Mint has again soured some would-be purchasers by having a website that "crawls" or provides "UNEXPECTED ERRORS" during periods of unusually heavy traffic. But with Morgan Dollars being the most collected coin in the country, why would the U.S. Mint think that 175,000 of each issue would be sufficient?
The remaining four releases were scheduled for pre-sale in early June for the 2021-P, 2021-D, and 2021-S Morgan Dollars will again each have a mintage of 175,000 coins and the 2021 Peace Dollar will have a mintage of 200,000 when it is released.
But the Mint has postponed (as of May 27th) the release of these coins, in response to the aforementioned problems by collectors in accessing their website. In their email the Mint stated that this postponement comes "[in response to] the extraordinary volume of web traffic [that] caused significant numbers of Mint customers to experience website anomalies that resulted in their ability to complete transactions."
So how will the Mint resolve these issues? The email continues, "the deliberate delay will give the Mint the necessary time to obtain web traffic management tools to enhance the user experience." But the email adds the caveat, "As the demand for silver remains greater than the supply, the reality is such that not everyone will be able to purchase a coin. However we are confident that during the postponement, we will be able to greatly improve on our ability to deliver the utmost positive U. S. Mint experience that our customers deserve."
WHAT ARE THEY REALLY WORTH?
Seeing these coins offered at multiples of the issue price is frustrating for those who weren't able to purchase any. But is it paranoia or are these coins really worth $300 each? Well here is a comparison of similar Morgan Dollar issues¹. While not a direct or truly fair comparison, since these coins do not have a 100 year history and received no special handling during their lifetimes, this comparison of similar mintages is interesting nonetheless.
The Greysheet will begin to provide pricing on all of these issues once trading has begun and the market stabilizes for all of these coins.
https://www.greysheet.com/coin-prices/series-landing/2021-morgan-peace-sillver-dollar-coins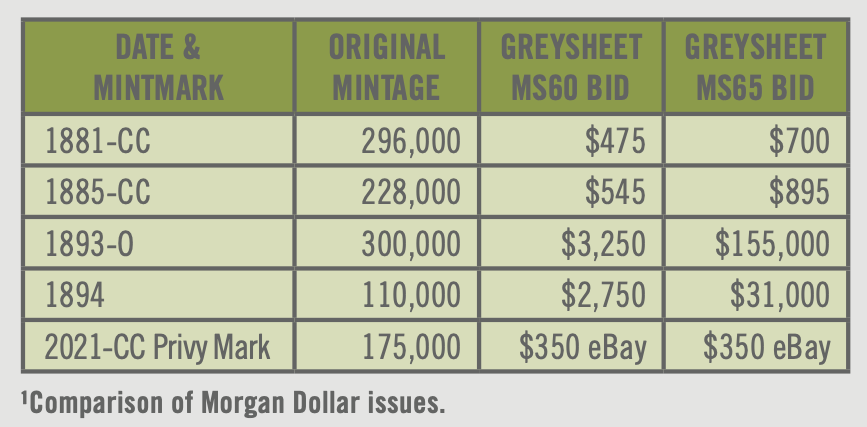 HOW SHOULD YOU COLLECT THEM?

The simple answer to that question is to acquire one or two of each example for your collection and keep them in a similar fashion to your current coins. What I mean is, if your Morgan and Peace Dollars are all PCGS or NGC graded, then these should be graded as well. If your coins are raw and stored in albums, then try to accommodate these new coins as well. If these might possibly become an annual event, as has been intimated by the U.S. Mint, then there certainly will be new albums that make room for these new coins. So whenever the delay has been lifted, a wise collector will be ready to either make their purchases, purchase them in the secondary market or ignore the fuss and fanfare altogether.
Collecting these coins and seeing the 19th century coins lying next to these 21st century coins gives you a sense of stewardship of George T. Morgan's and Anthony de Francisci's most important contributions to numismatics.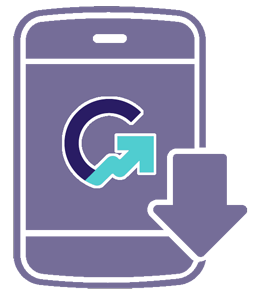 Download the Greysheet app for access to pricing, news, events and your subscriptions.
Visit these great CDN Sponsors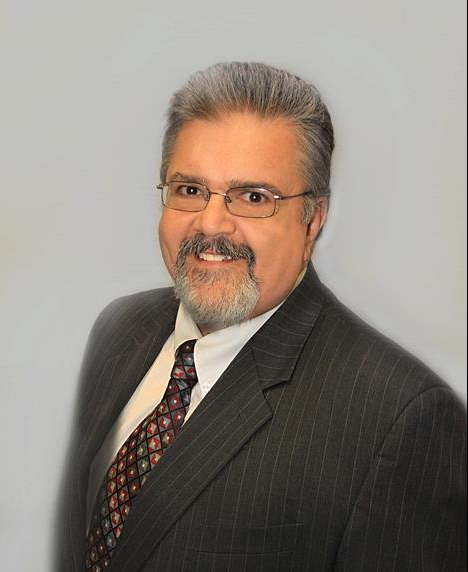 Mike Garofalo has been a coin dealer for over 40 years and recently retired as Director of Numismatics from APMEX. He has been both a wholesale dealer and a retailer. A prolific writer, he enjoys bringing to light previously unknown numismatic facts. He can be reached at
Mike@NumismaticAuthor.com
---