Bitcoin:

$27,047.24
$36.72
Ethereum:

$1,892.60
$1.83
Talk About Hot Money! The Top 10 Most Popular Stories Of 2018
As we close out the year 2018, let's take a moment to look back at the 10 most popular stories of the past year. We can certainly conclude this: a lot has happened at CDN Publishing and in the larger numismatic world in 2018!
The year 2018 came and went in a blur, and we at CDN Publishing have had a busy year improving the Monthly Greysheet, Greensheet, and CPG® Coin & Currency Market Review. We've also been working on our ever-growing website, including the CDN Blog. Our blog stories have been enjoyed by more than 100,000 unique visitors. So, as we close out the year 2018, let's take a moment to look back at the 10 most popular stories of the past year. We can certainly conclude this: a lot has happened at CDN Publishing and in the larger numismatic world in 2018!

So, let's begin our countdown, leading up to the most-read CDN Blog story of 2019: 
#10 — A PROFITABLE APPROACH TO COIN COLLECTING: DR. STEVEN DUCKOR
Dr. Steven Duckor built many landmark collections throughout his numismatic career. Counted among Duckor's holdings have been the finest set of Barber half dollars ever assembled, a complete collection of exquisite Walking Liberty half dollars, a world-class set of gold dollars, and a legendary assemblage of Saint-Gaudens $20 gold coins, among other record-worthy sets. His insatiable appetite for building top-ranking registry set collections encompassing some of the finest coins known has helped make Duckor one of the most respected coin connoisseurs of our time. CDN Editor Patrick Ian Perez sat down with Duckor to find out more about what drives his passion for fine coins, how he builds his collection, stories on some of his favorite coins and transactions, and advice for collectors who wish to pursue the best of the best. Read more here.

#9 — Indiana Coin Dealer Discovers Rare 1848 Proof Dime in eBay Lot
What would you do if you found an extremely rare 1848 proof Liberty Seated dime in a lot of otherwise ordinary coins you just bought on eBay? If you're Sam Shafer, a 30-year-old vest pocket coin dealer in Fishers, Indiana, you jump for joy! Shafer, who shares his love for the hobby with friends and those who visit Gold and Coin of Fishers, finds buying coins on eBay a profitable way to acquire coins for his business. But he never dreamed his periodic eBay purchases would uncover a rare 1848 proof dime, which had a tiny mintage of merely 10 pieces and has only eight known surviving specimens, all struck from a single pair of dies. Read more here. 
#8 — 3 Fast Ways To Lose Money Buying Coins
So much is written about how to make money in coins, and it's great that this content is available. But what about ways you can lose money in coins? It may seem counterintuitive to some that one would specifically seek out this information, but it's also helpful to understand some of the common ways that a coin deal can financially go wrong for buyers. Unfortunately, every day there are many people (collectors and coin dealers alike) who don't take the time to research what they're purchasing and end up buying coins with questionable origins or other problems — and end up losing money in coins. Of course, knowing how you can lose money in coins can in turn help you make money in coins — knowing what "not" to do, shall I say. Read more here. 
#7 — Sale Of Rare Saint-Gaudens $20 Ignites Facebook Group
A 1907 Saint-Gaudens High-Relief $20 double eagle grading MS63 in a Professional Coin Grading Service (PCGS) old "rattler" holder caught the attention of coin dealers on Facebook when the rarity was listed on the social networking site by Alii Coins & Currency, a firm based in Kaneohe, Hawaii. The coin comes with a story. "We bought this coin Thursday [April 5] from an heir whose parents had put this away a long time ago… Fresh to market!" writes Vince Vento, owner of Alii Coins & Currency. He continues, "in my humble opinion this coin should either be sent to CAC [Certified Acceptance Corporation] or resubmitted for an upgrade. Very conservatively graded." The coin was listed with a starting bid of $20,500 on Friday, April 6, and within hours had bids climbing $25,000. When bidding had wrapped up at 6 PM Pacific Standard Time on Tuesday, April 10, the coin realized a final price of $29,500. Read more here.

#6 — Do Collectors Still Enjoy Their Wheaties?
I jumped into the hobby in the early '90s after discovering a 1941 Lincoln wheat cent in pocket change. I was hooked from that moment on and have since stuck with the hobby – and it has stuck with me. I owe a lot to that 1941 "wheatie." The question I ask is this: how many coin collectors still make collecting Lincoln wheat cents a priority? Five or six decades ago, it seemed everyone collected pennies. That, thanks to the advent of the penny board in the 1930s, the Lincoln cent folders in the 1940s, and the further popularization of coin collecting in the '50s and '60s that made numismatics a pastime for the masses. It fed the coin collecting boom of that was hitting its zenith about 60 years ago. Read more here. 
#5 — New 2018 Silver Reverse Proof Set Surpasses 114,000 in First-Day Sales
The 2018 San Francisco Mint 2018 Silver Reverse Proof Set was released by the United States Mint yesterday at noon Eastern Time and, according to the US Mint, notched a first-day sales total of 114,108 sets sold. This is impressive, as this figure represents nearly 60 percent of the product's maximum mintage of 200,000 sets. There were certainly expectations from the US Mint that the set would sell briskly, as first-day order limits were placed at just 10 per household across all sales channels, including bulk sales. This special 2018 reverse proof set was issued to honor the 50th anniversary of the first San Francisco proof sets, which were issued in 1968. This proof set features seven coins made in a 90% silver composition and contains a total of 1.338 troy ounces of silver. Read more here.

#4 — 3 Types of Valuable Coins To Look for in Rolls
For many, it's hard to imagine that there are any coins worth looking for in circulation these days. Many of the hobby's more seasoned veterans remember a time five or six decades ago when 90% silver coins appeared in regular circulation and classic issues such as Buffalo nickels, Barber coinage, Mercury dimes, Standing Liberty quarters, and others could be found with some frequency. Today's circulating coins may look different, but that doesn't mean it's a waste of time to turn to bank rolls, which are still fertile searching grounds for patient coin collectors. Read more here.

#3 — NCIC Tips Lead To Arrests In Robbery Of Rare Silver Dollars From Super Bowl Star's Home
The New England Patriots suffered a tough loss against the Philadelphia Eagles during the National Football League's Super Bowl in Super Bowl LII, played in Minneapolis, Minnesota, on February 4, 2018. As New England Patriots player Rob Gronkowski was playing in the big game, his Foxborough, Massachusetts, home – which he shared with three other people – was robbed. Among the losses reported were two proof Morgan silver dollars belonging to one of Gronkowski's housemates; the Morgan dollars have been identified on a Coin Community discussion thread as 1879 and 1896 proof dollars certified by Professional Coin Grading Service (PCGS). Read more here.

#2 — PCGS Founder David Hall Departs Collectors Universe
Collectors Universe announced last night the departure of David Hall from his role as the company's president and chief operating officer effective September 18, 2018. The news comes as a surprise to many in the numismatic community, and a brief press release from the company announcing Hall's termination provides no details as to the reason for his immediate departure. Among the few other insights the report offers is that Joseph J. Orlando, the firm's chief executive officer, will assume Hall's duties. As of today, with little other information available to go on, any guesses as to why Hall's employment was terminated is mere conjecture. It should be noted that Collectors Universe is publicly traded on the NASDAQ stock exchange (CLCT), though whether or not the move has anything to do with business motives from that standpoint has not been officially acknowledged. Read more here.

#1 — 4 Valuable Roosevelt Dimes Worth Looking For In Circulation
Roosevelt dimes have been in production since 1946, and this long-running series is generally affordable – most dates are easily obtainable in circulated and typical uncirculated grades. However, there are several Roosevelt dimes that are relatively scarce and are worth a pretty penny. Even better? With enough looking, these valuable Roosevelt dimes can be found in circulation. Read more here.
What kinds of stories will go viral in 2019? Only time will tell, but we can certainly say this: we've had a wonderful year here at CDN Publishing, and we wish you and yours a happy, healthy, prosperous 2019!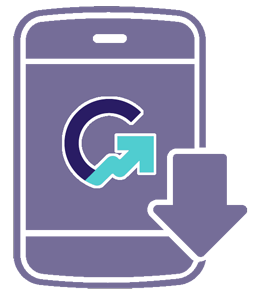 Download the Greysheet app for access to pricing, news, events and your subscriptions.
Subscribe Now.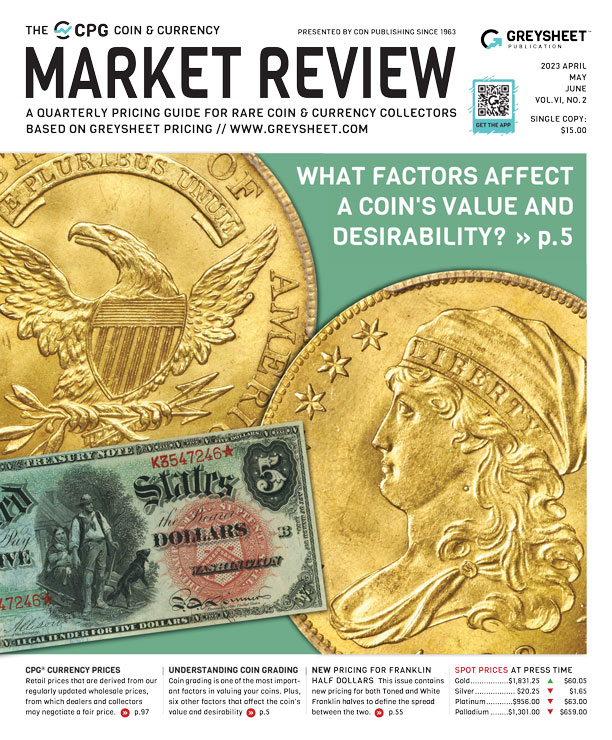 Subscribe to CPG© Coin & Currency Market Review for the industry's most respected pricing and to read more articles just like this.
Visit these great CDN Sponsors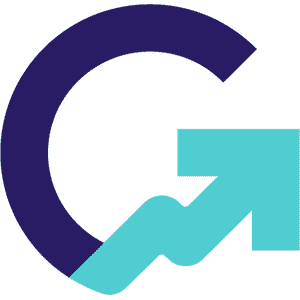 The trusted name in numismatic pricing since 1963, CDN Publishing is home to important industry reference and price guides, including the Greysheet, Greensheet, CPG Rare Coin Market Review, and the CAC Rare Coin Market Review, and the Banknote Book. Located in Virginia Beach, you can find out more at www.greysheet.com, or call 757-655-1056.
---