Bitcoin:

$27,047.24
$36.72
Ethereum:

$1,892.60
$1.83
Legend's Regency Auction 28 Presents Major Opportunities for Collectors
Firm's second 2-day auction focuses on quality rarities, with one session focused solely on half dollars. Legend Rare Coin Auctions is proud to announce the 28th Regenc
Firm's second 2-day auction focuses on quality rarities, with one session focused solely on half dollars.
Legend Rare Coin Auctions is proud to announce the 28th Regency Auction, the second auction in the firm's history that required two sessions to present the wide variety of important, historic, and rare coins. Like the firm's May Regency Auction, the first day's auction will focus on a single denomination, with the remaining coins being offered on the second.
On Wednesday, September 25, at 5:30 PM, will commence the Half Dollar Day auction, led off by the Kontantine Collection, the # 1 all time PCGS Registry Set of Capped Bust Half Dollar Red Book Varieties, 1807-1836. The 73-piece collection features many Condition Census and finest known examples of their respective Red Book and Overton varieties. It has been a great honor and pleasure researching and cataloging these remarkable pieces. Since the initial announcement, there has been a huge response from collectors, and this will indeed be an historic offering, the first of its kind.
Continuing through the Half Dollar session, are other Bust, Seated, and Barber half dollars to delight collectors at any level, beginner to the most advanced specialists. Following the Barber halves, is a superb selection of Walking Liberty half dollars, one of the finest LRCA ever handled, anchored by the Sommelier Collection. There are GEMS and SUPERB GEMS of many different dates, enough to excite even the most jaded of collectors. Franklin and Classic Commemorative half dollars round out the session, with many high grade and beautifully toned examples, every coin hand-selected for its superb eye appeal and quality.
The rest of the Regency Auction will be held on Thursday, September 26 at 4:30 PM. Starting with half cents and concluding with patterns, there are many exceptional numismatic rarities in all series for the collector. This evening's session contains many wonderful individual highlights and is anchored by the Hallett Collection of Mercury dimes, the current #5 and #9 all-time set on the PCGS Registry. To attain such a high rank on the Registry, every coin is among the finest graded. High grade type coins and beautifully toned Morgan dollars, including selections from the Aurora Borealis Collection, will draw significant attention from collectors of all areas and all levels.
Highlights include:
Lot 6: 50C 1808 O-103. PCGS MS67 CAC Ex Pogue-Konstantine.
Lot 14: 50C 1812/1 Large 8, O-101. PCGS AU50. Ex Link-Konstantine
Lot 24: 50C 1817/4 O-102. PCGS VF35 Ex Pogue-Konstantine
Lot 92: 50C 1830 O-101, Small ). PCGS MS66 CAC Ex Eliasberg
Lot 103: 50C 1898 PCGS PR67+ CAM CAC
Lot 119: 50C 1919-S PCGS MS65 CAC Ex. Sommelier Collection.
Lot 125: 50C 1921-S PCGS MS65 CAC Ex. Sommelier Collection
Lot 146: 50C 1929-D PCGS MS67+ CAC
Lot 166: 50C 1949-S PCGS MS67+ FBL CAC
Lot 183: 50C 1936-D Columbia. PCGS MS68 CAC
Lot 210: 1C 1794 S-32. Head of 1794. PCGS MS65+
Lot 225: 1C 1877 PR66 RD
Lot 238: 1C 1911-D PCGS MS67 RD
Lot 251: The Legend Collection of 2C Proofs, 1864-1873. PCGS PR66 RB CAC
Lot 292: 5C 1926-S PCGS MS65+ CAC
Lot 304: H10C 1795 PCGS MS66 CAC
Lot 461: 25C 1916 PCGS MS67 FH
Lot 482: $1 1869 PCGS PR65 DCAM
Lot 497: $1 1885-O PCGS MS67 CAC
Lot 543: $1 1896 PCGS PR67+ DCAM CAC
Lot 564: $2.50 1857-S PCGS MS63 CAC Ex S.S. Central America
Lot 570: $2.50 1866 PCGS PR65 DCAM CAC
Lot 584: $3 1881 PCGS PR66 CAM CAC
Lot 585: $5 1802/1 PCGS MS64 CAC
Lot 589: $5 1820 Square 2. PCGS MS63 CAC
Lot 621: $20 1870-S PCGS MS63 CAC
Lot 649: $1 1836 J-65. Restrike. PCGS PR64+ CAC
Lot 660: 50C 1879 J-1599. PCGS PR67 CAM CAC
"Wow, I can't believe what a marvelous offering of major rarities and important coins this sale is!" declared Laura Sperber, the founder of LRCA. "It never ceases to amaze how exceptionally well our auctions come together." The firm's president, Julie Abrams continued with the sentiment, "with coins coming in at the office and at shows, we know about the anchor consignments, but until it is all laid out in front of you, it is hard to imagine!"
Laura continued with her comments, "With 665 lots, and well over $7,200,000 in presale estimates, it is one of our largest auctions to date. We are so proud to have been selected to offer the anchor collections: Konstantine, Sommelier, and Hallett Collections—each exceptionally important in their respective series, and each will attract very active bidding."
"The Konstantine Collection presents a unique opportunity in the annals of numismatics that a complete Red Book set of Capped Bust half dollars will be auctioned in a single sale," explained Greg Cohen, senior numismatist. "This sale will also be noted for many individual rarities, that will be cornerstones and capstones in the new collections they will grace."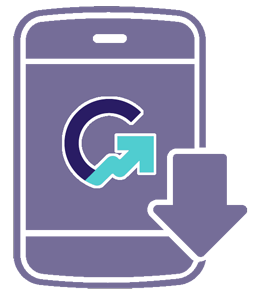 Download the Greysheet app for access to pricing, news, events and your subscriptions.
Subscribe Now.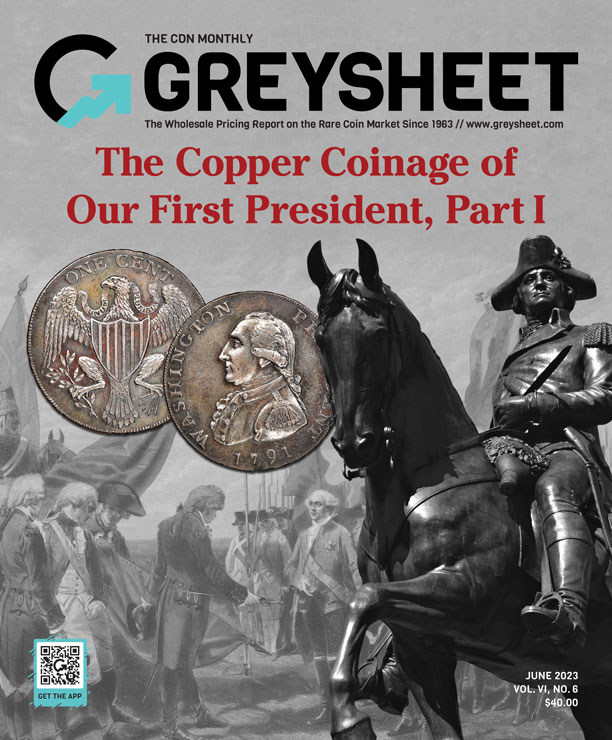 Subscribe to Monthly Greysheet for the industry's most respected pricing and to read more articles just like this.
Visit these great CDN Sponsors

Legend Rare Coin Auctions is an auction company dedicated first and foremost to coin collectors, whether you are buying or selling!!
Our auction company can handle everything from an entire collection to a single coin and makes sure that the coins are placed in the sale most suitable to bring the best prices realized. If you are in the market to purchase, Legend guarantees a boutique offering of world class rarities and high-end coins.
The auction company is owned by Laura Sperber, who is also the principal owner of Legend Numismatics, the undisputed #1 premier coin dealership in today's marketplace. Laura's credits include being the exclusive dealer to top collectors such as Simpson, Morelan, Coronet Morgans and more. She has personally bought and sold over $600 million in rare coins since she started her coin career in 1976. This means that Legend Numismatics has bought and sold more major, world class rarities than any other company. Using her expertise in the business and realizing the need for a smaller boutique type auction company where personalized service and quality offerings were the rule, she created Legend Rare Coin Auctions.
Legend Rare Coin Auctions Motto: "A happy buyer, equates to a happy seller!" You will find that Legend Rare Coin Auctions offers buyers and sellers a refreshing auction venue that is very different from its competitors.
---