Bitcoin:

$28,467.67
$134.22
Ethereum:

$1,821.61
$8.76
March 2023 Greensheet Market Analysis: UPCOMING AUCTION ACTION KEEPS THE MARKET ROLLING
The monthly currency market commentary for March 2023. HERITAGE LONG BEACH SALE DOES MORE THAN $10 MILLION, BESTING PRIOR YEARS
THE SUCCESS OF THE JANUARY FUN SHOW and auction sale kick-started the year for the U.S. currency market, and the recent events have kept the material flowing. In both January and February Stack's Bowers conducted specialized online-only sales of $500 and $1,000 denomination Small Size Federal Reserve Notes as part of their Collector's Choice series of auctions. The January event had 53 lots and the February version had 54 lots. In the January sale the top lot was a scarce Series 1928 $500 Gold Certificate (Fr.-2407) in PMG VF30 at $14,400. Showing remarkable consistency, and identical graded note sold at Heritage just nine days later for the exact same price.
Multiple other results emphasize the continued demand for high denominations. A Series 1934 $1,000 from San Francisco (Fr.-2211Lm) in PCGS Banknote CU63 sold for a strong $9,600, while a Series 1934A $1,000 from the Chicago district (Fr.-2212G) in PMG CU64 sold for the same price. A pair of identical $500 notes shared the same realized price of $9,000: two Series 1934A notes from Chicago (Fr.-2202G) in PMG Gem CU65 EPQ. Each of these notes would have set a price record for the catalog number which they now co-own, showing that multiple bidders were willing to go to new highs to acquire them. For comparison, a CU66 EPQ graded example of this note brought $6,600 in October of 2021. Another eye-opening price from the January sale came from a Series 1934 $1,000 from Chicago (Fr.-2211G) grade AU58 by PCGS Banknote. Against a high estimate of $6,000 the note sold for $8,400, near previous prices for Choice Uncirculated pieces. The top lot from the February sale was similar to January, a Series 1934A $1,000 from Chicago in PMG CU64 EPQ at $9,600. A $500 note from the Series of 1934A issued by the slightly better New York district (Fr.-2202B) certified PMG Gem CU65 EPQ sold for a very strong $9,000, a price closer to previous sales of Superb Gem CU67 examples. Finally, a Series 1934A $1,000 from Kansas City (Fr.-2212J), which is always a sought-after district, graded AU58 by PCGS Banknote sold for a strong $6,600.
The firm of World Banknote Auctions has recently launched U.S. currency sales, and this month sees the sale of part one of the Navy Commander Collection. Selling March 10th, it features 323 lots of Large and Small Size Nationals. There are four National Gold Bank Notes in the sale, highlighted by an 1875 $10 issued by the First National Gold Bank of Oakland (Fr.-1151) graded Fine 12 by PMG.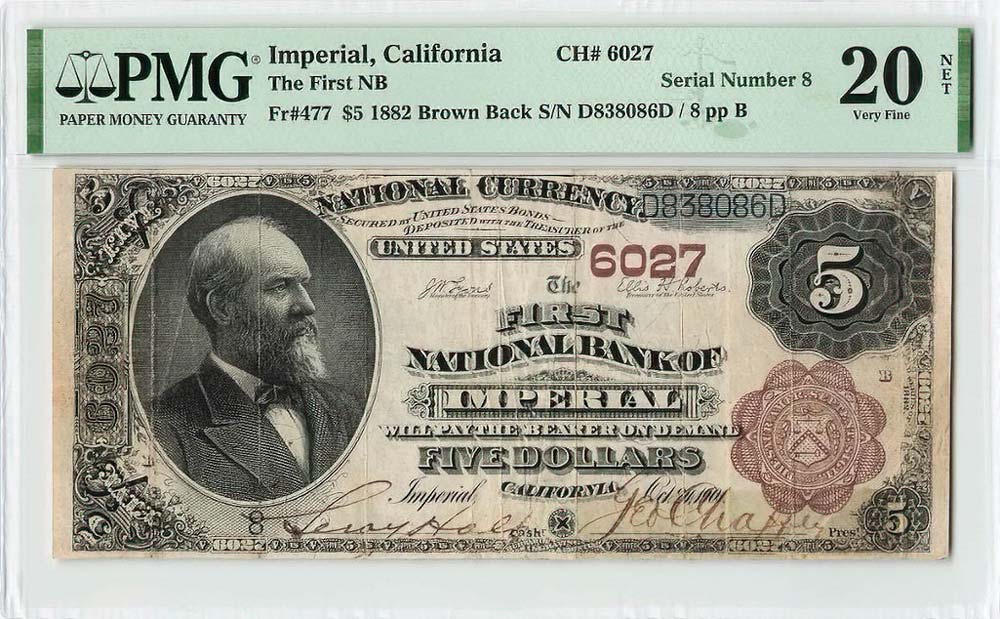 A seldom-seen note, the last public auction appearance of an example was back in 2017. Multiple 1882 Nationals from the state of California are on offer, led by a Brown Back (Fr.-477) issued by the First National Bank of Imperial (a city far east of San Diego) that is serial number eight. Adding to the historical significance of this particular note is the fact that it is hand-signed by George Chaffey, an important figure in the development of San Bernardino county who has both a high school and junior college named after him. Among Small Size Nationals, the clear standout is a rare mismatched prefix error on a 1929 $10 from the First National Bank of Boston. The left serial number prefix is a "B" while the right one is an "E." The catalogers trace only three total examples of this error on a National Banknote. Lastly, a very interesting and esoteric item in the sale is a Series 1929 $5 from the First National Bank of Crows Landing, California boasting serial number one. Crows Landing is a rural community in Central California in the heart of agricultural production.

Also, towards the end of March is the major U.S. currency auction of the year from Stack's Bowers. Formerly known as the Baltimore sale and now known as simply the Spring Auction, it features more than 1,300 lots of a broad spectrum of notes. Nine individual pieces carry six-figure estimates and as usual there is a strong offering of high-grade Large Size type notes. The second online-only session features more than 100 lots of Colonial paper money, a sizable offering for dealers and specialists to compete for. All told, the next couple of months promise to be busy for the United States paper money market and we are eager to see the price activity that results.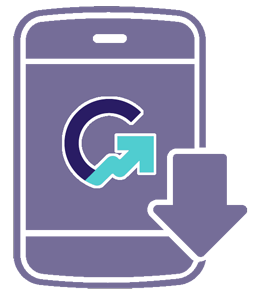 Download the Greysheet app for access to pricing, news, events and your subscriptions.
Visit these great CDN Sponsors
Author: Patrick Ian Perez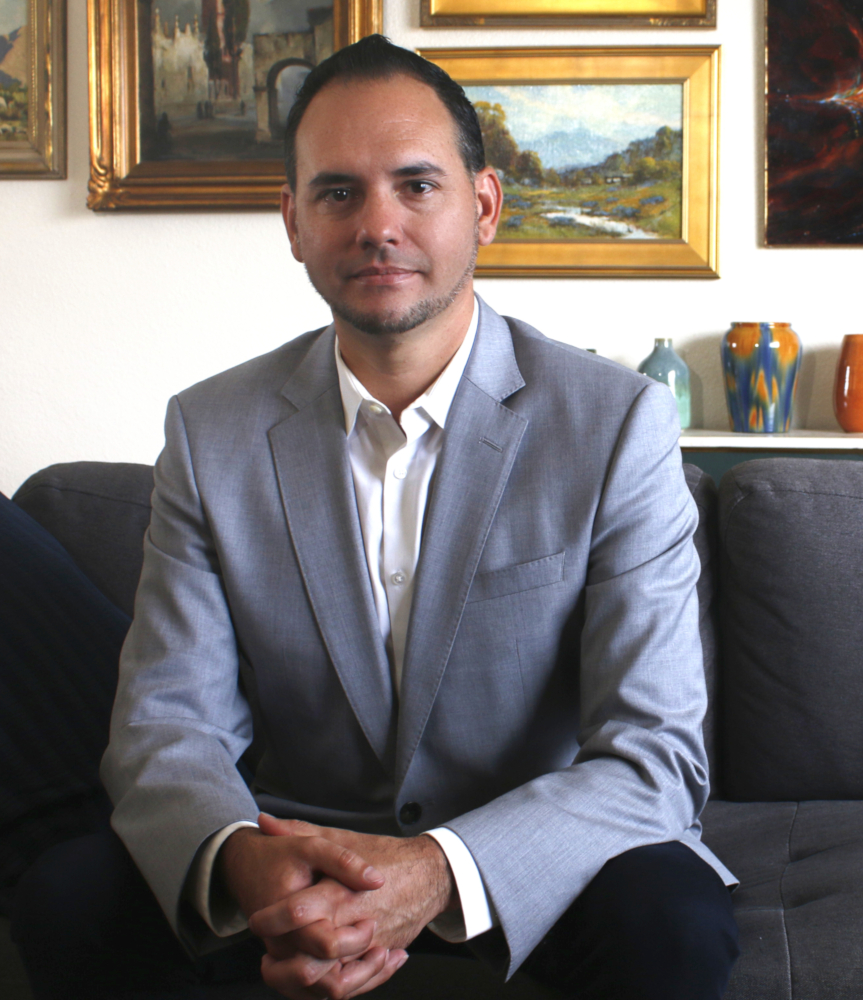 Patrick Ian Perez began as a full time numismatist in June of 2008. For six years he owned and operated a retail brick and mortar coin shop in southern California. He joined the Coin Dealer Newsletter in August of 2014 and was promoted to Editor in June 2015. In addition to United States coins, his numismatic interests include world paper money, world coins with an emphasis on Mexico and Germany, and numismatic literature. Patrick has been also published in the Journal of the International Bank Note Society (IBNS).
---