Palladium:

$1,592.50
$41.50
Bitcoin:

$22,886.16
$12.09
Ethereum:

$1,635.15
$8.15
Canadian Dollar:

$0.74
$0.01
May 2021 Greensheet Market Report: Auctions Continue to Set Market Levels
The Stack's Bowers United States currency auction held in late March brought in $4.4 million across two sessions of just over 1,100 lots.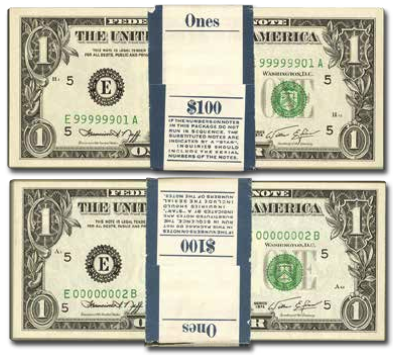 The Stack's Bowers United States currency auction held in late March brought in $4.4 million across two sessions of just over 1,100 lots. With a per-lot average of $3,764, this was a relatively strong currency sale overall. As is usually the case with Stack's Bowers sales, there was a wide swath of material on offer at a wide range of price points which is appealing to both dealers and collectors. Enthusiasts of Federal, Colonial, Obsolete, and National currency all had opportunities. By volume, the greatest amount of lots fell in the $2,000 to $800 range. Nine lots exceeded the six-figure mark and the top lots were a good mix of both Large Size and Small Size, with four Large and five Small. Unsurprisingly, all of the Small Size notes were either $5,000 or $10,000 Federal Reserve Notes. The top overall lot was an 1863 $100 Legal Tender (Fr.-167a) graded Choice Uncirculated 63 by PCGS Banknote that sold for $264,000. The price for that note in the assigned grade was a little bit soft, which can most likely be attributed to the lack of a premium paper quality designation. Honors of most interesting lot go to lot #3394, which consisted of a pair of packs (100 pieces each) of Series 1974 $1 Federal Reserve Notes from the Richmond district (Fr.-1908E) which included a sought-after changeover pair. A changeover pair is when the serial numbering of one block ends and the new one begins on the next note. In this case, the initial block of the print run, EA, ends and the next block, EB, begins. At the time there were eight digits between the block letters, thus the changeover pair was numbered E99999999A and E00000001B. According to the catalog, the pair of packs was saved by an employee of the Richmond Federal Reserve Bank, which is impeccable provenance. This lot sold for $31,200, a large number for modern notes. While very many are common, there is significant collector interest in the scarce and rare items within modern Small Size Federal Reserve Notes.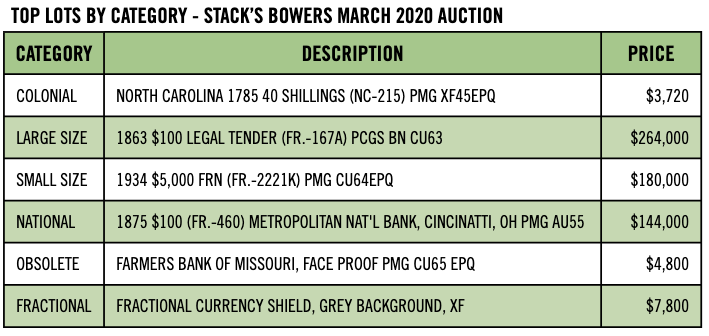 One of the things I like to do, as I am sure many other readers do as well, is to construct a "watch list" of items in most major currency auctions. All of the major auction houses have this functionality for registered users of their websites. Since I review every major (and most minor) currency sales that take place, I build a watch list of items that are popular and in-demand in the market and also more obscure/lesser seen items. After the sale, I review the prices realized and compare to both the presale estimates and previous auction prices realized. For last month's Stack's Bowers Hong Kong world paper money auction, I made a watch list of 33 items for the online-only session (Session G). I am using this session because the main live session was filled with scarce to rare notes that were going to bring strong prices based on the current market environment. Looking at the generally lower-priced items in the online-only session gives a better survey of the top-down performance of the market; put another way, it is easy to predict rare notes are going to bring very strong money but looking at more run of the mill notes gives a better idea of collector demand. This everyday collector demand is what is needed to sustain a market in a healthy way long-term and avoid unrealistic bubbles. Of my sample watch list of 33 items, 20 of them sold for greater than their high presale estimates. Two notes sold for below their low presale estimates, leaving the other 11 to sell for within the estimate. Perhaps the most important aspect is none of the notes went unsold. The biggest outperformer was a China 1949 10,000 Yuan note, graded VF35 which sold for $1,680 against a $450 high estimate, a 273% premium. This snapshot, while a relatively small sample size, shows that the currency market is in good shape from a demand point of view.

Possibly the most interesting and exciting thing to look forward to over the second half of this year is to see how the flow of collectible currency resumes once large shows and conventions restart. While there has been a number of smaller regional and local shows that have already taken place, there has yet to be a major national show. The first prospect for this to happen, as of this writing, is the Summer FUN Convention in Orlando in early July. It is anticipated that wholesale demand will be high, but it is unknown what dealer stocks will look like. Dealers who have been well-equipped to sell online have depleted stocks and will be looking to reload. A return to normalcy has the potential to spark more demand and have a knock-on effect pushing prices higher.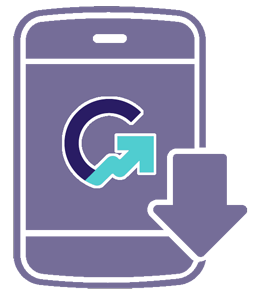 Download the Greysheet app for access to pricing, news, events and your subscriptions.
Visit these great CDN Sponsors
Author: Patrick Ian Perez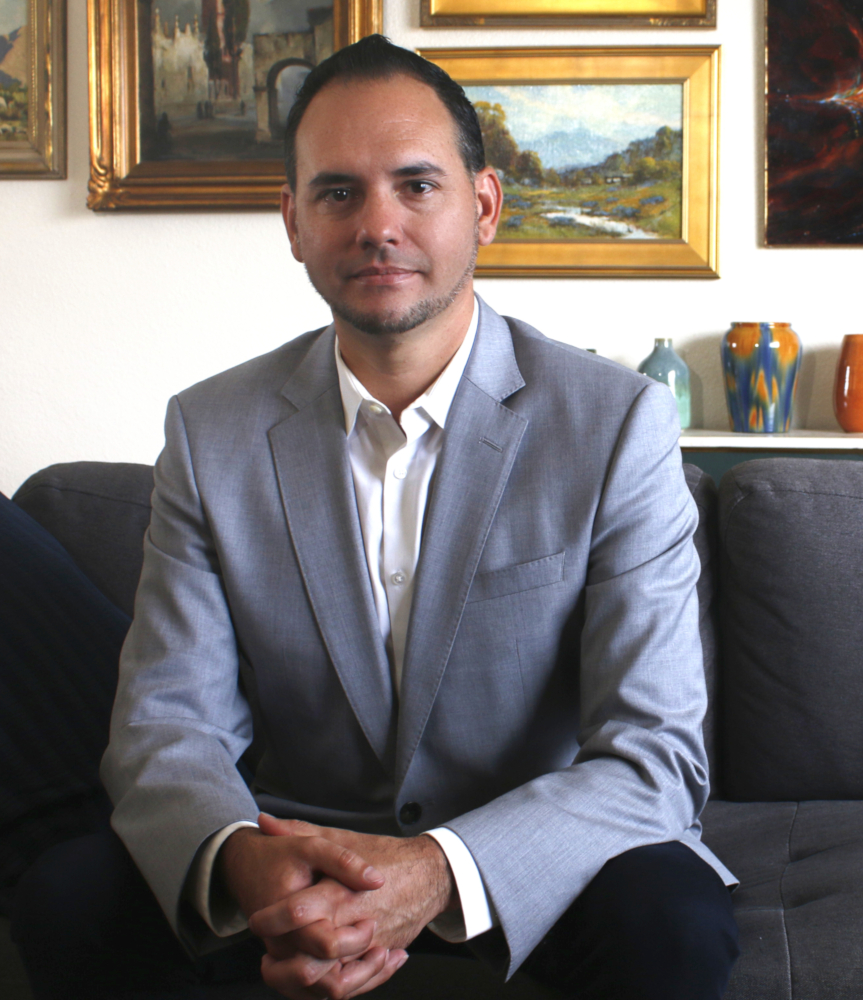 Patrick Ian Perez began as a full time numismatist in June of 2008. For six years he owned and operated a retail brick and mortar coin shop in southern California. He joined the Coin Dealer Newsletter in August of 2014 and was promoted to Editor in June 2015. In addition to United States coins, his numismatic interests include world paper money, world coins with an emphasis on Mexico and Germany, and numismatic literature. Patrick has been also published in the Journal of the International Bank Note Society (IBNS).
---