Palladium:

$1,651.50
$6.50
Bitcoin:

$22,944.59
$320.28
Ethereum:

$1,651.27
$30.13
Canadian Dollar:

$0.74
$0.01
Australian Dollar:

$0.69
$0.01
MDC 7th Auction Preview: Rare Coins & Medals Monaco place du Casino salon Bellevue: June 12, 2021
MDC Monnaies de Collections sarl Monaco presents its next major numismatic auction by expert Nicolas Gimbert, an auction provided by the ministry of Maître Lefèvre, Monaco.
MDC Monnaies de Collections sarl Monaco presents its next major numismatic auction by expert Nicolas Gimbert, an auction provided by the ministry of Maître Lefèvre, Monaco. Auction live with the clerks of Biddr Switzerland and Auex Germany and on all reference numismatic platforms.
Our experts have carefully selected a series of rare and prestigious coins and medals and the catalogue is still being in writing process, but we would like to introduce you in exclusive preview with some of the auction highlights and those Commonwealth major coins: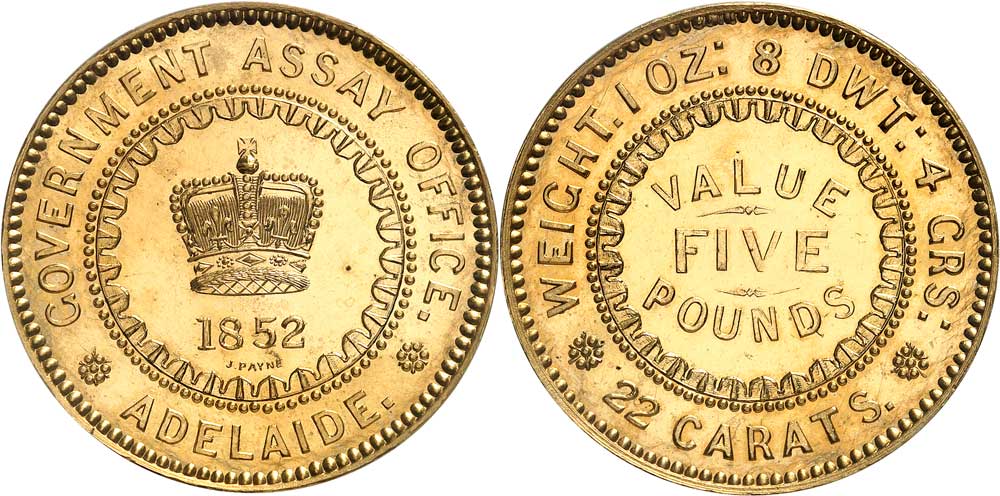 Australia,Victoria (1837-1901).5 pounds pattern, by Joshua Payne (1852-1921) Melbourne.

Obv. GOVERNMENT ASSAY OFFICE / * ADELAIDE *. Milled edge, crown and (date), signature J. PAYNE. Rev.WEIGHT I OZ: 8 DWT: 4 GRS: /* 22 CARATS *. In a milled edge composed of a dotted line between two lines: VALUE FIVE POUNDS.
Fr.2 - KM.Pn1 . Gold - 44,09 g - 33 mm - 12 h.
Work by Joshua Payne. Special strike, only 7 minted, by the Melbourne Mint in 1921 on the original dye.
South Australia was officially established as a British colony on the 28th December 1836 (known and commemorated as Proclamation Day). It became an autonomous colony in 1856 with the ratification of a new constitution by the British parliament, with secret ballot and a two-chamber parliament. In 1857, there are 109 917 inhabitants. The city of Adelaide owes its name to the queen Consort, wife of king William IV. It was founded in 1836 to welcome free British people.
In 1851, the discovery of gold sparked a gold rush and about 8 000 men left Adelaide hoping to make fortune. The gold nuggets they found helped reduce the economic crisis. An analysis office is founded in 1852 manufacturing ingots and then choosing to do this mint which met the need to convert the gold nuggets, without royal approval. It was a local engraver, Joshua Payne, using local equipment, who produced these gold coins with this first legal tender in the country for the Government Assay Office in Adelaide. Coins of 10 shillings, 1 pound and 5 pounds were planned but only the one-pound coin is minted and used. On our extremely rare pattern, weight and fineness are indicated as on the one-pound coin. For the Five pounds coin, it is 1 ounce, 8 pennyweights, and 4 grains (44.102 g), as well as the 22 karat alloy. Following this minting first step, a branch of the Royal Mint is established in Sidney and will begin producing gold sovereigns. In 1921, the Melbourne Mint struck seven dyes of the five pounds coin, modeled on Joshua Payne's coin from 1852. Another die is known at the Victoria Museum in Melbourne, extremely rare and of the greatest interest.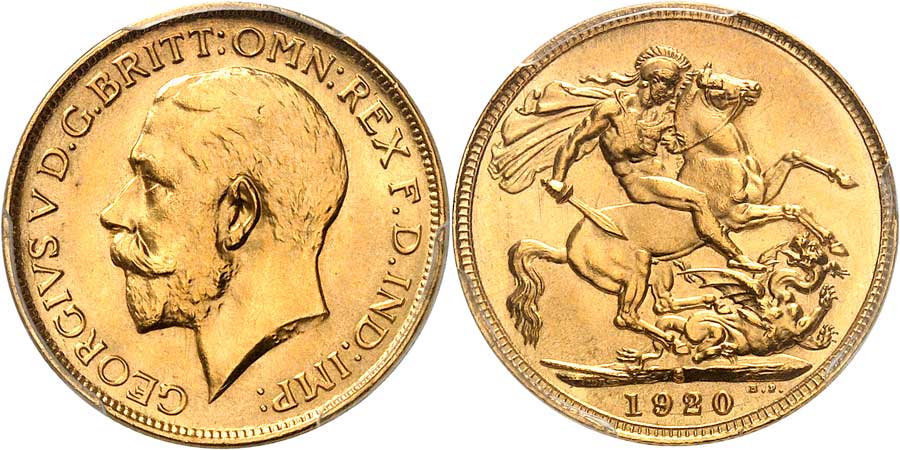 Australia, Georges V (1910-1936). Sovereign private strike in SPECIMEN, 1920-1926, Sydney.

Obv. GEORGIVS V D. G. BRITT. OMN. F. D. IND. IMP. Bare head to the left, B.M. signature. Rev. Saint George slaying the dragon, B.P. signature; (date).
S.4003 - KM.29 - Fr.38 ; Gold - 7,98 g - 22 mm - 12 h. Fleur de coin.
Comes from the Quartermaster Monetarium (Australia) collection. Pty. Ltd., 4th June 2009, N°196 (AU$ 800 000 + fees) and previously Paul Terry and R. Jaggard collection in 1989.
This is the rarest mint of the Sovereign series, even rarer than the London 1819 Sovereign, of which ten to twelve coins are listed, with only four or five coins listed. Our coin, which comes from the 2009 Quartermaster collection, is the finest known one, in a SPECIMEN strike, a hypothesis indicating that it may have been minted in 1926 in London from Australian dyes. 1920 Sidney strike is unofficial, gold price following the end of the First World War led to the end of Sovereigns production in London in 1917, in Ottawa in 1919, in Bombay in 1918 then in 1920 in South Africa and in Australia.
The figure of 360 000 coins minted in Sidney in January 1920 is in fact for the 1919 edition. This serie is in fact the result of a private commission from Jacob Garrard (1846-1931) for his wedding anniversary on the 15th April 1920. With his seven children, his wife and him, we can assume that nine coins were minted, each having received a coin and only four coins are known to exist today, this one being the most beautiful.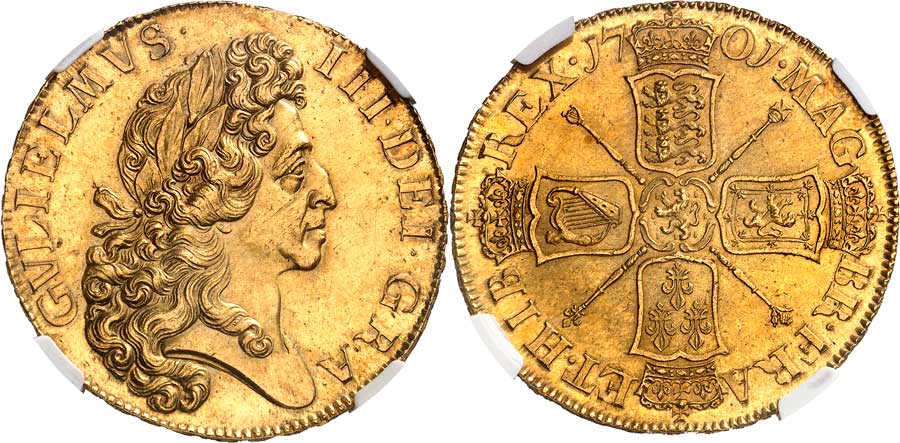 Great Britain William III (1694-1702). 5 guineas, 2nd bust, 1701, London.

Obv. GVLIELMVS. III. DEI. GRATIA Laureated Bust to the right
Rev. MAG. BR. FRA. ET. HIB. REX (date). Four crownedshields forming a cross, with heart arms, and cornered with four scepters.
Fr.310 - S.3456 - KM.508; Gold - 6 h.
With large wig bust and full scepters. Inscribed edge: + DECVS. ET. TVTAMEN. ANNO. REGNI. DECIMO. TERTIO +.
This remarkable portrait of William III owes is by the mint master named in 1696: famous Isaac Newton. He takes his role earnestly and has numerous counterfeiters investigated and convicted, also thanks to his talents as a mechanic, he supervises the engraving of a new portrait of the king. This fine work depiction was of a never reached before level of realism by the British mint: an accurate expression of William III, a very detailed depiction of the wig locks and deep reliefs of the bust.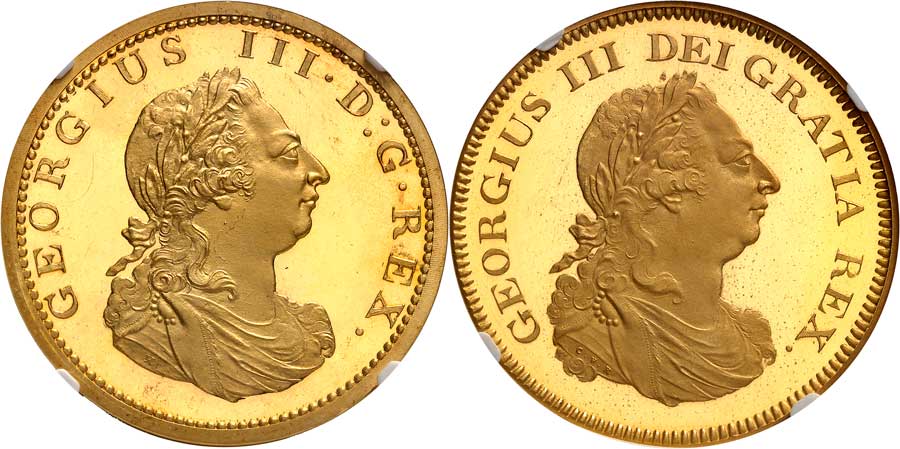 Great Britain Georges III (1760-1820). Gold pattern of the dollar with double obverse, PROOF 1804, London.

Obv. GEORGIUS III. D: G. REX. Bust to the right, K. signature

Rev. GEORGIUS III. D: G. REX. Bust to the right, C. H. K. signature
W&R.146 GOLD - KM cf. Pn66/Pn67 - Forrer III p.234- 242 ; Gold. With the two obverse dyes signed K and CHK.
Conrad Heinrich Küchler was born in Flanders circa 1740. He worked in Darmstadt, Mannheim, Frankfurt from around 1760 to 1775, then in France and later in England from 1793, especially for Matthew Boulton at the Soho factory where he is the author of numerous works for many countries such as Ireland, Denmark, Germany, Russia, France. For England, he made several portraits of George III, of which these patterns for the dollar, with minimal differences between them, the most obvious being the curl of hair below the shoulder line. He dies in Handsworsth in 1810.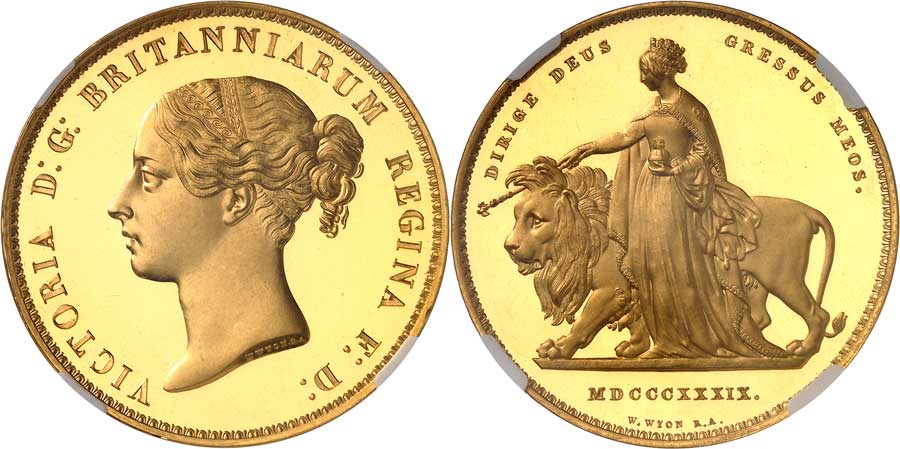 Great Britain Victoria (1837-1901). 5 pound "Una and the lion" PROOF, 1839, London.

Obv. VICTORIA D: G: BRITANNIARUM REGINA F: D: Bust left with headband
Rev. DIRIGE DEUS - GRESSUS MEOS. The queen left leading a lion with her scepter; date and signature W. WYON R. A.
Fr.386 - S.3851 - W&R.278 - Schl.148; Gold - 37 mm - 12 h. Inscribed edge: DECUS ET TUT AMEN ANNO REGNI TERTIO.
Designed by William Wyon (1795-1851) in 1839 to commemorate the start of Victoria's reign (in 1837), "Una and the lion" five pounds coin is known as one of the finest British coins. Victoria, accompanied by a lion, walks left, with the motto "May God direct my steps". The young queen, then aged twenty, is portrayed as Lady Una from a character in the poem The Faerie Queene by Edmund Spencer in 1590. This interesting design is the first depiction of a British monarch as a fictional character: the lion embodying England is directed by queen Victoria, as Una, who guides it with her scepter.
SATURDAY 12th JUNE 2021
VIITH NUMISMATIC AUCTION MONACO PLACE DU CASINO SALON BELLEVUE
Expert Nicolas Gimbert
Private exhibition
1 - upon appointment until 10 June included at MDC Monnaies de Collection sarl 27 avenue de la Costa Monaco
2 - 11th June 9 a.m. to 6: 30 p.m. and 12th June 8 a.m. to 9: 30 a.m.: salon Bellevue casino square in Monaco
Contact : Cécile Potocki
email : info@mdc.mc
Phone : 00377 93 25 00 42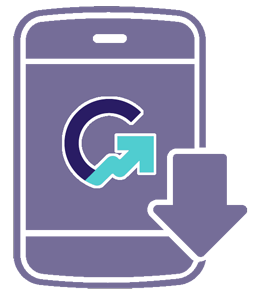 Download the Greysheet app for access to pricing, news, events and your subscriptions.
Visit these great CDN Sponsors

MDC Monnaies de Collection is a team of numismatic experts organizing auctions in Monaco of rare collectable coins and medals for an international clientele. Our selection is set on strict criteria such as their provenance, their condition and their quality. Located in the Park Palace mall in Monte Carlo area of Monaco, MDC provides professional valuation and purchase services as well as the guarantee of completing or selling a collection for an optimal profit. Our team is committed to offer you a friendly advice and personalized service, whether it is for sales, shipments, valuations or just advice on setting up coin collections.
---