Bitcoin:

$23,246.51
$123.19
Ethereum:

$1,604.84
$5.33
Our Top 5 Coins from Legends' offering of the Gerald Forsythe Walking Liberty Half Dollar Collection
On April 21st, Legend Auctions is highlighting the greatest set of Walking Liberty Half Dollars ever assembled in The Regency Auction 44 at the Bellagio Hotel & Casino in Las Vegas.
On April 21st, Legend Auctions is highlighting the greatest set of Walking Liberty Half Dollars ever assembled in The Regency Auction 44 at the Bellagio Hotel & Casino in Las Vegas. This collection is comprised of 51 spectacular Walkers and ranks number one in the PCGS Registry. The collector behind this breathtaking set is Gerald Forsythe, an American businessman, numismatist and owner of Forsythe Championship Racing. As numismatists, we can all relate to how certain coins can get the adrenaline pumping just as much as being strapped in a racing car and speeding to the finish line.
Mr. Forsythe is a prominent figure in the realm of registry sets, as he has built multiple top ranking collections. Besides Walking Liberty Half Dollars he has also collected impressive sets of Shield, Liberty and Buffalo Nickels. Other noteworthy sets he is credited for completing are Mercury Dimes and Ten Dollar Indians. Forsythe focuses on acquiring all dates, mints, and major varieties of each of these series in both business and proof strike format. He strives to acquire only the best specimens evidenced by the fact that many of his coins are some of the finest known pieces with superbly pleasing eye appeal and quality.
This Walking Liberty Half Dollar collection is jaw-dropping and Forsythe built it meticulously, piece by piece, through both auction and private sale. His collection of Walkers took decades to assemble; and, therefore, is full of "fresh" coins that have not seen the marketplace in quite some time. This highest ranked set is, justifiably, being auctioned off as a complete and combined collection in one auction lot. Any sophisticated and advanced collector of 20th century American coinage has a once in a lifetime opportunity awaiting them as the owner of the highest ranked Walking Liberty Half Dollar collection, ever, in the PCGS Registry.
Although Collectors Universe values Forsythe's collection at just over $2.6 million, it is incomparable to any price guide valuation. It is famous, in its own right, and one of a kind with pieces that are of such high quality surfaces, color and luster that it is difficult to put any sort of a cap on their value. Legend has provided an estimated hammer price in the range of $2.8 million to $3.2 million, which any numismatist would deem a fair value range for this collection. Legend Auctions is in a unique and exciting position to represent the Gerald Forsythe Walking Liberty Half Dollar Collection at auction. Legend Auctions CEO Matthew Bell had the following to say about how excited he and everyone involved at Legend is, regarding this special offering. "We are thrilled to be able to offer such an incredible set as a single lot.
As far as we can tell, no PCGS Hall of Fame registry set has ever been offered as one lot in auction. With the amazing number of finest known coins in the set, as well as the eye appeal throughout the entire collection, we are excited to see how the market responds to this unique and rare opportunity." How exciting it is for the numismatic community to witness the auctioning of what may be the first ever PCGS Hall of Fame registry set to ever be auctioned off as one. There are an array of key dates, near-perfect gems and coins ranging in value from hundreds of dollars to hundreds of thousands of dollars. Below is a highlight of five of the most notable coins in this esteemed collection, from my perspective. I did not select these 5 coins based on value; rather, I focused strictly on eye appeal with an array of different levels of toning at high gem grades ranging from MS66 to MS68. This was a very difficult and time consuming task as I fell in love with virtually all of the coins in this Hall of Fame level collection.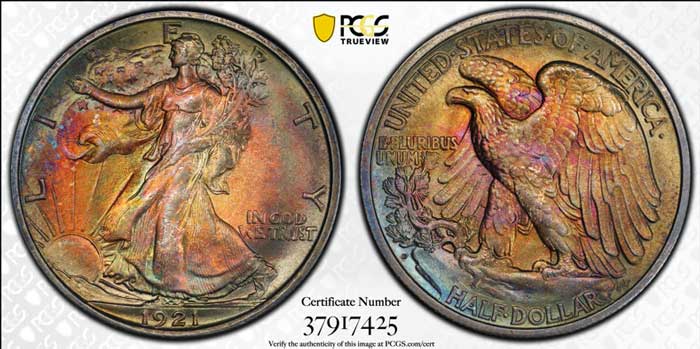 #1: 1921-D
This is my first choice from the collection. It is the 1921-D in MS66. The fact that it is a key date is just a bonus as that did not factor into my selection decision at all. Anyone familiar with this number one ranking registry set and the Walking Liberty Half Dollar series, as a whole, knows that this coin's color is both unique and simply astounding. Walkers normally do not tone like this. This coin is an absolute anomaly as compared to its entire series and, on top of that it is not even one of the common later dates. The vibrant magenta is what attracts the eye followed by the almost orange-like golden toning that encases these magenta highlights. The magenta and orange-gold envelop the center of this piece both front and back. The majority of the rims and periphery of this coin are a rich, delightful olive green with spots of sky blue. The coin is valued at $125,000 which makes this piece arguably the best deal in the collection; since, in the right auction, I can see it garnering tens of thousands of dollars more based on its one-of-a-kind colorful eye appeal. This first place pick should not be surprising as it most definitely deserves the recognition. Especially as it is tied for the finest known at PCGS.


#2 1935-P
Second place goes to the incredible surface quality of the 1935, which is also recognized by CAC as being high-end for its already incredible MS68 grade. It is difficult to find any blemishes on this coin. This ultra-gem has a lovely iridescent look to it with very light and almost subtle pastel-like toning on the obverse between 12 and 3 o'clock. The rest of the coin is enveloped in a delicate, faint original skin of a somewhat rose-gold toning. There is not much else to say about this beauty other than the fact that there is virtually nothing wrong with it. This coin is one of the more beautiful Walking Liberty Half Dollars you are going to come across and is tied for the finest known for its date at PCGS.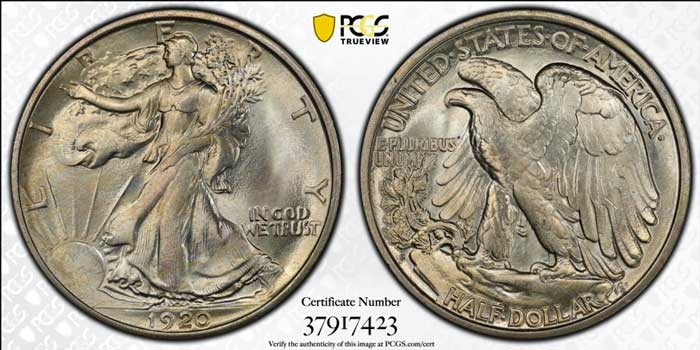 #3: 1920-S
The 1920-S and its extreme, blazing luster earns the bronze medal on my list. The amount of original mint luster on this stunner is both exhilarating and, dare I say, blinding. Technical grading tells us that this coin is a MS66+ but it easily has the look of a MS67 which made CAC's decision to sticker this coin extremely easy. There are light streaks of toning across this coin's surfaces with plenty of bright white shining through. This coin is tied with one other at PCGS for the finest known 1920-S. Its Duckor Collection counterpart brought just short of $97,000 at auction in 2019 making this example's estimate of $100,000 very fair for what you are getting.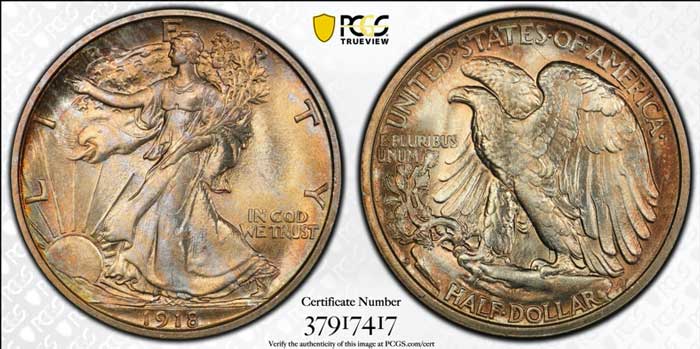 #4: 1918-S
Fourth place for me goes to the 1918-S exclusively for its mesmerizing obverse. A gorgeous combination of streaky rose-gold toning and strong luster gives this early San Francisco Mint issue all the eye appeal you can ask for at the MS67 grade level. The periphery of the obverse also features bits of other coloring as well, especially between 7 and 10 o'clock which compliments the rest of the coin very well. The reverse is slightly less exciting but still displays rich rose-gold toning and a couple of wholesome die-cracks most notably coming down from "States"into the eagles left wing. I had to feature a single finest known piece on my list and this ultra-gem is just that with a fair valuation of $90,000. As the finest known 1918-S at PCGS this coin can reach 6-figures at auction with ease. I love these high grade, finest known Walkers especially from the 1910s. I am still in disbelief. What a collection!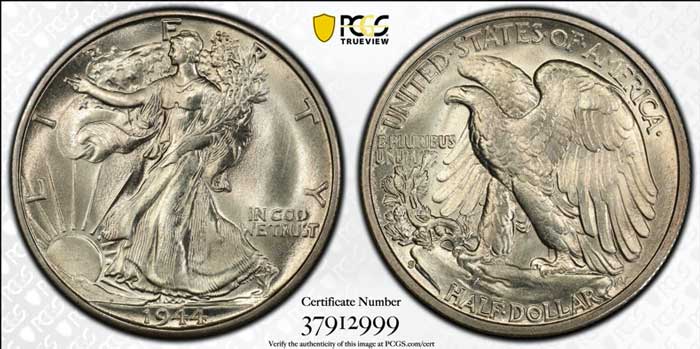 #5: 1944-S
Last but far from least, I must feature a coin on this list for those who prefer no color at all and that would be the 1944-S. This coin appears as if it was minted last week. It is simply blast white and lustrous beyond the imagination. I do favor the early Walking Halves but the gorgeous, blemish-free later dates deserve some loving as well. This 99% white ultra-gem stunner has earned CAC approval which comes as no surprise at all. It is tied within a group of 10 coins at PCGS for the finest known of the date. The most basic way to say it is that this coin was struck 77 years ago and has the surface quality and perfect eye appeal of a modern 21st century coin.

As we already know, the quality and pedigree of this collection, as a whole, are at such a high level. After taking a very close and meticulous look at a small sample of the collection, I learned many things but one particular aspect that struck me was the value itself. We know that a collection such as this, available as a single unit from a collector like Forsythe, brings a premium making the $2.8 million to $3.2 million estimate fair, even with a Collector's Universe value of just $2.6 million. Looking at the collection on a per coin basis, I have yet another reason to believe this estimate is beyond fair and that the high end estimate of $3.2 million has a strong chance of being exceeded. Most of these coins are simply incomparable to price guides as they speak for themselves and each hold different levels of unique premiums. Whether that be for the toning like the 1921-D or for being the single finest known like the 1918-S, these high premiums on top of price guide values are deserving and can be clearly substantiated by recent, comparable auction records.
As this collection is being auctioned off together and should always remain together as one, we may never know the true auction potential of each coin. That alone is a beautiful and rare thing. For those looking to bid on this collection, I implore you to not get caught up in this estimate but to be open to bidding upward. This is a once in a lifetime opportunity to acquire the greatest collection of arguably the most beautifully designed silver coin in American history. Good luck to all bidders as the entire numismatic community looks forward to witnessing such a special collection change hands.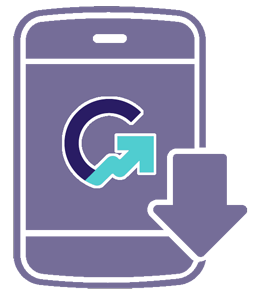 Download the Greysheet app for access to pricing, news, events and your subscriptions.
Subscribe Now.
Subscribe to Monthly Greysheet for the industry's most respected pricing and to read more articles just like this.
Visit these great CDN Sponsors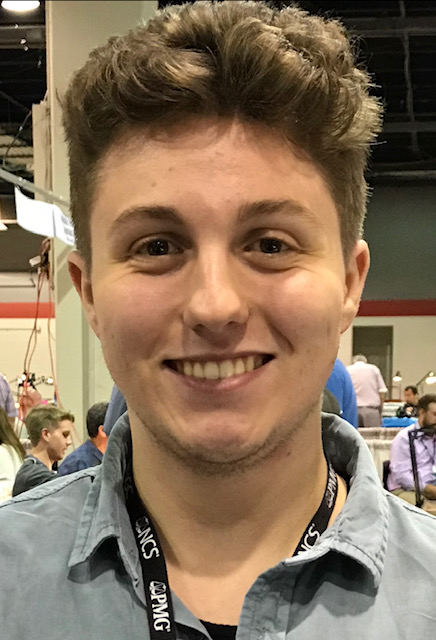 Christopher Maisano joined the Coin Dealer Newsletter as a numismatic contributor in September of 2019. He began his numismatic career at David Lawrence Rare Coins, where he still contributes as a numismatic writer/consultant on the company's weekly Coins We Love newsletter. Chris specializes in United States coinage and was the 2015 Professional Numismatic Guild's Young Numismatist scholarship award recipient. Chris is a lifetime member of the American Numismatic Association and has enjoyed attending the annual ANA summer seminar since 2015.
---