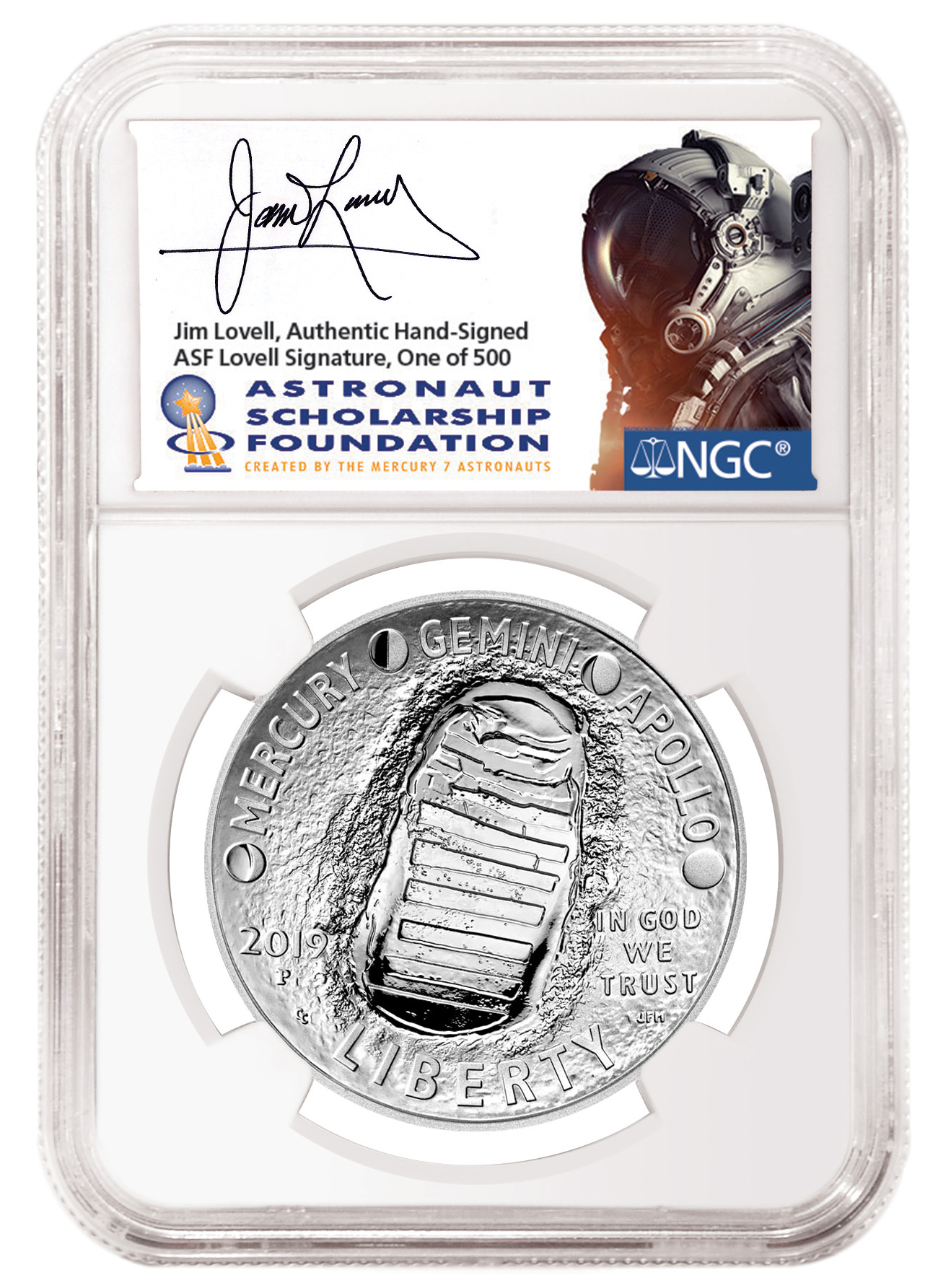 Press Release: NGC Launches Limited Edition Astronaut Autograph Labels
Certified Collectibles Group · Jul 29, 2019

Press Release
SARASOTA, Fla. (July 25, 2019) — Numismatic Guaranty Corporation® (NGC®) has expanded its collaboration with the Astronaut Scholarship Foundation (ASF) to create limite
SARASOTA, Fla. (July 25, 2019) — Numismatic Guaranty Corporation® (NGC®) has expanded its collaboration with the Astronaut Scholarship Foundation (ASF) to create limited edition labels individually hand-signed by American astronauts.
The special NGC labels pair the autographs of 20 NASA veterans with the logo of the ASF, a nonprofit organization that annually provides more than 50 scholarships to the brightest and most talented college students in science, technology, engineering and mathematics. The ASF was created in 1984 by the six Mercury program astronauts then alive and the widow of the seventh.
The astronauts signing these labels include four who flew with the Apollo program, which put the first men on the moon 50 years ago. The other 16 astronauts, including two women, were part of the Space Shuttle program, which flew missions from 1981 to 2011.
The Apollo program astronauts signing NGC ASF labels are:
Walt Cunningham, the Lunar Module Pilot on Apollo 7, the first manned Apollo mission
Jim Lovell, Commander of Apollo 13, which suffered a critical failure en route to the moon but managed a safe return (Lovell was portrayed by Tom Hanks in the 1995 movie version of that dramatic tale of survival.)
Al Worden, Command Module Pilot for Apollo 15 in 1971 and one of only 24 people to have flown to the moon
Charlie Duke, who as Lunar Module Pilot for Apollo 16 in 1972 was the 10th and youngest person to walk on the moon
The Space Shuttle program astronauts signing NGC ASF labels are:
Scott Altman                 Bruce Melnick
Karol "Bo" Bobko           Jeff Hoffman
Dan Brandenstein         Charlie Precourt
Curt Brown                   Brewster Shaw
Kevin Chilton                Nicole Stott
Dick Covey                   Joe Tanner
Christopher Ferguson    Kathy Thornton
Steve Hawley                Jim Wetherbee
A royalty will be paid by NGC to the ASF for each NGC ASF Astronaut Autograph Label used.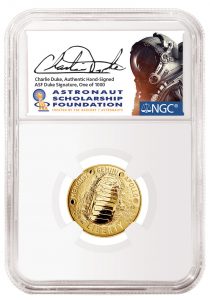 "NGC is proud to honor these American heroes and support the ASF's contributions to tomorrow's scientists," said Mark Salzberg, NGC Chairman. "The NGC ASF Astronaut Autograph Labels are the perfect way to celebrate the 50th anniversary of the historic Apollo 11 mission and the 2019 Apollo 11 Commemorative Coins."
NGC began its collaboration with the ASF in January, when the grading service announced that it had officially licensed the foundation's logo for special NGC certification labels to be encapsulated with the US Mint's Apollo 11 50th Anniversary Commemorative coins.
The legislation that authorized the Apollo 11 coins designated ASF as one of three organizations to benefit from a surcharge applied to the sale of the coins. The additional beneficiaries are the Smithsonian Institution's National Air and Space Museum and the Astronaut Memorial Foundation.
NGC has certified more than 50,000 Apollo 11 50th Anniversary Commemorative Coins since the US Mint began selling them on Jan. 24.
NGC ASF Astronaut Autograph Labels are available from select retailers.
About Numismatic Guaranty Corporation® (NGC®)
NGC is the world's largest and most trusted third-party grading service for coins, tokens and medals. Founded in 1987, NGC provides accurate and consistent assessments of authenticity and grade. To ensure impartiality, NGC does not buy or sell coins. Its full-time graders are prohibited from buying and selling coins commercially, and strict procedures are in place to prevent consultants from influencing the grades assigned to their own submissions.  Every coin that NGC certifies is backed by the comprehensive NGC Guarantee of authenticity and grade, which has added confidence and value for collectors and dealers around the world. Learn more at NGCcoin.com.
© 2019 Numismatic Guaranty Corporation of America. All rights reserved.
NGC, NCS, PMG, CGC, CCS, ASG, CAG and CCG are the registered trademarks or unregistered trademarks of Numismatic Guaranty Corporation of America, and/or its related companies in the United States and/or other countries. All other names and marks referenced in this release are the trade names, trademarks, or service marks of their respective owners.
# # #
Leave a comment
Please sign in or register to leave a comment.
Your identity will be restricted to first name/last initial, or a user ID you create.
Register
Certified Collectibles Group

The Certified Collectibles Group (CCG) is a set of independent third-party companies (NGC, NCS, PMG, CCG, CCS, ASG & CAG) focused on the expert authentication, grading and conservation of collectibles.
related news
directory listing
Spot Prices
Gold:
1947.96 0.00
Silver:
$26.67 0.00
Platinum:
$928.65 0.00