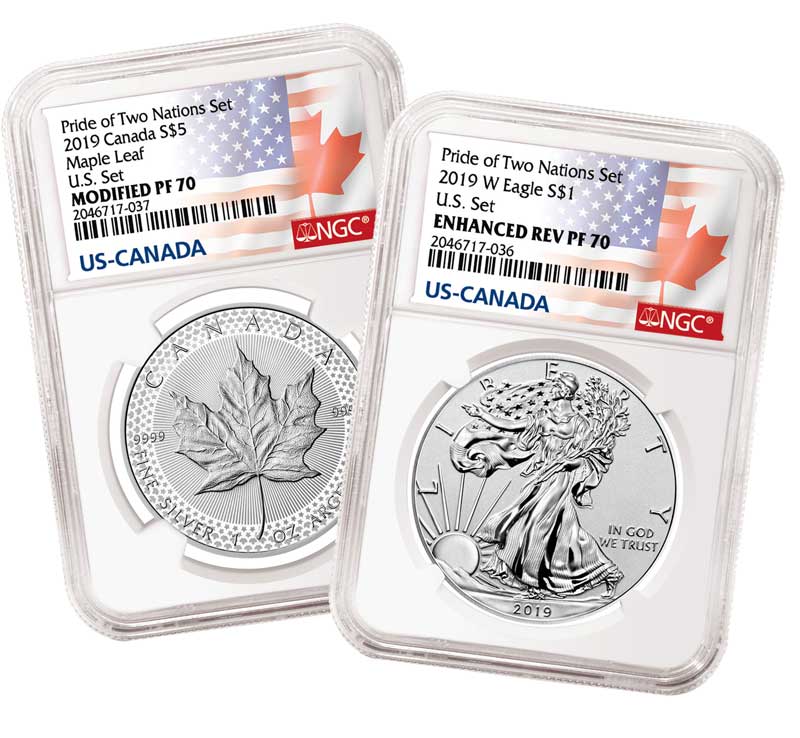 Press Release: Special NGC Label and Designations for US-Canada Pride of Two Nations Set
Certified Collectibles Group · Jun 27, 2019

Press Release
SARASOTA, Fla. (June 26, 2019) — The US Mint has announced the Pride of Two Nations 2019 Limited Edition Two-Coin Set, which will go on sale July 3. It combines a 2019-
SARASOTA, Fla. (June 26, 2019) — The US Mint has announced the Pride of Two Nations 2019 Limited Edition Two-Coin Set, which will go on sale July 3. It combines a 2019-W US Silver Eagle with an Enhanced Reverse Proof finish and a 2019 Canadian One Ounce Silver Maple Leaf with a Modified Proof finish.
Numismatic Guaranty Corporation® (NGC®) is celebrating the coins in this set with a special label featuring the flags of the US and Canada, as well as a special pedigree of Pride of Two Nations. There is no additional fee for the label or pedigree.
This is the first time that the US and Canada have collaborated on a coin release. Both coins contain 1 troy ounce of silver in the standard fineness for each respective nation (.999 fine for the Eagle, .9999 fine for the Maple Leaf).
Minted since 1986, the Silver Eagle is the flagship silver bullion coin of the United States. The obverse features the venerable design from the Walking Liberty Half Dollar, while the reverse showcases a heraldic eagle from John Mercanti, the renowned former Chief Engraver of the US Mint. This is the first time the Silver Eagle has been made available in the Enhanced Reverse Proof format.
Meanwhile, Canada has minted the Silver Maple Leaf since 1988, with Queen Elizabeth II (the monarch of Canada) on the obverse. The reverse features a rendering of a maple leaf, a national symbol so closely associated with Canada that it appears on its flag.
The US Mint is selling 100,000 sets, and has announced a per-household limit of 5. The Royal Canadian Mint will have an additional 10,000 sets available.
For coins received in their original sealed Mint shipping box, the NGC certification label will indicate the country whose mint sold the set, and these notations will be listed separately in the NGC Census. Coins that are not submitted in their original sealed Mint shipping box will still receive the "Pride of Two Nations" set pedigree, which will also be listed separately in the NGC Census.
To see NGC's full submission instructions for this special label and related designations, go to NGCcoin.com/news/article/7520.
About Numismatic Guaranty Corporation® (NGC®)
NGC is the world's largest and most trusted third-party grading service for coins, tokens and medals. Founded in 1987, NGC provides accurate, consistent and impartial assessments of authenticity and grade. To ensure impartiality, NGC does not buy or sell coins. Its full-time graders are prohibited from buying and selling coins commercially, and strict procedures are in place to prevent consultants from influencing the grades assigned to their own submissions.  Every coin that NGC certifies is backed by the comprehensive NGC Guarantee of authenticity and grade, which has added confidence and value for collectors and dealers around the world. Learn more at NGCcoin.com.
© 2019 Numismatic Guaranty Corporation of America. All rights reserved.
NGC, NCS, PMG, CGC, CCS, ASG, CAG and CCG are the registered trademarks or unregistered trademarks of Numismatic Guaranty Corporation of America, and/or its related companies in the United States and/or other countries. All other names and marks referenced in this release are the trade names, trademarks, or service marks of their respective owners.
Leave a comment
Please sign in or register to leave a comment.
Your identity will be restricted to first name/last initial, or a user ID you create.
Register
Certified Collectibles Group

The Certified Collectibles Group (CCG) is a set of independent third-party companies (NGC, NCS, PMG, CCG, CCS, ASG & CAG) focused on the expert authentication, grading and conservation of collectibles.
related news
directory listing
Spot Prices
Gold:
1895.15 9.59
Silver:
$23.64 0.39
Platinum:
$904.96 12.77