Palladium:

$1,601.00
$33.00
Bitcoin:

$22,757.48
$140.77
Ethereum:

$1,614.82
$12.18
Canadian Dollar:

$0.74
$0.01
Rare Gold Coins Especially Strong in 3rd Simpson Sale
Although the silver coins were more enticing and the patterns were more intriguing, the strongest results in the Simpson III session were for gold coins.
On January 20, the third auction session featuring coins and patterns from the Simpson Collection was part of a Heritage auction extravaganza at this firm's headquarters near the Dallas Fort Worth airport (DFW). This was an exciting event with many terrific and/or very important coins and patterns. Although the silver coins were more enticing and the patterns were more intriguing, the strongest results in the Simpson III session were for gold coins. Rarities are discussed here.
Ever since June 2020, there has been much volume in business strike U.S. gold coins costing less than $40,000 each, especially coins priced under $20,000 each. It is significant that in the Simpson III sale there was much demand for far more expensive U.S. gold coins. In auctions during the summer and fall of 2020, there was not nearly as much demand for U.S. gold coins that cost more than $40,000 each.
Before focusing on rare gold in Simpson III, I wish to draw attention to my analysis of the sale of the finest known 'New York' and 'Lima Style' Brasher Doubloons in the Partrick Platinum Session a day after the Simpson III session. [Please include a clickable link to my first Partrick article] Demand for Brasher Doubloons should be analytically separated from demand for classic U.S. coins, though there is some overlap. Many collectors who seek U.S. gold coins dating from 1795 to 1807 wish for Brasher Doubloons.
Coins of the 18th century have a particular aura about them. My favorite rare gold coin in the Simpson III session was the CAC approved, PCGS graded MS65 1796 'With Stars' Bust Right quarter eagle ($2.5 gold coin). It was earlier in the famous 'Byron Reed' Collection and the extremely impressive Madison type set, which Heritage auctioned in January 2008. Byron Reed formed his collection during the 19th century.
The Byron Reed Collection was kept intact by the City of Omaha for more than a century, after Reed's death in 1891. Parts of the collection were auctioned by Christie's in New York in 1996. Christie's had purchased the Spink firm in 1993 and used the name "Spink America" in the context of coin auctions in the United States. This quarter eagle realized $231,000 in October 1996. The $1.38 million paid on January 20, 2021, was very strong, though understandable, and made more sense to me than most of the other prices realized for gold coins in the Simpson III session. This coin is, by far, the finest known 1796 'With Stars' quarter eagle, and is one of the finest, if not the finest, of an entire design type.
I have now examined this same coin during four different years over a course of two and a half decades. I attended that Christie's – Spink America auction in 1996. This coin was then raw. Before 2005, it was NGC graded as MS65.
On June 30, 2005, ANR auctioned a small collection of prize gold coins assembled by a collector who does not wish for his name to be mentioned. Although this Byron Reed 1796 quarter eagle was in that consignment, this coin did not sell while the auction was in progress. Someone may have made an offer that was accepted after the auction was over.
In January 2007, Heritage auctioned this same 1796 'With Stars' quarter eagle for $862,500. It landed in the Madison Collection, a phenomenal type set.
CAC was founded in October 2007 and this coin was approved. In January 2008, Heritage auctioned the Madison Type Set, and this 1796 'With Stars' quarter eagle realized $1,006,250.
The FUN auction of January 2008 thus occurred not long before the zenith of a market boom that had lasted for more than four years. Market levels for rare U.S. coins overall, not for every single coin, peaked in July or August 2008.
Though nowhere near in magnitude to the market peaks of March/April 1990 or July/August 2008, there was also a market peak in August 2015, in my estimation. The Greysheet Bid for this 1796 'With Stars' quarter eagle was $1 million in August 2015 and the same now. It was never adjusted downward as market levels trended downward from 2015 to 2019. On January 20, 2021, a price of $1 million would have been in the lower part of the retail range, not a dealer 'bid' level. The $1,380,000 result for this coin was the most newsworthy strong price in the Simpson III session.
This 1796 quarter eagle is really neat, an especially memorable coin. Although business strikes and Proofs are different in fabric and structure, this quarter eagle is of higher quality than the Simpson Collection Proof 1804 eagle. The eye appeal of this quarter eagle is beyond the MS65 level. The hairlines and other imperfections on the obverse pull this coin down into the MS65 range. If not for a few hairlines, minor indentations and anomalies in the left obverse field, this coin would grade MS66 or 66+! This quarter eagle is dynamic, partly Prooflike, and full of personality.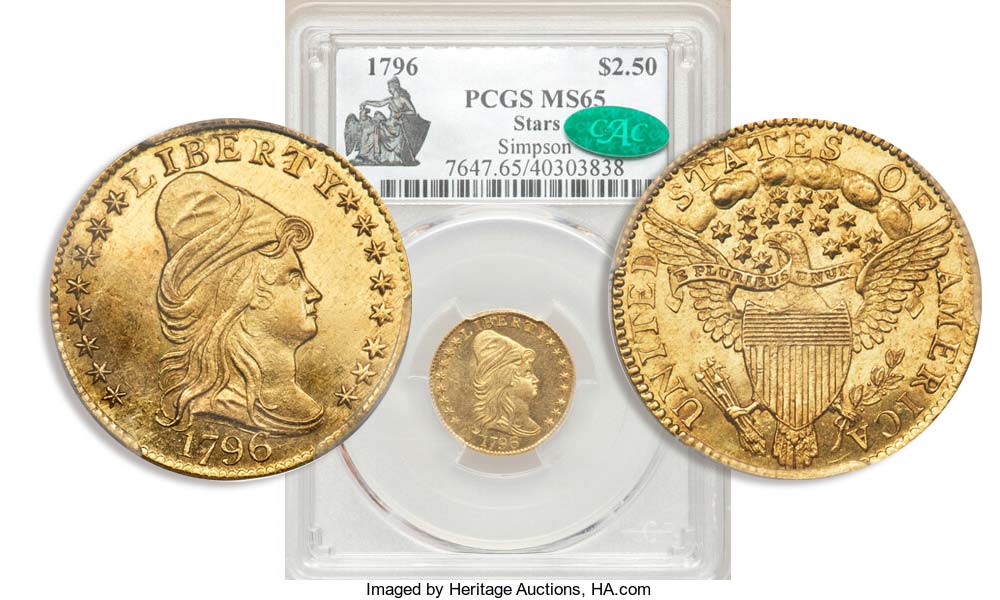 I find this 'Byron Reed'-Madison-Simpson 1796 to be of higher quality than the Pogue Collection 1798 quarter eagle. Of all the 'With Stars' Bust quarter eagles that I have ever examined, the 'Byron Reed'-Madison-Simpson 1796 is the finest of the whole design type and the best choice for a high quality type set.
The PCGS graded MS65 and CAC approved, Pogue 1798 quarter eagle realized $763,750 in May 2015 in the Pogue I sale by Stack's-Bowers in association with Sotheby's. In "the middle of 2020," John Albanese and another dealer bought it privately for "less than" $763,750. Albanese soon sold it, for an undisclosed amount.
Key 1909-O Half Eagle
While the 1796 'No Stars' quarter eagle is extremely rare in all grades, no Indian Head half eagle is rare in all grades. The 1909-O half eagle (U.S. $5 gold coin) is the rarest in choice mint state grades. The Simpson Collection 1909-O half eagle was PCGS graded MS64+ and CAC approved at the MS64 level. Experts at CAC ignore the plus aspect of plus grades assigned by PCGS and NGC.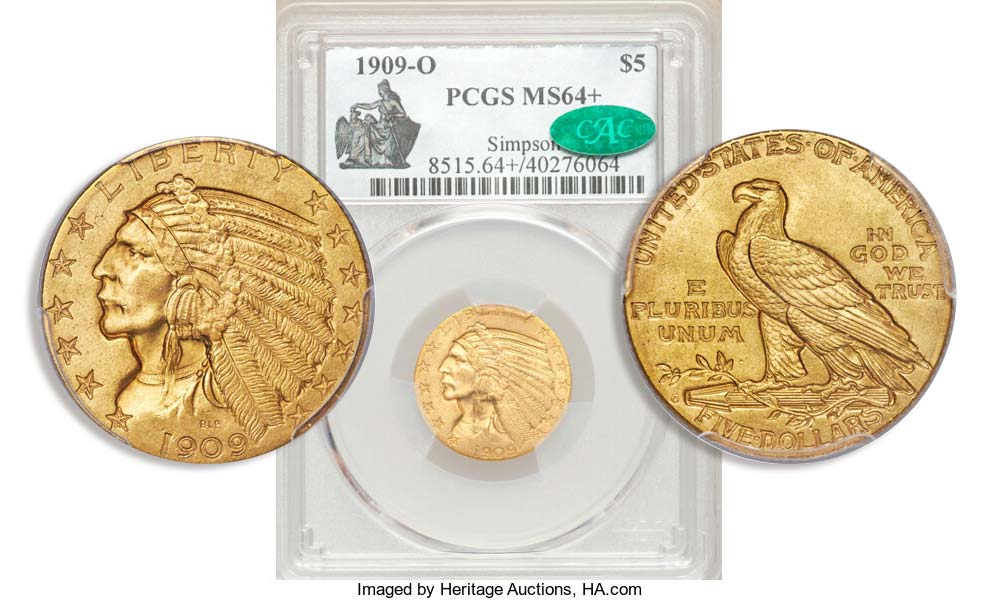 In the series of Indian Head half eagles, the 1909-O is, by far, the most extreme condition rarity in MS64 and higher grades. It is the scarcest Indian Head half eagle in MS63 grade as well. The 1929 is scarcer in terms of the total number of survivors. In AU50 grade, Greysheet Bid for a 1909-O is $7800 and $18,000 for a 1929.
PCGS reports 112 1929 half eagles as grading MS64, twelve as MS64+, and a dozen as MS65! In contrast, PCGS reports seven 1909-O half eagles as MS64, just the Simpson coin as MS64+, three as MS65 and one as MS66. CAC has approved just one 1909-O at the MS64 level – the presently discussed Simpson coin, just one as MS65 – the coin that the Goldbergs auctioned in June 2016 for $517,000, and zero as MS66.
The population reports for 1909-O half eagles contain multiple counts of some of the same individual coins. There is much to gain financially by upgrading 1909-O half eagles, and Indian Head half eagles are very difficult to grade anyway. This Simpson coin is likely to be one of the five finest known. The Simpson Collection 1909-O has never been dipped and is a very attractive coin overall. Even so, the $240,000 result was strong.
The PCGS price guide value is or was $185,000. The CPG-CAC retail price estimate is or was $180,000. I take these two estimates to be low, though a central retail estimate before the auction would not have been more than $205,000.
Though strong, the appeal of the Simpson 1909-O is such that $240,000 result is unsurprising, especially for a coin that is one of the finest known of an extreme condition rarity in a very popular series. Reliable sources indicate that Del Loy Hansen was the buyer.
Privately Issued 1855 $50 Gold Coin
The Wass Molitor $50 gold coin in the Simpson III session was overshadowed by the gem quality regular U.S. coins and famous patterns featured. This is a more important coin than most bidders and observers might have figured it to be. It is extremely difficult to find a decent, relatively high grade Wass Molitor 1855 fifty, a one-year only type of a privately issued gold coin during the era of the California Gold Rush.
Several of the auction records for "Mint State' Wass Molitor fifties are of this one coin: PCGS graded MS-60 – HA 01/07, lot 3905, $212,750; PCGS MS-60 – HA 01/08, lot 3456 $161,000; NGC MS-61 with a CAC sticker – HA 07/08 ANA sale, lot 1864, $207,000. According to records on the PCGS web site, this same Wass Molitor $50 gold coin was also in an auction by Superior Galleries in 2006, though I have been unable to verify that pedigree.
I wonder why it lost its CAC approval when it was crossed from NGC to PCGS as MS61? Someone may have neglected to resubmit it, or the appearance of the coin may have changed over time. There are other plausible explanations. There are multiple variables regarding the regrading of coins and resubmissions. A Pan-Pac fifty of the same quality as this Wass Molitor fifty would not be outstanding. There are, though, fewer than one hundred Wass Molitor fifties around in the present. The grading service reports include multiple listings of some of the same coins.
For a Wass Molitor fifty, this coin is excellent and is one of the five finest that I have ever seen. I have examined dozens of them, including the finest known, which was NGC graded as MS64. The Simpson Collection, Wass Molitor fifty has innumerable long hairlines, most of which are very light. Despite cleanings, the luster is alive. The overall color of the coin is relatively original and a very positive characteristic.
There are a bunch of very small contact marks on the obverse. Moreover, this coin exhibits curious and noticeable mint caused lines and indentations. As a whole, this Wass Molitor fifty is an especially attractive coin.
Even considering a very noticeable rim imperfection, this coin has far fewer technical failings than most large pioneer or territorial gold coins. Importantly, this coin is strictly uncirculated in terms of old standards. Many coins that are certified as grading MS61 or MS62 have quite a bit of very noticeable friction.
The $216,000 result was a moderate price. This was one of the better deals in the auction.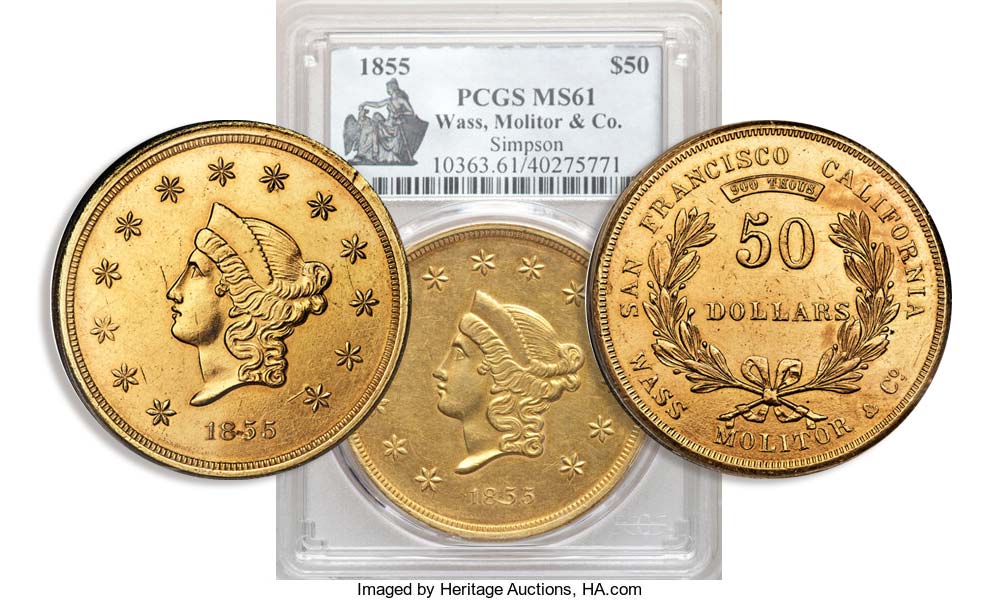 Humbert – U.S. Assay Office $50 Gold Coins
Bob Simpson had two 1851 U.S. Assay Office, August Humbert assayer, 'Lettered Edge,' $50 territorial gold coins with "887 THOUS" (= 88.7% gold) on the obverse and the number '50' in the center of the reverse. Although the first barely qualifies for a MS61 grade, it is better than many surviving U.S. Assay fifties. Most of these have been treated roughly at times ever since they were made.
There was a shortage of coins in California during the 1850s and paper money was not generally accepted in California. Over the decades that followed, many U.S. Assay Office $50 gold pieces been owned as souvenirs or historical relics, and not treated with the same care that sophisticated coin collectors would take in regard to their respective coins.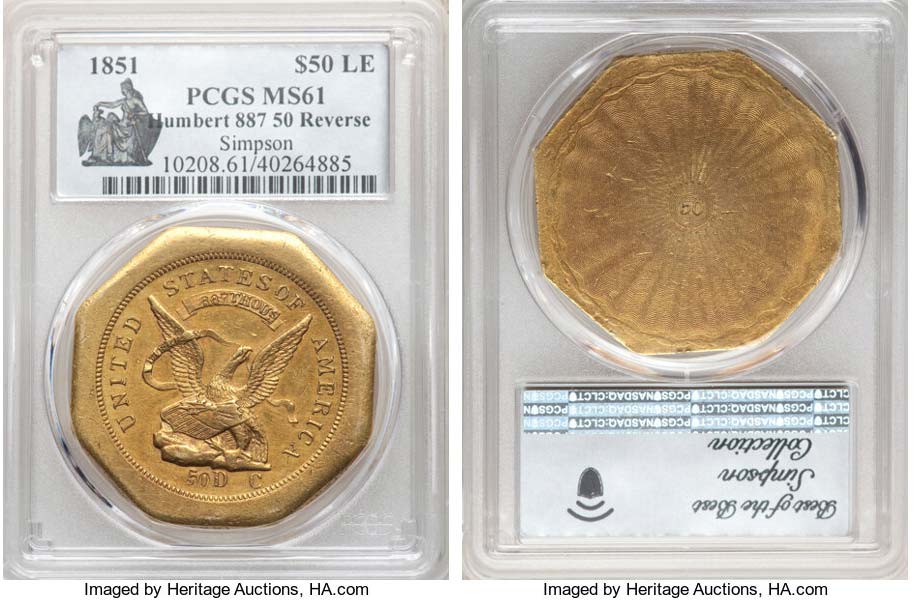 The price realized of $150,000 was strong. Leading price guides overestimate the values of Humbert – U.S. Assay Office $50 gold coins
During the last dozen years, most pioneer and territorial gold coins have not come close to reaching their market peaks in 2007 or 2008. Price guides were not adequately adjusted. Most pertinent dealers who saw this coin would probably agree that $150,000 is a retail price.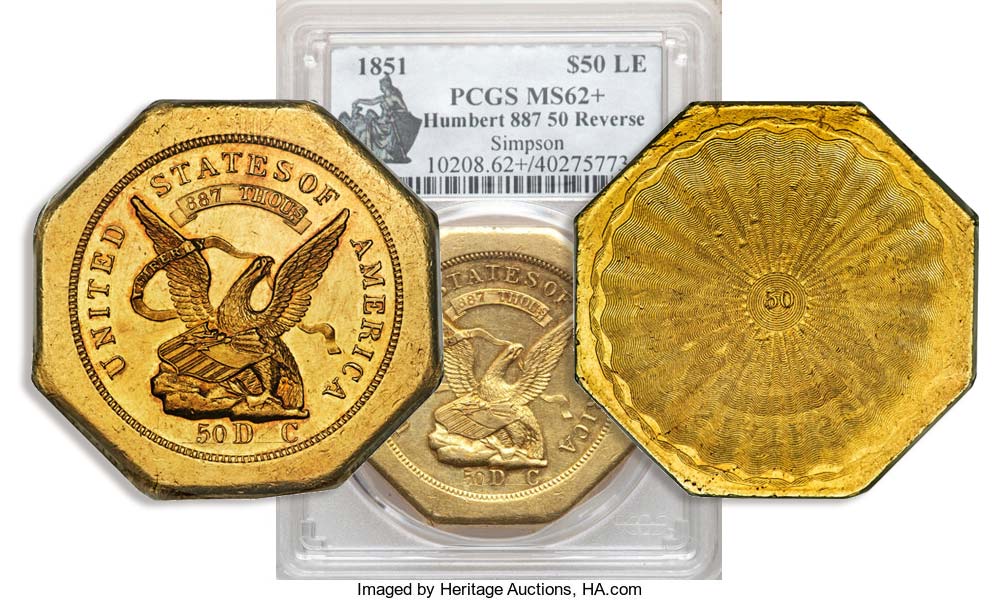 The next coin, which was struck from the same pair of dies, is a different matter. It was PCGS graded MS62+. Any amount above $245,000 would have been a strong price. This coin realized $480,000, probably the strongest price for a gold coin in the whole auction.
Yes, this same territorial fifty was earlier in the Amon Carter Collection. It is true that this auction was held near Amon Carter Boulevard. The legendary newspaper executive and publisher Amon Carter, Sr. was one of the founders of American Airlines. His son, Amon Carter, Jr., later served on the board of American Airlines.
Amon Carter, Jr. was even more enthusiastic about coins than was his father. Most of the U.S. coins in the Amon Carter Collection were auctioned by Stack's (NY) in January 1984. American Airlines dominates DFW airport which is close to Heritage's new headquarters.
While the Amon Carter connection is noteworthy and interesting, it could not possibly account for the entire strength of the price realized. As this Humbert fifty was PCGS graded as MS62+, it is the highest graded by PCGS of this 887 obverse/50 reverse variety. If any of the certified AU58 or MS61 coins are in old PCGS or NGC holders, however, they could very well be of higher quality than this coin. Moreover, of this variety, NGC reports six as grading MS62 and one as MS63. In my view, this coin is almost certainly not the finest known of the 887 obverse/50 reverse variety.
Besides, how many people collect $50 territorials by die variety? I have never met anyone who does. Buyers of highly certified Humbert fifties may tend towards other varieties. Of the 1851 Lettered Edge '880' variety, rather than '887,' PCGS has graded five as MS62, two as MS63 and two as MS63+. CAC has approved one at the MS63 level, which has a CPG retail value estimate of $360,000.
Even if the buyer was focusing on this 887/50 variety, the $480k result would still be hard to understand. According to the CAC web site, if it is imagined that a 'Lettered Edge' 1851 887/50 variety has CAC approval at the MS62 level, it would have a CPG retail value estimate of $240,000, half the price realized for the present coin in the Simpson III sale, which has not been approved by CAC.
Of 1851 'Lettered Edge' Humbert U.S. Assay Office fifties of all varieties, PCGS reports three graded as MS63 and two as MS63+. Additionally, PCGS has graded one 1851 'Reeded Edge' Humbert fifty as MS-63, one as MS-64 and one as MS-65. Of course, these are all not different coins. An immediate point is that there are several 1851 Humbert-'U.S. Assay Office' fifties that are certified as grading higher than the Carter-Simpson coin being discussed here.
Yes, it is true that this same coin brought $316,250 in a Spectrum-B&M auction in November 2010. I was puzzled by that result as well and market levels for territorials were notably higher in November 2010 than they were ten years later.
Proof 1804 Eagle
The $5.28 million paid for the PCGS certified "Proof-65+" 1804 eagle was a very strong price. John Albanese reveals that he "bought it from Spectrum Numismatics for $600,000 in 2002 or 2003."
Although this coin is flashy and memorable, with amazingly frosted design elements and exceptionally struck central devices, this coin has just too many hairlines and obscuring films in the fields for me to be enthusiastic about it. It was PCGS certified as Proof-64 until late in 2005. Nevertheless, I understand why some people are overwhelmed by it.
It was thrilling to see a Deep Cameo Proof gold coin with an '1804' date even keeping in mind that it was probably minted in 1834 or 1835. The idea of a Proof Bust type $10 gold coin is very exciting. Just three Proof 1804 eagles are currently known. Proof 1804 eagles are associated with the first run of 1804 silver dollars as they probably came from the same Proof sets that were ordered by President Andrew Jackson in 1834 to be used as diplomatic gifts to foreign heads of state, particularly monarchs in Asia. The Proof 1804 eagle in the 'King of Siam Set' remains in that set. Other diplomatic Proof sets of 1834, which included 1804 dollars and 1804 eagles, were 'broken up.'
The Eliasberg Collection Proof 1804 eagle is in the Harry Bass Foundation collection and may not be sold in the near future. The Simpson coin is or was the only Proof 1804 eagle available to collectors. There are not many collectors, however, who demand a Proof 1804 eagle. Other than in a compiled "1834" Proof set or in a set of all early Proof U.S. gold coins, a Proof 1804 eagle is not a central part of traditional collecting quests.
In any event, the Simpson Proof 1804 eagle is a cool and ultra rare coin. I am glad that I had the opportunity to examine it on more than one occasion. The new owner should be delighted that he has one of three known Proof Bust eagles.
The Simpson III session on January 20th and the Partrick Collection session on January 21st were characterized by excitement for rare gold coins and for numismatic items that are very unusual. As a whole, the auction extravaganza was very successful and has generated energy in the coin community.

Copyright ©2021 Greg Reynolds
Insightful10@gmail.com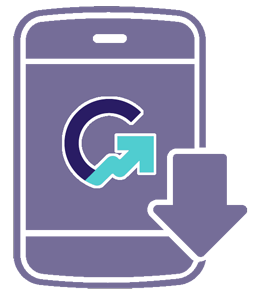 Download the Greysheet app for access to pricing, news, events and your subscriptions.
Subscribe Now.
Subscribe to Monthly Greysheet for the industry's most respected pricing and to read more articles just like this.
Visit these great CDN Sponsors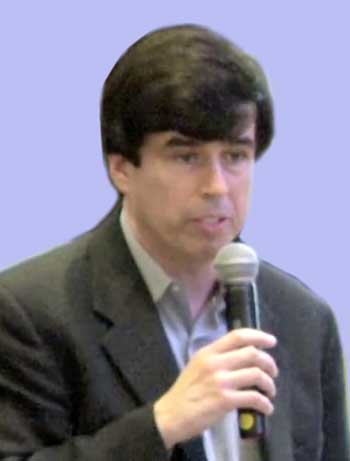 More than 750 of Greg Reynolds' articles about coins and related items have appeared in ten different publications. Reynolds has closely examined a tremendous number of rare, or conditionally rare, vintage U.S., British and Latin American coins. Furthermore, he has attended dozens of major coin auctions, including those of Eliasberg, Pittman, Newman, Gardner and Pogue Family. From the NLG, Reynolds has shared or won outright the annual award for 'Best All-Around Portfolio' a record seven times. Greg is available for private consultations and analyses, especially regarding rarities and auctions.
---