Platinum:

$1,023.00
$15.00
Palladium:

$1,656.50
$12.00
Bitcoin:

$23,819.86
$50.71
Ethereum:

$1,677.46
$5.45
Rarities Night Auction Puts Spotlight on Rare Half Eagles
The Stack's-Bowers Rarities Night event on Nov. 23 featured a wide assortment of rare coins. The most newsworthy and memorable section was a run of rare half eagles ($5 gold coins) which are analyzed in this article.
The Stack's-Bowers Rarities Night event on Nov. 23 featured a wide assortment of rare coins. The most newsworthy and memorable section was a run of rare half eagles ($5 gold coins). Both absolute rarities and condition rarities were included. A few half eagles brought extremely strong prices. Some others brought mildly strong prices. Demand for rare half eagles in general may not have increased as much this year as some market participants thought that it had.
Because later half eagles are sought by a much larger number of collectors and speculators than pre-1840 half eagles, I will discuss later half eagles before covering earlier half eagles. Yes, the coins cited in this review are rather expensive.
Beginners and budget-minded collectors are encouraged to see my recent guide to assembling a "A Low-Cost Set of Indian Head Half Eagles" ( https://tinyurl.com/LowCostIndianFives ). In the realm of Liberty Head half eagles, too, there are representatives of many dates that collectors may acquire for modest prices, though those are beside the theme of this auction review. In many cases, however, collectors may further their understanding of coins that they can afford by learning about relevant coins that they cannot afford.
Many collectors of Indian Head half eagles have trouble affording a 1909-O. In the mint state range, the NGC census for 1909-O half eagles is 156 and the PCGS population is 90. The total of 246 probably amounts to about 170 different coins. As thousands of collectors and speculators seek mint state Indian Head half eagles, mint state 1909-O half eagles are relatively rare.
The NGC graded MS61 1909-O five in this auction realized $20,400, a solid retail price. The CDN Bluesheet sight-unseen value is $15,000, a reference to the highest or last publicly indicated sight unseen buying commitment by dealers for an NGC graded MS61 1909-O half eagle. Except for generics, a Greysheet Bid is not usually reflective of a sight-unseen commitment; a Greysheet Bid typically refers to the highest amount that at least one dealer will pay any other dealer for a coin being offered if the buyer sees the coin first and is accepting of it.
On Nov. 13, 2021, Greysheet Bid for an MS61 grade 1909-O was increased from $17,000 to $18,000, after trending downward for years. The CPG retail price estimate was raised to $21,600. In my view, a moderate auction result for this specific 1909-O, which I did see, would have been around $16,500 and the $20,400 result is a little above a medium retail price.
The run of half eagles in this Stack's-Bowers Rarities Night event was characterized by an interesting mix of gem quality coins, lower mint state coins and circulated coins. The 1888 and 1896 Liberty Head half eagles were each PCGS graded MS65.
The 1888 half eagle in this auction certainly generated more enthusiasm than the 1896 half eagle, which brought a weak price of $5,520. To understand classic U.S. coins, it is really important to examine them in actuality.
I would not hesitate to recommend this 1888 half eagle. It has great color and luster. There are contact marks on both sides, but no one contact mark is distracting. Abrasions in the obverse left inner field keep the obverse from grading 66, though the reverse certainly does, in my personal opinion. The whole coin merits a 65+ grade at least, though I amnot asserting that PCGS or NGC will grade it as 65 +. I am not suggesting that anyone play a 'crackout game.'
On this 1888 half eagle, the only very noticeable indentation on the reverse is near the top arrow. Another between 'TE' of united and the left wing is more apparent in pictures than it is in reality. The reverse is wonderful. The whole coin is really neat with very pleasing luster.
This coin is very likely to be the finest known 1888, a coin that is rare in grades above MS62. Although PCGS has graded five as MS64 and forty-three in the MS63 range, CAC has approved zero as MS64 and just four as MS63. This 1888 half eagle is alone as the top PCGS pop and the top CAC pop!
The CPG-CAC retail price estimate for this 1888 half eagle is $30,000, which is low. Before the auction, I figured that a medium retail price would be $48,000 and a very strong auction price would have been $60,000. The $78,000 result is tremendous, though perhaps worth this much to someone who felt a gripping urge to own the top 1888 half eagle. There is no evidence that a better one exists.
In this Rarities Night, a PCGS graded MS66 1885-S half eagle realized $4,320. In August 2021, two other PCGS graded MS66 1885-S half eagles were auctioned, one by Stack's-Bowers for $6,600 and one by Heritage for $5,400. Demand for PCGS graded MS66 1885-S half eagles has not significantly declined since August.
There are many variables that affect auction results, not just market levels. Moreover, it is problematic to compare prices without also comparing the physical characteristics of individual coins. Would an expert who carefully inspected all three of these PCGS graded MS66 1885-S half eagles be surprised by the differences in auction results?
The $19,800 result for a PCGS graded MS66+ 1881 half eagle is particularly educational. This exact same coin was auctioned by Heritage on April 24, 2021, for $9,600, less than half as much, but it was then PCGS graded MS66 without a plus! While it is true that demand for gem 1881 half eagles has probably increased since April, and the $9,600 result was weak in the context of market levels in April, it seems likely that most of the difference in auction prices for this same coin is due to the upgrade from MS66 to MS66+! Is it logical for the same coin to be worth so much more because it received a plus?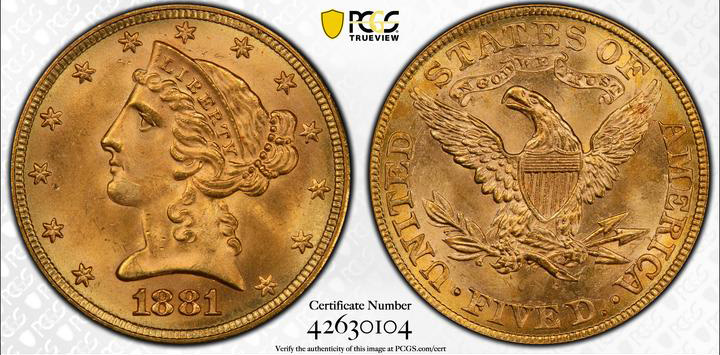 A CAC approved, PCGS graded AU50 1864 half eagle realized $20,400. PCGS has graded forty-five and NGC has graded fifty-eight 1864 half eagles, though NGC reports another eleven in Details holders. There are some 1864 half eagles in PCGS Details holders, too. A realistic hypothesis is that the two services have encapsulated eighty-three different 1864 half eagles, and another seven have never been submitted, so a total of ninety may survive. CAC has approved nine, including the one in this auction.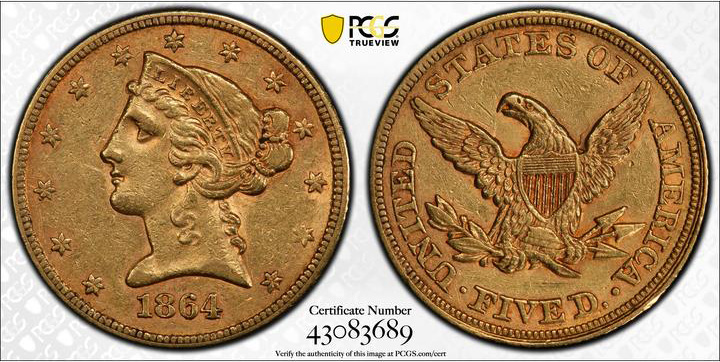 From May 2, 2020 to June 30, 2020, Greysheet Bid for a CAC approved AU50 grade 1864 half eagle was $9,000. From July 1, 2020 to November 10, 2021, Greysheet CAC Bid was $11,500. On November 11, twelve days before the presently covered Rarities Night event, Greysheet CAC Bid was increased to $12,500 and the CPG retail price estimate was raised to $15,000. Also, the PCGS price guide value is or recently was $13,500.

Even if the guide values for AU50 grade 1864 half eagles are underestimates, the $20,400 price realized in this auction must be strong. Although a decent representative of a noteworthy rarity, this 1864 half eagle is not beautiful or famous.
The CAC approved, PCGS graded MS66 1837 half eagle in this auction is very attractive and could become famous. This may very well be the second finest known 1837. It is one of the top five for the whole Classic Head half eagle coin design type.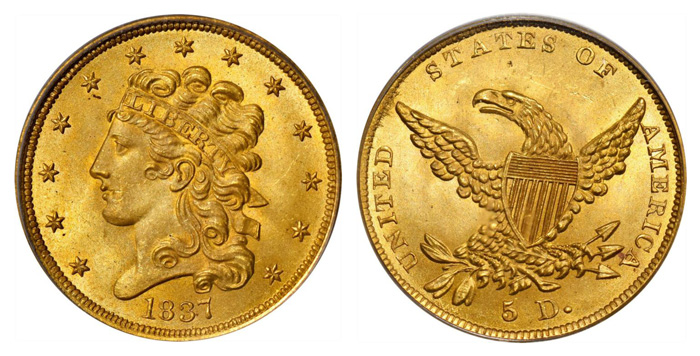 Stack's-Bowers auctioned the PCGS graded MS66+ Bass-Pogue 1837 half eagle for $235,000 in May 2016. Market levels for rare date gold coins were higher in November 2021 than they were in May 2016.

The Bass-Pogue 1837 was approved by CAC before May 2016 without much fanfare. As experts at CAC ignore the plus aspect of plus grades assigned by PCGS and NGC, the fact that the Bass-Pogue 1837 was CAC approved does not demonstrate that experts at CAC agree with the plus grade. In my opinion, the Bass-Pogue 1837 is superior to the CAC approved, PCGS graded MS66 1837 that realized $264,000 on November 23, 2021.
The presently discussed 1837 is an excellent coin. I doubt any expert was surprised to see that it was graded MS66. It is very attractive and does not have many contact marks. Indeed, there are no deep marks or groups of hairlines. This coin is mostly a very light gold color with subtle green tints and orange hues in some places. Although I understand that collectors assembling gem type sets may splurge for coins that are in the highest echelon for their respective design types, the $264,000 result was extremely strong.
The PCGS graded MS62 1808/7 half eagle in this auction was formerly in the collection of Harvey Jacobson, a recognized specialist in die varieties of early gold coins. While cataloguers focus on the current rarity of coins struck from the pair of dies used to strike this coin, all 1808/7 half eagles are rare. The price realized, $21,600, was around the wholesale/retail border. Not many 1808/7 half eagles have been auctioned over the last four years. This result does not reflect an increase in value during 2021 or much collector demand for this coin in this auction.
An NGC graded MS65 1802/1 half eagle did not sell. This is not the fault of the auction firm. As the hammer level for the reserve was $90,000, a commitment to pay at least $108,000 would have been required to buy it, as a 20% premium is added to the hammer price in most major coin auctions. In my estimation, a medium retail price for this specific coin would have been less than $108,000. A practical reserve for a rare coin in an auction would be below the wholesale/retail border, not above a medium retail price!
A CAC approved, PCGS graded MS62 1800 brought $54,000. Although this might seem to some rare coin buyers to be an extremely strong price, I hypothesize, without concrete evidence, that at least two bidders were figuring that this coin has a very good chance of upgrading to MS63 or higher. I am not here expressing an opinion as to whether it will or should upgrade.
The NGC graded AU58 1797/5, 15-Star obverse, Heraldic Eagle reverse, $5 gold coin in this auction has some of the imperfections that tend to characterize 18th century gold coins. Its value stems largely from its physical rarity rather than its quality.
The $120,000 result for this 1797/5 is consistent with the value of this coin circa 2004-05 and circa 2011-12. Has the value of this coin increased during 2021?
The 1797/5 Heraldic Eagle fives should be regarded as very distinct from 1797 Small Eagle fives. Whether they have 15 stars or 16 stars on the obverse, 1797 Small Eagle fives are extremely rare overall. The 15-star variety is rarer than the 16-star obverse variety. I tentatively estimate that thirteen to sixteen survive, perhaps fifteen. Curiously, two of these 1797 15-star obverse Small Eagle fives were in this one auction, and both were struck from the same pair of dies.
The NGC graded AU53 1797 15-Stars half eagle is not bad. The cleaning fluids used were potent, though I have seen many 18th century gold coins that were cleaned to a more severe extent than this coin. I am tougher on early gold coins than graders at NGC. Regarding early gold coins, however, no one can draw a clear dividing line between the gradable and the non-gradable. In regard to technical matters, originality and surface quality, sub-64 grade early gold coins are often very difficult to analyze.
This same 1797 15-stars, Small Eagle five in the same relatively old NGC AU53 holder was auctioned by Stack's-Bowers in August 2013 for $129,250. Market levels for rare U.S. coins reached short-term peaks during the 2013-2015 period. As many rare date gold coins have dramatically increased in value in 2021, I was expecting the extremely rare 18th century half eagles in this auction to bring more than they did, despite their technical imperfections. For some 18th century dates, no pristine half eagles survive!
The $117,000 price realized was appropriate for this NGC graded AU53 1797 half eagle, perhaps even a low-retail price, yet certainly not evidence of much of an increase in market value in 2021. The other 1797 15-Star obverse, Small Eagle reverse half eagle in this auction was NGC graded MS60.
This coin is in the same category as the PCGS graded AU58 1797 15 Stars, Small Eagle five that Stack's Bowers auctioned in August 2015 for $235,000. Both have substantial technical issues. While the technical drawbacks of this coin are more apparent, especially all the hairlines, that coin's technical imperfections are more serious, in my opinion.
This coin is the same as the NGC graded MS60 1797 15-Star obverse five that Heritage auctioned in August 2010 for $218,500. In August 2010, Greysheet Bid for this coin was $150,000, and the $218,500 result was considered then to be a very strong price. From August 4, 2017 to November 10, 2021, Greysheet Bid for this coin was $200,000 and it was raised to $225,000 on November 11.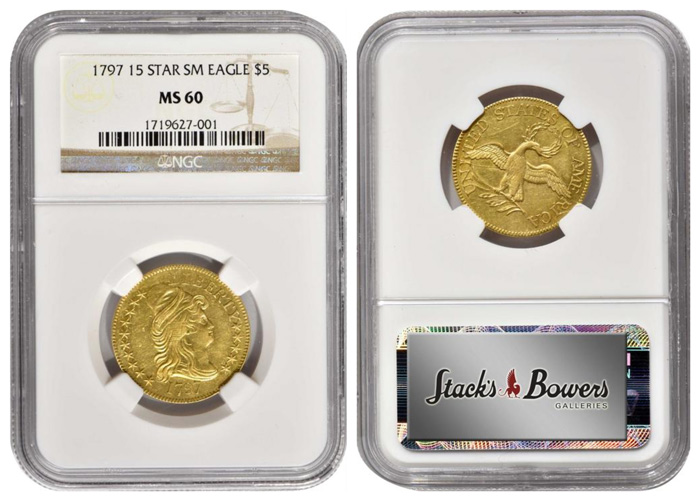 Wholesale offers for coins are in part determined by the physical characteristics of individual coins, not just their respective certifications. The $168,000 result on November 23, 2021, might well have been right about the wholesale/retail border for this specific coin. Auction results for rarities cannot be fully evaluated without inspecting the individual coins.

An immediate point is that the rage for rare date U.S. gold coins during 2021 did not carry over to the not pristine, rare early half eagles in this auction. Yes, high quality 18th century gold pieces have substantially increased in value during 2021, especially those that are high in the condition rankings for entire design types. Further research is needed to determine the effects of the rare gold coin rally of 2021 on pre-1808 gold coins that are not of such high quality and/or have notable technical issues.
Copyright ©2021 Greg Reynolds
Insightful10@gmail.com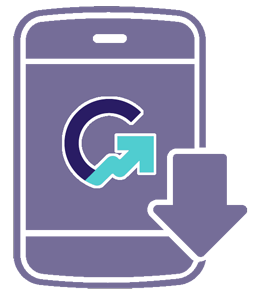 Download the Greysheet app for access to pricing, news, events and your subscriptions.
Subscribe Now.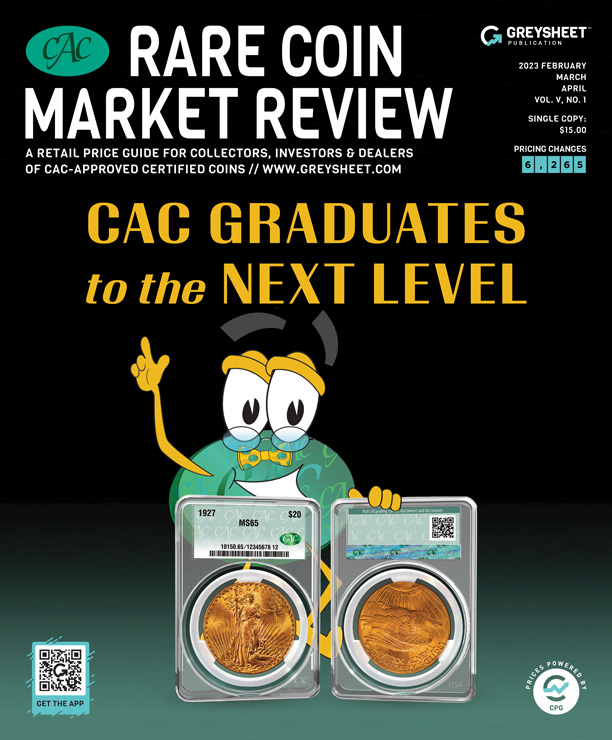 Subscribe to CAC Rare Coin Market Review for the industry's most respected pricing and to read more articles just like this.
Visit these great CDN Sponsors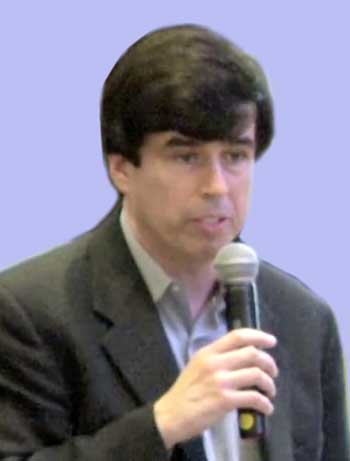 More than 750 of Greg Reynolds' articles about coins and related items have appeared in ten different publications. Reynolds has closely examined a tremendous number of rare, or conditionally rare, vintage U.S., British and Latin American coins. Furthermore, he has attended dozens of major coin auctions, including those of Eliasberg, Pittman, Newman, Gardner and Pogue Family. From the NLG, Reynolds has shared or won outright the annual award for 'Best All-Around Portfolio' a record seven times. Greg is available for private consultations and analyses, especially regarding rarities and auctions.
---