Bitcoin:

$23,142.05
$18.73
Ethereum:

$1,592.07
$7.44
This $1000 Bill is #1 and Is Expected To Bring Six Figures. Auction closes January 22, 2021
Only 24 serial #1's were printed for both the 1928 and 1934 $1,000 bills, making this extremely desirable and rarely available.
Heritage's January FUN Currency Auction #3581 will feature an amazing $1,000 bill that is the first of its kind: Serial $1, or the first note printed of this run. Many collectors actively seek out paper money notes that have "fancy serial numbers," such as especially low numbers (ie 00000002) or repeating numbers (ie 8889888). Bidding wars are often seen for the hardest-to-find of these fancy serial numbers, but the excitement is compounded on a large denomination bill. $500, $1,000, and $5,000 bills have not been made for many years and are very popular with collectors in their own right, so the combination of these two factors makes the Friedberg 2211-L 1934 $1,000 Federal Reserve Note in the January auction a hot-ticket item.
Its amazing serial number of L00000001A makes this note the only reported serial #1 that is not held by the US government and available to the collecting public. The Smithsonian museums have a #1 serial number from Chicago, for example, but this note is your only chance to own one privately!
There were only a total of 24 serial number 1's printed for both the 1928 and 1934 $1,000 bills, so there were only a tiny number of these notes to start with. Then, circulation, their high denominations, and the fact that these notes are just paper would have taken its toll on their survival. This note is graded Very Fine by PMG and must have spent some time in circulation before someone spotted it as the gem that it is. The grading service has mentioned minor restoration, but otherwise the note faces up wonderfully for the collector who seeks the rarest high-denomination notes. Don't miss your chance to bid on this great lot, as the opportunity may not present itself for many, many years to come!
Estimated at $100,000 to $120,000, you can see this great item here: https://currency.ha.com/itm/federal-reserve-notes/fr-2211-l-1-000-1934-light-green-seal-federal-reserve-note-pmg-very-fine-25/a/3581-21179.s?ic4=ListView-Thumbnail-071515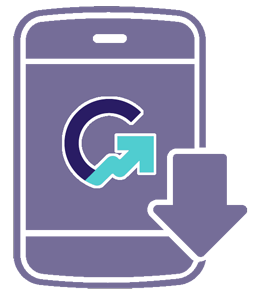 Download the Greysheet app for access to pricing, news, events and your subscriptions.
Subscribe Now.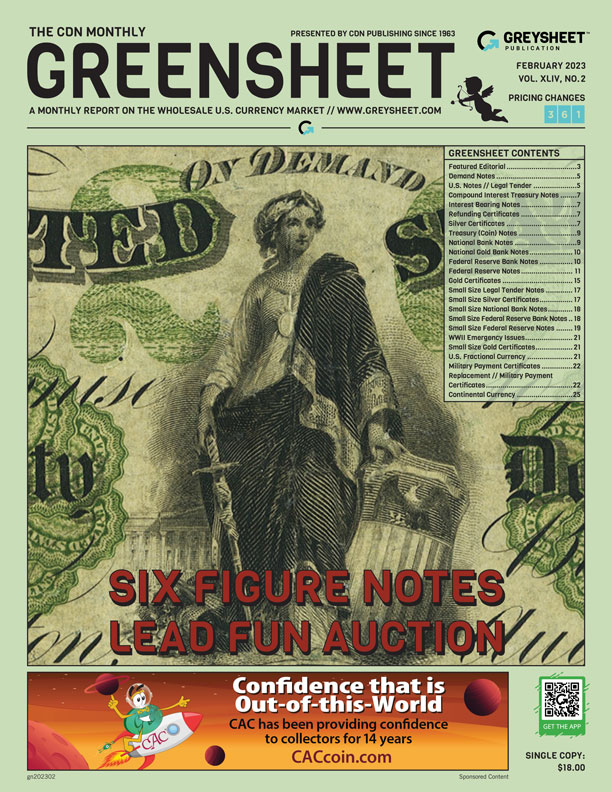 Subscribe to Monthly Greensheet for the industry's most respected pricing and to read more articles just like this.
Visit these great CDN Sponsors
Source: Heritage Auctions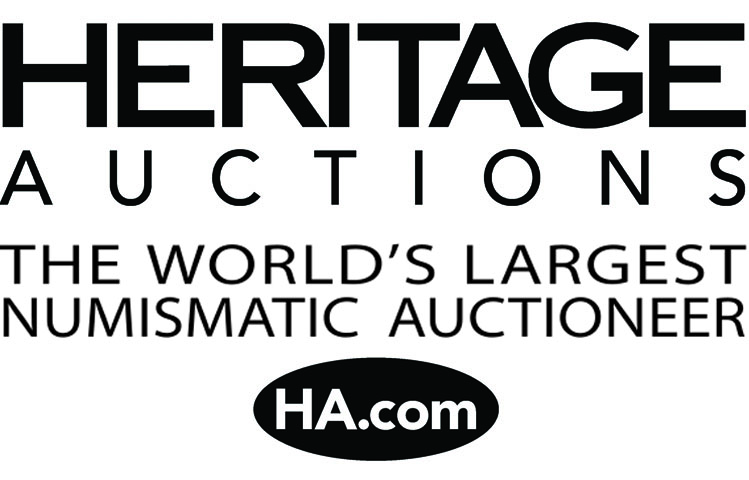 Heritage Auctions is the largest collectibles auctioneer and third largest auction house in the world, as well as the largest auction house founded in the U.S. We are also the undisputed Internet leader in our field, with more than 1 million online bidder-members registered on HA.com.
---