Palladium:

$1,417.00
$11.00
Bitcoin:

$28,061.50
$175.56
Ethereum:

$1,797.30
$16.83
Tom Bender's Collection, Review Part 3: Unique 1870-S Half Dime
Greg Reynolds analyzes the recent sale of the unique 1870-S Liberty Seated half dime and its interesting provenance.
On January 11, the unique 1870-S half dime realized $3,120,000. Incredibly, the only three privately owned, unique U.S. coins were all in the same FUN auction extravaganza, from three different consignors.
Every January, the Winter FUN Convention is held in Florida, more often than not at the Orange County Convention Center in Orlando. Heritage brought all auction lots to the convention for viewing, though most sessions were conducted the following week at the Heritage headquarters near the Dallas - Fort Worth airport.
All three unique coins brought more than $3 million each! Although the $3,120,000 result for the unique 1870-S half dime was the lowest price of the three, it was the strongest price. There is far more demand for each of the other two.
Many people collect Three Dollar Gold pieces, and rare date U.S. gold coins have been booming since January 2021. The $5.52 million result for the unique 1870-S Three Dollar Gold piece was not strong, in my view.
The $3.6 million record price for the unique 1873-CC No Arrows dime was strong, yet more people collect Liberty Seated dimes than collect Liberty Seated half dimes. Moreover, Carson City Mint coins have been very popular for years, and quite a few collectors assemble Carson City sets of multiple or even all denominations. This specific dime is needed for a complete CC set. It is especially difficult, though, to estimate the market values of unique coins.
A coin is unique if only one is known in the present. The discovery of the unique 1870-S half dime during the late 1970s was a shock to the coin community. Research by Nancy Oliver and Richard Kelly has since demonstrated that San Francisco Mint officials made preparations and filed paperwork for coins of all then current denominations to be struck and placed in a cornerstone of the San Francisco Mint in 1870. In 1978, however, few coin collectors thought that an 1870-S half dime existed. An 1870-S quarter has never emerged.
Louis Eliasberg, Sr. died in February 1976 before the unique 1870-S half dime was discovered. He formed the most complete set of classic U.S. coins (1793 to 1934 or so). The Eliasberg Collection also contained modern U.S. coins and many other numismatic items.
His sons, Richard and Louis, Jr., inherited his collection. Richard received almost all the U.S. silver coins in the Eliasberg Collection. Long ago, Richard Eliasberg revealed to me that he was offered the 1870-S half dime for around "a half million dollars," though he declined to buy it. Richard was not enthusiastic about coins.
Richard Eliasberg's U.S. coins and other American numismatic items were auctioned by Bowers & Merena (New Hampshire), with the cooperation of Stack's (New York), in 1996 and 1997. The unique 1870-S half dime became a topic of conversation by not being part of the Eliasberg Collection.
1870-S half dime in PCGS holder.

The current Heritage catalogue informatively discusses the history of the unique 1870-S half dime. The catalogue does not mention that this half dime was in Martin Paul's personal collection for years.
In some cases, Martin Paul had partners in regard to individual coins. This point might very well be relevant to the consignment of this coin to a Superior (Goldbergs) auction in 1986. I figured that Martin somehow became the sole owner, probably for a second time, of the 1870-S half dime before 1990. My understanding in 1991, which I was unable to completely verify, was that Martin Paul assembled the first complete set of half dimes by date (and mint location). Though a full-time wholesaler of coins, Martin was devoted to his personal collection of half dimes.
By the middle of the summer ANA Convention in 1991, Martin Paul had already sold his entire set of business strike half dimes to Jay Parrino, a leading dealer. It may be true that the transaction occurred before that convention began in the middle of August 1991. At this convention, both Paul and Parrino, separately, confirmed this transaction.
They were aware that I wished to write about the sale of Paul's complete set of half dimes, though I never did cover it in detail. Several of the higher quality half dimes in Martin's set were sold by Parrino to the collector who formed the Knoxville type set, and at least two of those were later in the Pogue Family Collection, which was auctioned by Stack's Bowers from 2015 to 2020.
This history of the unique 1870-S half dime from 1991 to 2004 is not entirely clear to me, and is not detailed in the Heritage catalogue. By piecing together bits of information provided by Parrino and others over the years, I gather that Parrino privately sold this half dime at least once, probably twice, possibly three times, during the 1990s.
In a Goldbergs auction on October 3, 2000, this unique 1870-S half dime did not sell. A commitment to pay at least $540,500 (= $470,000 + 15%) may have been sufficient to buy it then, a large amount of money for a coin during the year 2000. At that point, the Childs-Pogue 1804 dollar was the only coin to have publicly sold for more than $2 million (https://tinyurl.com/Childs1804).
On July 9, 2004, in Baltimore, Spectrum-B&M auctioned Jim Gray's set of Liberty Seated coins. My sources indicated, however, that the three rarest coins in that auction session were not part of Jim Gray's collection. The unique 1870-S half dime, the Garrett Family 1853-O No Arrows half dollar and the unique 1873-CC No Arrows dime were all in a consignment from Parrino, I believe.
On July 9, 2004, this half dime realized $661,250. Later, it was sold privately in 2009, as part of the Law Collection of half dimes, to Bob Simpson. Tom Bender reports that he purchased the Law-Simpson set of half dimes through Legend Numismatics on October 28, 2015.
"Although Simpson's set was complete when I purchased it, I replaced thirty-five half dimes in the set, some coins with higher graded coins, some replacements were lateral in terms of grade, and in a couple of instances I replaced coins with lower graded coins that I thought had better eye appeal," Bender reveals. "My set of half dimes was complete by date, mintmark, and major varieties," Tom adds, in response to my inquiries.
Tom never disclosed the value that he placed on the unique 1870-S. I find the Greysheet Bid value of $3 million and the CPG-CAC retail value of $3.6 million to be too high. The PCGS price guide value of $2 million, in contrast, is too low. The wholesale/retail border would be around $2.1 million, in my estimation, and a medium retail value would be around $2.6 million, given the increased interest in Great Rarities over the last three years. The $3.12 million result on January 11 was very strong, impressive in a curious way.
It is also true that this coin is certainly attractive, more so than other Great Rarities in this FUN auction. The unique 1870-S half dime is semi-prooflike, though definitely a business strike. It features neat russet-gray and russet-orange toning, with touches of violet, tan, green and blue. The colors are mellow overall. The central design elements contrast well with the fields.
This coin was NGC graded as MS63 long before Spectrum-B&M auctioned it on July 9, 2004. The current PCGS certification of MS64 is fair, as the appealing toning and underlying glitter offset the negative impact of hairlines and other abrasions. This is a pleasing coin.
My impression, which admittedly is uncertain, is that Martin Paul, Bob Simpson and Tom Bender are the only collectors to have each owned a complete set of half dimes by date and mint location. I hope that the buyer on January 11 is a collector who is or will be the fourth to own such a complete set.
Insightful10@gmail.com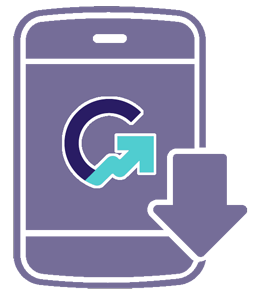 Download the Greysheet app for access to pricing, news, events and your subscriptions.
Subscribe Now.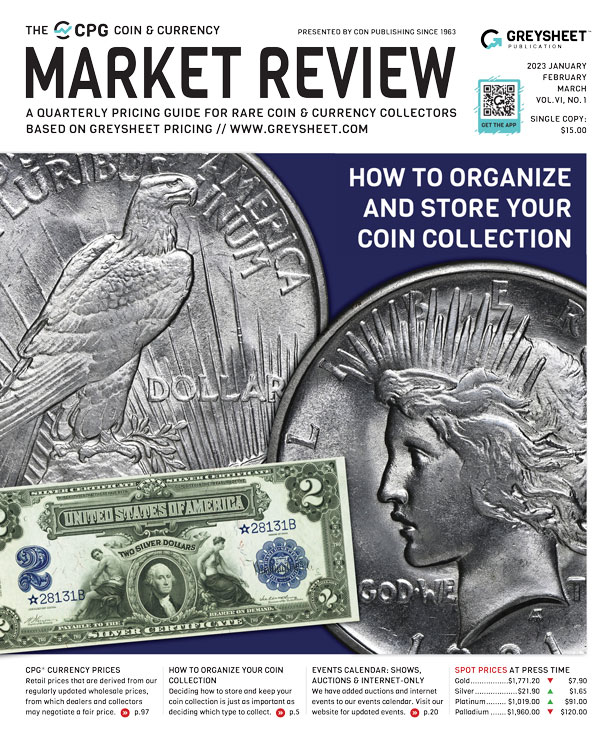 Subscribe to CPG© Coin & Currency Market Review for the industry's most respected pricing and to read more articles just like this.
Visit these great CDN Sponsors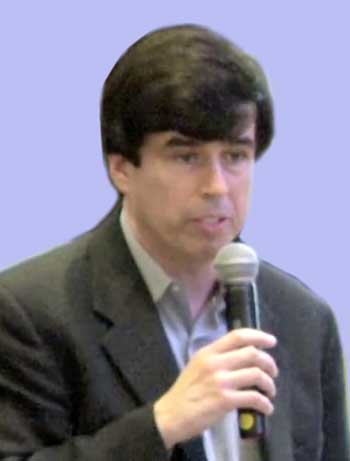 More than 750 of Greg Reynolds' articles about coins and related items have appeared in ten different publications. Reynolds has closely examined a tremendous number of rare, or conditionally rare, vintage U.S., British and Latin American coins. Furthermore, he has attended dozens of major coin auctions, including those of Eliasberg, Pittman, Newman, Gardner and Pogue Family. From the NLG, Reynolds has shared or won outright the annual award for 'Best All-Around Portfolio' a record seven times. Greg is available for private consultations and analyses, especially regarding rarities and auctions.
---