Bitcoin:

$28,440.10
$161.79
Ethereum:

$1,827.20
$3.17
World Banknote Auctions Announces US Currency Sale 1 and Part 1 of the Navy Commander Collection of U.S. National and Gold Banknotes
The auction company, known for their world bank note offerings, is expanding into the competitive market of United States issues.
Sacramento, CA: World Banknote Auctions is excited to announce its upcoming US Currency Sale 1, featuring a wide range of rare and collectible banknotes from the United States. The auction will take place on February 24 on the firm's website and will feature notes from the colonial era to modern times, including scarce large-size notes, fractional currency, and error notes.
Highlights of the sale include a rare 1934 $5000 Federal Reserve Note from the Dallas District graded PMG Choice Uncirculated 64, a unique 12-piece 1999 $10 district set with Solid Serial Number 9 and a PMG Choice Uncirculated 64 EPQ 1869 $5 Legal Tender Note. These notes are highly sought after by collectors and investors and are expected to fetch significant prices at auction.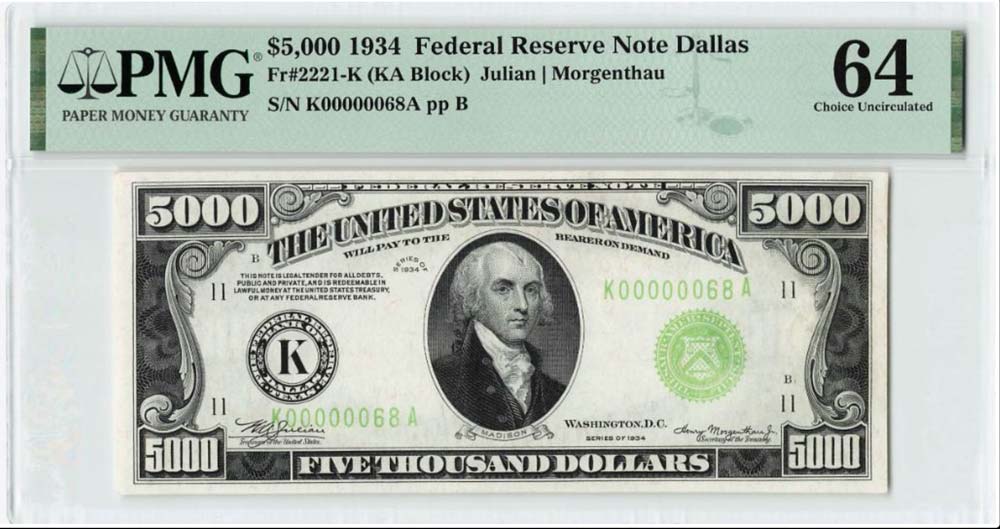 In addition to the rare notes, the sale will also feature a selection of more affordable notes for the budget-conscious collector. These notes are a great opportunity for novice collectors to start building their collection or for experienced collectors to add to their existing collection. The auction will be held online and will be open for bidding to the public. World Banknote Auctions has also listed part 1 of the Navy Commander Collection of U.S. National and Gold Banknotes, which will take place on March 10. This collection features a wide variety of National and Gold Banknotes from the late 19th and early 20th century. The focus is on California banks, but the sale also includes select key notes from around the country.
Highlights include a $10 Gold Note from the First National Bank of Oakland, CA graded Fine 12 by PMG, an 1882 $50 Date Back on the Citizens National Bank of Los Angeles, CA graded Very Fine 25 by PMG and only the third mismatched prefix on a National Banknote, a 1929 Type 1 $10 on the First National Bank of Boston, MA, graded Very Fine 25 by PMG. This collection is a treasure trove of banknote history that will appeal to collectors and investors alike.
Both auctions will be held online and both catalogs have been posted for immediate viewing and bidding. A printed catalog has been prepared for the Navy Commander Collection and is available from the company by request.
About World Banknote Auctions:
Headquartered in Sacramento, California, World Banknote Auctions was founded by Dennis Hengeveld. The firm specializes in auctions of US & World Paper Money held regularly on its website, www.worldbanknoteauctions.com.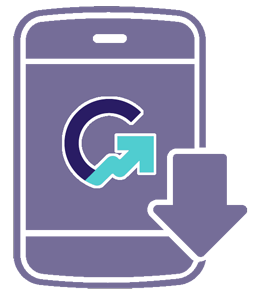 Download the Greysheet app for access to pricing, news, events and your subscriptions.
Subscribe Now.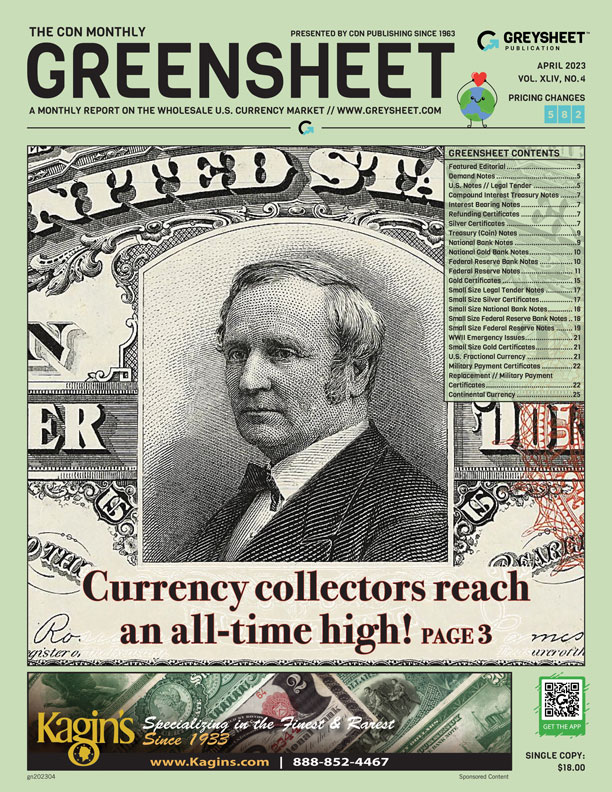 Subscribe to Monthly Greensheet for the industry's most respected pricing and to read more articles just like this.
Visit these great CDN Sponsors
Source: World Bank Note Auctions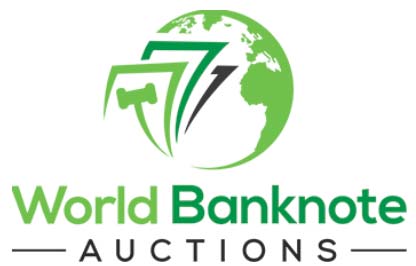 World Banknote Auctions was founded by Dennis Hengeveld and is the only auction company in the United States solely dedicated to world paper money. We are based in Sacramento, the capital of the State of California. We aim to offer exciting auctions of collectable paper money for both the beginning collector as well as the advanced specialist. Our auctions offer live bidding to attract bidders from around the world and are an exciting way to add new pieces to your collection.
We accept consignments for our auctions and in most cases offer a 0% seller's fee along with a low 15% buyers premium and flat rate shipping rates around the world. Due to our bi-weekly format we can offer settlement in 30 days or less, compared to most auction houses where 3+ months wait is not unusual.
Dennis grew up in the Netherlands before moving to the United States in 2011 and has been involved in numismatics since the age of 8. His personal numismatic interests include banknotes of the Dutch colonies in America (Curacao, Netherlands Antilles and Suriname) and Liberty Seated Coinage of the United States. Feel free to reach out with any questions regarding our auctions or just to discuss numismatics in general. We are here for you!
To contact us, please email us at info@worldbanknoteauctions.com. We can also reached by phone, Monday-Friday from 7 AM to 9 PM PST at +1-916-221-1782.
World Banknote Auctions is an authorized dealer for PMG and PCGS. Dennis Hengeveld is a lifetime member of the American Numismatic Association (ANA), a member of the International Banknote Society (IBNS) and part of the Roundtable Dealer Network.
---