Platinum:

$1,029.00
$23.00
Palladium:

$1,418.00
$0.50
Bitcoin:

$25,649.76
$1,297.13
Ethereum:

$1,806.10
$70.49
58 Newman Plate Notes Featured in Kagin's Auction of John J. Ford Colonial Currency Highlights
All 13 Original Colonies and Georgia along with a few private scrip notes are represented in this offering.
by
Kagins
l Published on March 29, 2023
Kagin's Auctions will be offering 58 plate notes from the standard colonial currency reference, The Early Paper Money of America by Eric P. Newman. The first on-line only auction is scheduled for May 20, 2023, and the second September 23, 2023. Each auction will contain scores of Newman plate notes and rarities.
Reference works typically illustrate the Finest Known Specimens of each type or variety listed as their plate notes, and that certainly is the case with these John J. Ford Highlights notes.
"It is quite rare these days to encounter an auction sale with even 5% of the coins or currency being finest known specimens. Even the top 18 th century Registry Sets do not usually contain more than 10% of reference plate notes in their offering," observed Donald H. Kagin, President of Kagin's Auctions. "We are excited to offer a sale that includes over 15% plate notes out of the 375 notes in our upcoming two auctions of Highlights from the John J. Ford Colonial Currency Collection."
All the notes were purchased from five auctions of the John J. Ford collection sold by Stack's spanning almost three years from May 2004 until March 2007 . Mr. Ford began assembling his collection of early American money in the 1940s. : These are examples of the types of money printed in the colonies in the mid-1700s and used by the public for daily commerce or to pay soldiers fighting in the Revolutionary War," explained Kagin.
All 13 Original Colonies and Georgia along with a few private scrip notes are represented in this offering. Featured lots include a Vermont VT-7 February 1781, 40s, PCGS VF-35 from the F.C.C. Boyd Estate, Massachusetts MA-34CF and MA-44 dated May 31, 1710, Contemporary Counterfeits of 20s and 50s respectively (both Newman Plate Notes); an exceedingly rare and possibly Unique Rhode Island RI-1 August 16, 1720, 2s, and a Rhode Island RI-43 February 2,1741/2 6d in PCGS AU50.
Also offered in the two sales are a dozen of the immensely popular Paul Revere printed November 17, 1776 "Sword in Hand" notes including the MA-248 16s PCGS AU55 details (Newman Plate). This notes depict a Colonial era man holding a sword in one hand and a copy of the Magna Carta in the other.
Other notes are signed by original signors of the Declaration of Independence. Scores of others are printed with the warning, "To Counterfeit is Death."
In cooperation with the publisher of Greysheet, Kagin's is offering the 2023 6th edition of The Early Paper Money of America at the discounted price of $100 including shipping or free to successful purchasers of $10,000 or more from the auctions.
For more information about the auction email: info@kagins.com or call: 888-852-4467.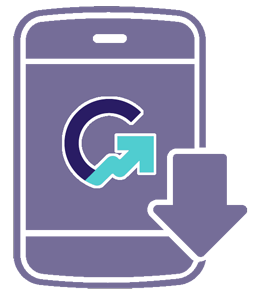 Download the Greysheet app for access to pricing, news, events and your subscriptions.
Subscribe Now.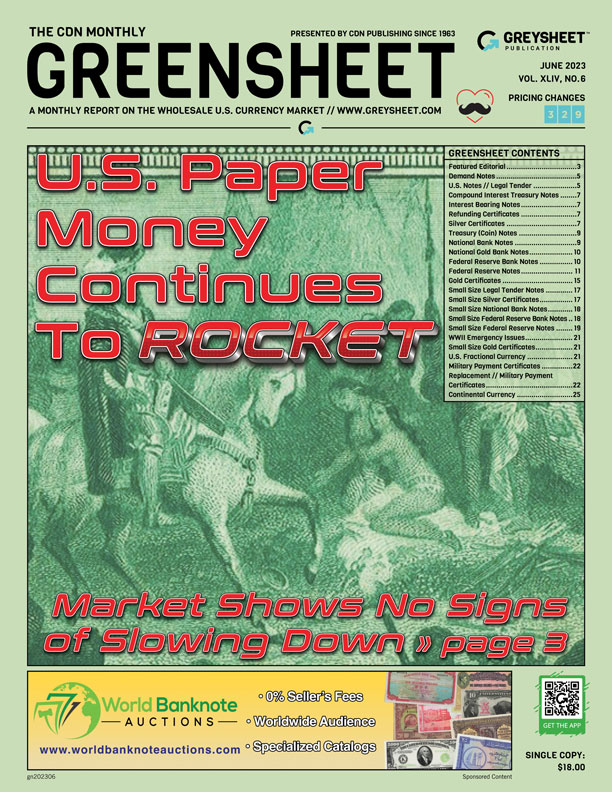 Subscribe to Monthly Greensheet for the industry's most respected pricing and to read more articles just like this.
Visit these great CDN Sponsors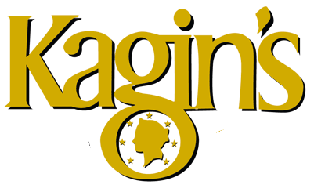 Kagin's specializes in early and rare US copper, gold, and silver coins, including pioneer type and federal currency.
---