Palladium:

$2,022.00
$1.56
Bitcoin:

$28,787.13
$21.09
Ethereum:

$1,743.49
$2.77
London auctioneers Morton & Eden sell the finest known surviving example of a 1652 New England shilling - one of the very first coins to have been struck in what is now the United States - for an outstanding US$351,912 (£264,000)
This extremely rare iconic coin recently came to light when it was discovered in an old candy tin in the United Kingdom
An extremely rare mid 17th century New England shilling, was sold by specialist auctioneers Morton and Eden in London on Friday November 26, 2021 for an outstanding US$351,912 (£264,000).
The coin, one of the very first coins to have been struck in North America in 1652, recently came to light when it was discovered in an old candy tin in the United Kingdom.
Auctioneer and coin specialist James Morton, who originally identified the coin said: "I am not surprised at the amount of interest this exceptional coin attracted. The price paid, which was above its saleroom estimate, reflects its extraordinary historic significance and outstanding original state of preservation. The fact that it was previously completely unknown, together with its distinguished provenance, simply added to its appeal."
The coin was purchased by Kent Ponterio and Patrick Richey of the firm World Numismatics LLC in Carefree Arizona. When asked about the coin Kent Ponterio stated: "There are very few American type coins that we have not owned, this being one of them. The coin is such an important piece of American numismatic heritage we feel it belongs back in the United States.
"This is the first coin struck in the United States and is the finest known surviving example of the type.
"We are really excited to be the new owners of such a rare and historically important coin".
The simple silver coin is of rudimentary and rustic design and bears the initials NE for New England, together with the Roman numerals XII (indicating 12 pence which equals one shilling) . The New England shilling is one of about 40 examples which are known to survive and has been certified as genuine and graded by NGC (Numismatic Guaranty Corporation). NGC accorded the coin 'mint state' status, classing it as 'MS61'.
It is the only example of the issue to have been graded as mint state by either NGC or PCGS (Professional Coin Grading Service) and is therefore the finest recorded specimen of its type.
The newly discovered early American coin had been consigned to Morton & Eden for sale by the art advisor, the Hon. Wentworth "Wenty" Beaumont, whose family seat is Bywell Hall in the north of the United Kingdom. One of Wenty Beaumont's ancestors, William Wentworth (1616-97) is thought to have arrived in New England as early as 1636 and several members of the family were later to occupy prominent positions in Colonial America, including John Wentworth and his son (also John), both of whom represented New Hampshire in the Continental Congress of 1774-1781.
Wenty Beaumont recounts: "My father recently found the tin in his study. If he knew it was there he had long since forgotten about it. I'd never seen it before and when I opened it I thought it was just a rather bizarre collection of random old coinage. However as I don't know anything about coins I felt it was worth checking out so I took it to show James Morton at Morton & Eden. I'm very pleased I did and needless to say I was completely amazed when James Morton pointed out how important the rare shilling was in the context of North American history. I can only assume that the shilling was brought back from America years ago by one of my forebears."
Also found in the same vintage candy tin were a Massachusetts 'Pine Tree' shilling, the more sophisticated successor to the original New England issue, which sold for $8,798 (£6,600), two examples of 'Continental Currency' pewter dollars dated 1776, the date of the Declaration of Independence which both sold respectively for $76,608- (MS63 - £57,600) and $79,980 (MS62 - £60,000) and a 'Libertas Americana' bronze medal (MS62), which sold for $17,596 (£13,200).
NB. Prices quoted include 20% buyers premium.
---
A Brief history of early North American coinage:
Before 1652 coins in all metals from England, the Netherlands, Spanish Empire (and just about anywhere else) were traded in the New England settlements, alongside traditional barter exchange with friendly Native Americans. The ubiquitous wampum, made from shells, also served as convenient small change. By 1651, however, the inconsistency and general shortage of coinage had become an acute local problem which met with indifference from an England still suffering from the effects of Civil War. In consequence the Bay Colonists made their own decision to address the crisis and in May 1652 the Massachusetts General Court duly appointed a silversmith named John Hull (with his assistant, Robert Sanderson) as mintmaster in Boston, charged with responsibility for producing North America's first silver coinage.
Hull's initial, undated coins were struck during 1652 using silver bullion obtained mainly from the West Indies but the issue was not a success, accounting for the great rarity of survivors today. The ease with which the new New England coins could be clipped or counterfeited meant that they had to be replaced rapidly by more sophisticated pieces featuring Willow, Oak and, finally, Pine tree designs. Nearly all of these silver coins bear the date of original authorization -1652 – even though shillings, sixpences, threepences (and a very few twopences) were in fact produced over a period of three decades.
Hull and Sanderson's 'treasonous' Boston mint was closed by Charles II's government in 1682, not before some at least of its coins had made their way to England's home shores. North America's continuing need for local coinage persisted and was partially addressed by various issues, mostly of copper tokens, over the next century. It was not to be until 1792 that the official United States Mint was founded in Philadelphia and began to produce standard national currency.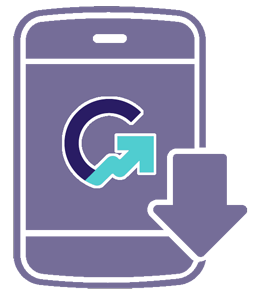 Download the Greysheet app for access to pricing, news, events and your subscriptions.
Subscribe Now.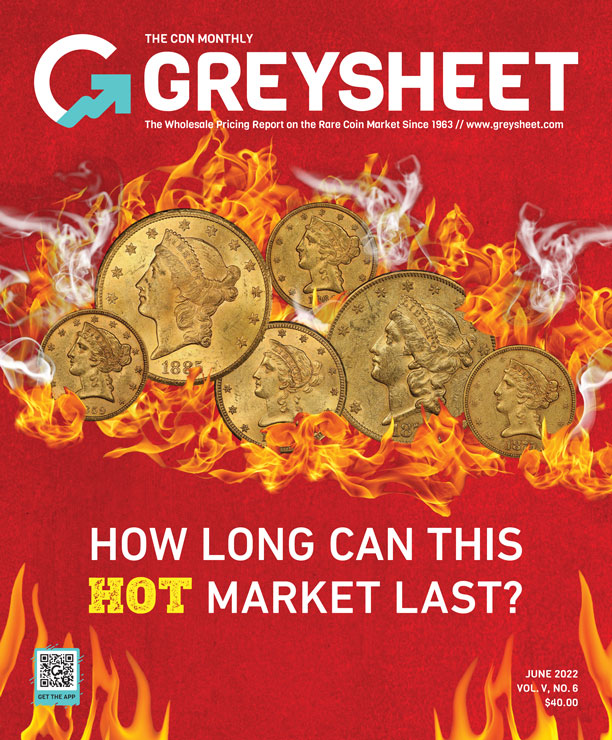 Subscribe to Monthly Greysheet for the industry's most respected pricing and to read more articles just like this.
Visit these great CDN Sponsors
---