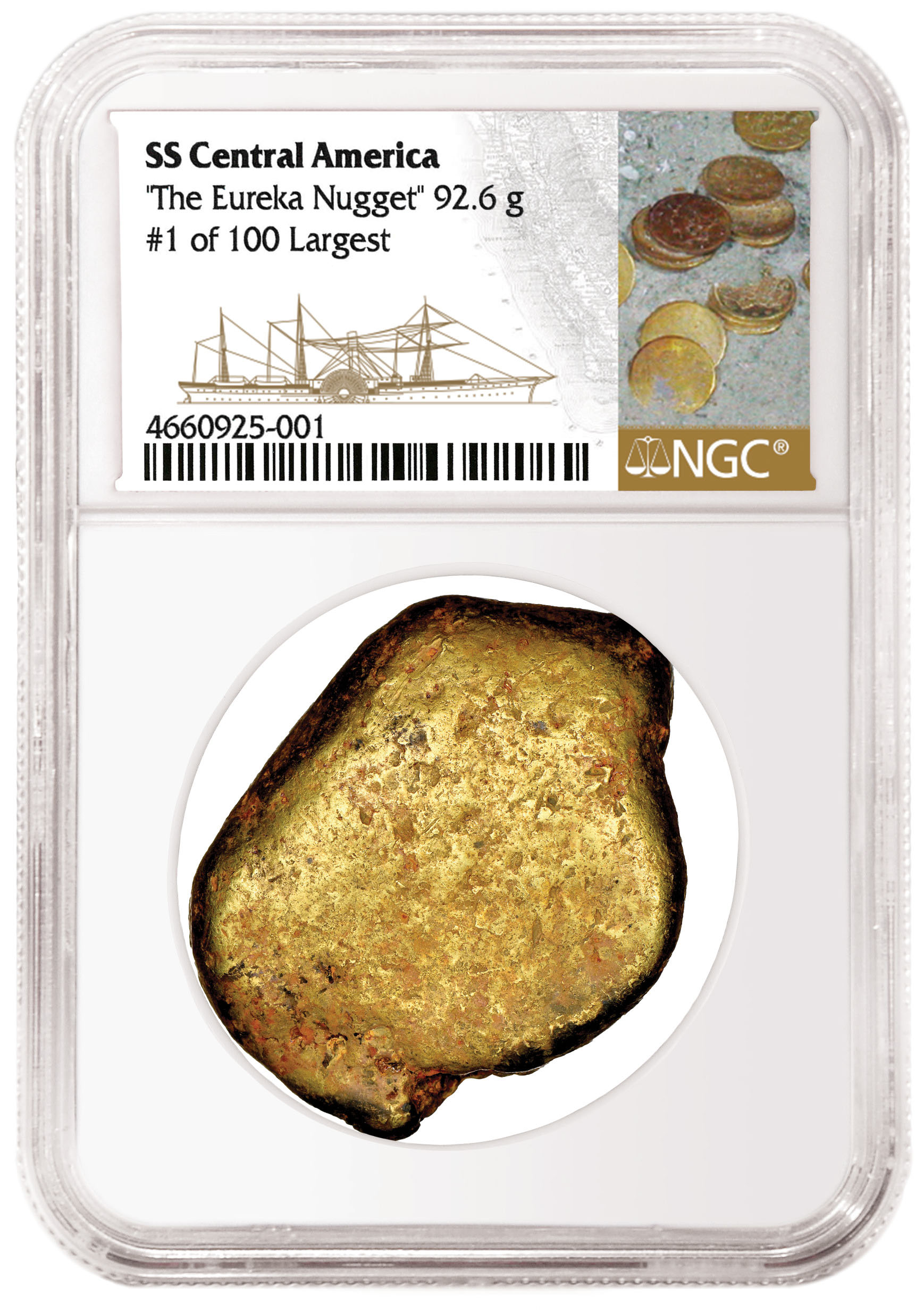 NGC Certifies SS Central America Gold Nuggets
Certified Collectibles Group · Aug 15, 2019

Press Release
SARASOTA, Fla. (August 13, 2019) — Numismatic Guaranty Corporation® (NGC®) has been selected to certify gold nuggets recovered from the shipwreck of the SS Central Amer
SARASOTA, Fla. (August 13, 2019) — Numismatic Guaranty Corporation® (NGC®) has been selected to certify gold nuggets recovered from the shipwreck of the SS Central America, one of the most famous treasures of all time.
Known as the "Ship of Gold," the SS Central America sank in a hurricane in September 1857 while carrying an astonishing 30,000 pounds of gold. The gold was being transported from California to New York by way of Panama during the early years of the California Gold Rush.
The SS Central America wreck was ultimately located in 1988 at a depth of more than 7,000 feet. A massive amount of gold coins and ingots were recovered, with an estimated value of more than $100 million.
In 2014, another expedition was made to the SS Central America shipwreck site to try to recover more treasure. Millions of dollars' worth of additional treasure was successfully recovered.
All of the SS Central America artifacts recovered by the 2014 expedition were carefully preserved and stored by Numismatic Conservation Services™ (NCS®), an affiliate of NGC, for several years while a court case was pending. NCS's services ensured that the artifacts remained in their original condition until they could be certified and offered for sale to collectors.
Among the most interesting artifacts recovered from the SS Central America in 2014 were several bags of gold nuggets, undoubtedly found by prospectors during the California Gold Rush. The largest of these gold nuggets weighs a whopping 92.6 grams, or more than three ounces.
California Gold Marketing Group, which has handled the sale of all SS Central America treasure, selected NCS to conserve and NGC to certify the gold nuggets. Some of the largest gold nuggets, now certified by NGC, will be on display at the NGC booth (#1400) at the ANA World's Fair of Money in Rosemont, IL, Aug. 14-16.
"NCS and NGC did a fantastic job preserving and certifying these impressive gold nuggets," says Dwight Manley, president of California Gold Marketing Group. "The SS Central America is the greatest treasure in American history and now collectors can own a gold nugget from this storied shipwreck and the California Gold Rush."
"It was incredibly exciting to see the SS Central America treasure as it was recovered," says Mark Salzberg, chairman of NGC and NCS. "We feel very privileged to have had the opportunity to help protect the SS Central America's legacy for future generations."
About Numismatic Guaranty Corporation® (NGC®):
NGC is the world's largest third-party coin authentication, grading and encapsulation service with more than 44 million coins certified. Founded in 1987, NGC backs each graded coin with the NGC Guarantee of grade and authenticity, which gives buyers greater confidence. This results in higher prices realized and greater liquidity for NGC-certified coins. Learn more at NGCcoin.com.
© 2019 Numismatic Guaranty Corporation of America. All rights reserved.
NGC, NCS, PMG, CGC, CCS, ASG, CAG and CCG are the registered trademarks or unregistered trademarks of Numismatic Guaranty Corporation of America, and/or its related companies in the United States and/or other countries. All other names and marks referenced in this release are the trade names, trademarks, or service marks of their respective owners.
Leave a comment
Please sign in or register to leave a comment.
Your identity will be restricted to first name/last initial, or a user ID you create.
Register
Certified Collectibles Group

The Certified Collectibles Group (CCG) is a set of independent third-party companies (NGC, NCS, PMG, CCG, CCS, ASG & CAG) focused on the expert authentication, grading and conservation of collectibles.
related news
directory listing
Spot Prices
Gold:
1947.96 0.00
Silver:
$26.67 0.00
Platinum:
$928.65 0.00