Bitcoin:

$20,201.01
$1,064.00
Ethereum:

$1,384.81
$57.41
The Mystique of the 1943 Bronze Cent Spans Time
In the 110-year history of the Lincoln cent series, few issues have captured more six- and seven-figure prices, let alone more attention from the general media, than the 1943 Lincoln bronze cent.
In the 110-year history of the Lincoln cent series, few issues have captured more six- and seven-figure prices, let alone more attention from the general media, than the 1943 Lincoln bronze cent. The origins behind this fantastic transitional off-metal error, a 1943 Lincoln cent intended to be struck on a zinc-coated steel planchet but instead manufactured with a bronze planchet used in striking 1942 Lincoln cents, are somewhat mysterious. What numismatists know is perhaps 20 or fewer bronze planchets from the 1942 run of Lincoln cents were struck as 1943 Lincoln cents, which were supposed to be struck on steel planchets to help save copper for World War II artillery purposes.

The public widely rejected 1943 steel cents on the basis that they were quick to rust and too easily confused with the dime – sometimes resulting in the loss of nine cents or more in a cash transaction. In 1944, the U.S. Mint returned to striking copper Lincoln cents by using bronze planchets upcycled from spent artillery shell casings. But by April 1947 there was another matter concerning war-era pennies that caught the attention of the public. Rumors were floating that the Ford Motor Company would award a new car to anyone who found and turned in an example of a 1943 cent struck on a copper planchet. The Detroit automobile manufacturer was deluged with letters from the public inquiring about a supposed promotion that in 1947 would have been worth potentially $1,100 for something like a new Ford Deluxe coupe.
A Fateful Discovery
The year 1947 was pivotal for the story of the 1943 bronze cent. It was in March of that year the seemingly impossible – the existence of a 1943 copper penny – was proven not only possible, but real. The first discovery of a Philadelphia 1943 bronze cent was made by 16-year-old Donald Lutes, Jr., a Pittsfield, Massachusetts, high schooler who found the error coin in change he received from his school's cafeteria. In fact, Lutes' discovery of the 1943 bronze cent – a story that was reported in newspapers – is thought by the myth busters at Snopes.com as the fuel behind the rumors about the nonexistent Ford Motor Company offer. Perhaps more important to the numismatic community than the prospect of swapping an error penny for a new car is rather what this discovery meant for the hobby.
And, what great timing, too. The post-war coin collecting boom was already well on its way to minting countless new coin collectors as the 1940s turned into the '50s. Coin boards, coin folders, and educational coin books were turning up at Woolworth's five-and-dimes and Walgreens pharmacy stores from coast to coast, and there were many other new coins grabbing the attention of novice and seasoned numismatists alike, including the scarce 1950-D Jefferson nickel and 1955 doubled die Lincoln cent, the latter becoming arguably the most popular die variety of any United States coin of all time. Meanwhile, the mystique of the 1943 bronze cent had captured the collective imagination of coin hobbyists. While the rumors about Henry Ford offering a new car for a 1943 bronze cent were baseless, coin dealers around the United States began offering incentives of their own… $3,000, $5,000, and even $10,000 for authentic examples of the '43 copper penny.
Inevitably, big money lured many people to "make" their own 1943 bronze cents, either by copper-plating ordinary 1943 steel cents or altering bronze pennies dated 1945, 1948, or 1949 specimens. These fakes are easy for most numismatists to spot. The fake copper-plated 1943 steel cents stick to a magnet and don't usually weigh anywhere near the 3.11 grams an authentic bronze cent checks in at. Altered dates, meanwhile, yield plenty of their own tell-tale signs — they just don't look right to the trained eye. Yet, every day coin dealers are deluged by inquiries from the public, mostly non-collectors, who have these counterfeit or altered 1943 pennies thinking they have the six-figure Real McCoy.
And while genuine 1943 bronze cents are exceedingly rare, in the decade following Lutes' fateful circulation find in March 1947 came at least two more discoveries of the 1943 bronze cent, including one reported by Cleveland, Ohio, physician Conrad Ottelin, who wrote a letter to The Numismatist in June 1947 saying his son found an example. Some 10 years on, in 1957, 14-year-old California collector Marvin Beyer found a Philadelphia 1943 bronze cent, and his father promptly offered it to noted dealer Abe Kosoff, who listed the coin in the 1958 American Numismatic Association Convention auction but withdrew it before sale after the teenager reportedly turned down an offer of $20,000. That specimen soon traded hands in a private transaction that was said to total $40,000 – a staggering figure for the time. The story behind Beyer's specimen made waves in the hobby.
All of the media attention on the Beyer piece prompted Lutes to revisit his coin. He had managed to save it, despite his disappointment in learning the coin wouldn't fetch him a new Ford and managed but a form letter from the US Mint stating, "In regard to your recent inquiry, please be informed that copper pennies were not struck in 1943. All pennies struck in 1943 were zinc coated steel." In October 1958, months after the Beyer specimen was reportedly sold, Lutes attended the New England Numismatic Association convention in Worcester, Massachusetts. It was there that Lutes met up with coin expert Walter Breen, who deemed the man's coin genuine and suggested the $40,000 figure on the Beyer example was wildly exaggerated.
The 1943 Bronze Cent Racks Up Earnings
According to population reports, the total number of 1943 bronze cents from all three domestic United States Mint facilities operating during the time number approximately 20. There are 10 to 12 known specimens from the Philadelphia Mint, six from the San Francisco Mint, and single-known example from the Denver Mint. As with all coins, prices for the various 1943 bronze cents have varied over the years, depending on the specimen sold and the origin mint. According to the numismatic journalist Ed Reiter, an example of the 1943 bronze cent graded Extremely Fine traded hands in a well-publicized sale during the American Numismatic Association Convention in New Orleans in July 1981, taking some $10,000. Reiter reported that price "was said to be an all-time auction record, up to that point, for this or any other coin normally described as a mint error." Over the years, both the allure surrounding 1943 bronze cents, not to mention the amount of their prices, has only grown.
For example, an XF40 Philly example with stains and corrosion on the obverse and reverse notched $32,200 in an August 1999 sale, while an example graded MS61 Red-Brown by Numismatic Guaranty Corporation (NGC) snagged $112,500 just a few months later in December 1999. Meanwhile, Beyer's specimen, eventually graded MS61 Brown by Professional Coin Grading Service (PCGS), took $97,750 in a February 2003 transaction.
The 1943-S bronze cent, numbering roughly half the total of all known Philadelphia specimens, was reportedly first found by 14-year-old Long Beach, California, collector Kenneth Wing in 1944. While the discovery of the 1943-S bronze cent did not manage to gain the type of press attention granted to the better-known 1943 bronze cents from Philadelphia, the 1943-S copper penny is nonetheless a numismatic rarity. Wing's specimen, later graded PCGS XF45, sold for $72,500 in July 2008 and was flipped a month later for a respectable $173,000. Meanwhile, an uncirculated specimen eventually earning a PCGS MS62BN label landed in the Bob R. Simpson Collection, from which it was sold in 2013 by Legend Numismatics for a reported $1 million. And, in February 2016 an AU58 specimen graded by PCGS and endorsed by Certified Acceptance Corporation (CAC) realized a whopping $282,000.
Meanwhile, the only 1943-D bronze cent is a coin that mystifies many. Not only is it a unique specimen in being the only example known from the Denver Mint, but it is also the most well-struck specimen of all 1943 bronze cents. It was also owned by a former Denver Mint employee, and many believe he may have also been the individual responsible for its striking. The coin was passed on down to one of the children of this mint employee, who numismatic expert Dr. Sol Taylor named as "probably" John R. Sinnock, who served as chief engraver of the United States Mint from 1925 to 1947 and is credited with such well-known coins as the Roosevelt dime and Franklin half dollar. Graded MS64BN by PCGS, the 1943-D bronze cent hammered at $212,750 at a 2003 auction and in 2010 smashed all small cent price records when it traded hands in a transaction by Legend Numismatics for $1.7 million.
As many collectors know, a similar but opposite transitional off-metal error occurred in 1944, when Lincoln cents that were supposed to be struck on bronze planchets wound up on zinc-coated steel blanks. One noteworthy caveat is that in 1944, the United States Mint was under contract to strike Belgian 2 Francs coins on the same planchet used for 1943 steel cents. Whether these 1944 steel cents were made on leftover planchets from the 1943 steel cents or a foreign planchet, or a combination of both, is unknown. However, numismatic experts know this is a very rare error with perhaps a total of 25 to 30 examples of 1944 steel cents made across the three operating mints. The finest Philly specimen known, certified MS64 by PCGS and given a seal of approval from CAC, hailed from the Simpson Collection and crossed the block for $158,625 in July 2013. Additionally, an NGC-graded MS63 example went for $115,000 in August 2007, and a PCGS MS66 1944-S steel cent snagged $373,750 in July 2008. 
Don Lutes Discovery Cent Earns Its Place In History
While more 1943 bronze cents turned up in the years following the initial finds in the 1940s and '50s, the Philly specimen initially reported by Lutes eventually earned its place as a discovery coin. Breen arranged to have Lutes' specimen on display at the Central States Numismatic Association Convention and the noted numismatist even discussed Lutes' specimen in 1959 on an ABC radio program called Big Joe's Happiness Exchange.
The Lutes 1943 bronze cent has also gained recognition by appearing articles published in major numismatic periodicals, and it has been documented as the discovery specimen in Complete Guide to Lincoln Cents by David Lange and Authoritative Reference on Lincoln Cents by John Wexler and Kevin Flynn. Perhaps the pinnacle of Lutes' collecting journey came only in recent times, when his 1943 bronze cent was encapsulated by Numismatic Guaranty Corporation bearing a label with a grade of AU53 Brown and the phrase, "Don Lutes, Jr. Discovery Specimen."
The coin that brought Lutes much joy and numismatic recognition throughout his collecting career also became the center of a very difficult decision as he faced declining health. As comes the question for so many collectors in their older years, Lutes had to determine what to do with his collection, including his famous 1943 bronze cent. He decided to sell the coin, listing it with Heritage Auctions not long before passing away on September 3, 2018.
His obituary in The Berkshire Eagle, a newspaper published in Lutes' hometown of Pittsfield, notes the man's service in the United States Army during the era of the Korean War, his love of genealogical research, and his passion for numismatics. Noted as an early member of the Berkshire Coin Club, for which he served in various leadership roles over more than 60 years, Lutes is said to have lived long enough to see his 1943 bronze cent validated as both genuine and documented as the discovery coin. Notes the obituary, with NGC encapsulating the coin "as the 'Don Lutes Discovery Coin,' this will ensure that Don's name will live on forever in numismatic history." 
The Lutes Legacy Continues
When the Lutes specimen of the 1943 bronze cent crossed the block at the Florida United Numismatists Convention in Orlando on January 10, 2019, it took a whopping $204,000 (including the 20% buyer's premium), beating the Heritage Auctions presale estimate of $170,000 to $200,000. And, the man who bought the discovery 1943 bronze cent is none other than Tom Caldwell, who founded Northeast Numismatics more than 50 years ago and operates the sizable Massachusetts coin business in Concord, only about 130 miles east of Pittsfield, where Lutes originally found the coin in his school's lunch line back in 1947.
"At the ANA [convention] this past summer we sold an XF 1943 bronze cent to a good customer who had viewed ours before and now was in a position to make the purchase," explains Caldwell. "About this same time, I heard about the long-rumored Don Lutes discovery specimen that was to be sold. I had never dreamed of the possibly of owning his rarity, and now there was the possibility of having the chance to own a second specimen. I immediately thought how cool it would be to get to own another – most importantly this particular specimen, to bring it back home to Massachusetts." The owner of Northeast Numismatics admits he had no idea he would have been in the running to buy the specimen, but "was very pleased and surprised that it sold for a very reasonable sum." He adds, "I feel that the fact that this is the first one ever discovered adds tremendous intrigue and value to the specimen."
Caldwell says there are so many stories surrounding the coin, which he says is a piece that has fame well beyond the numismatic circle. "It has been said that this coin largely helped fuel the coin collecting hobby in the 1950s and 1960s and literally had millions of folks of all ages looking through their change. Millions of coin collectors joined the hobby during this time period," he says. "Advertisements on matchbook covers, comic books, and magazines offering $10,000 to anyone that could present one had everyone looking. It was even (falsely) reported that Henry Ford would present you with a new car if could come up with this rare cent."
The New England dealer notes intrigue – and more false stories – were wrapped into this coin upon its sale in January 2019, when hundreds of news reporting agencies erroneously reported that its $204,000 hammer price was well below the 1943-D bronze cent's 2010 price of $1.7 million, a figure that a news reported writing on the story early on had mistakenly reported was the pre-auction estimate for the Lutes 1943 bronze cent struck in Philly. "I believe this was a first where the auction company felt the need to have the news agency admit their mistake," he says. Heritage Auctions issued a press release in the days immediately following the sale to set the record straight and requested the general media to do the same. Adds Caldwell, "this [news reporting blunder] is just a couple of the falsehoods and fantastic lore that surround this piece, along with many other stories circulating out there."
Yet, it's the fact this 1943 bronze cent attracted the attention of general news agencies in the first place, including national newspapers and TV news broadcast networks, that Caldwell says makes the case for why this coin captivates the imaginations of so many people. "Interestingly a 1793 AMERI Chain cent sold for $1.5 million about 20 minutes before [the Lutes 1943 bronze cent] sold. That's a handsome amount for a wonderful grade-and-date rarity which was well covered in post auction coverage," he notes. "However, this 1943 cent has gotten more coverage since it a coin that is more relatable. The average collector, or man or woman on the street, can get in tune with this piece since they're thinking, 'hey maybe I will be the lucky one to find one someday.'"
For Caldwell, the notion of finding an old or valuable coin in circulation as Lutes did in that Pittsfield high school cafeteria has always intrigued him. In fact, Caldwell draws a parallel of sorts between himself and his fellow Bay Stater who found that 1943 copper penny. "In the early 1960s, my mother gave me an 1867 Shield nickel as part of my lunch money when I was in junior high, and a friend mentioned I might want to check it out as it may have been worth something," he recalls. "What happened to my nickel, I have no idea, but it did spark an interest in coins which has continued uninterrupted and is an occupation which continued to this day 55 years later. Luckily and amazingly, the 1943 cent of Lutes was saved 70-plus years and the library in Pittsfield where the proceeds [from the sale] will go as directed by Lutes will be the beneficiary."
It's that legacy, along with the fact that this very specimen became a posterchild for all 1943 bronze cents, that sparks Caldwell's love for the Lutes coin. "It's just a mere penny, and so many feel there is always that one-in-a-million chance they will be the lucky one to find a specimen themselves. Fact is, that after more than 75 years only around 20 or fewer exist. So, the rarity has been well established in this three quarters of a century time period," he says. "This will always be one of the great American numismatic rarities. The value is solid and should only increase in future years. Demand will always be there."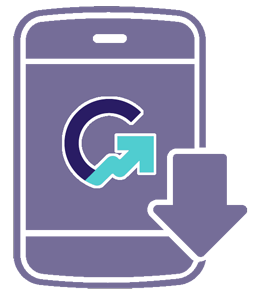 Download the Greysheet app for access to pricing, news, events and your subscriptions.
Subscribe Now.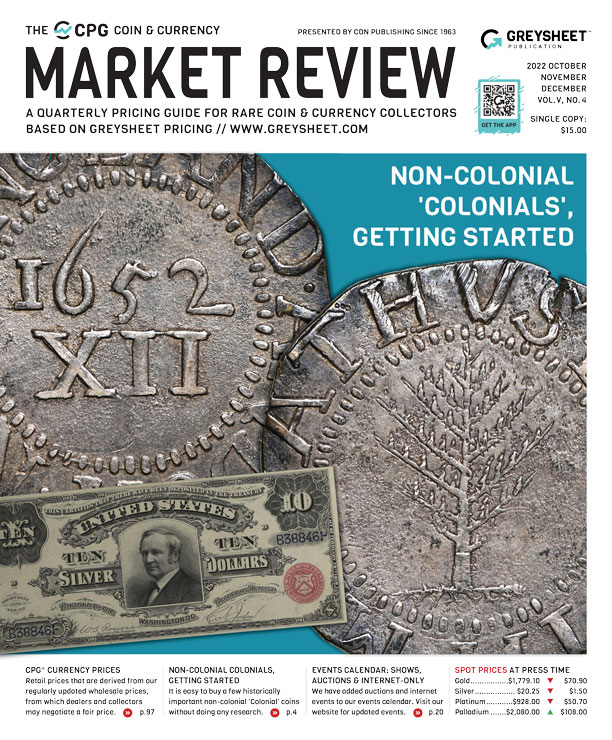 Subscribe to CPG© Coin & Currency Market Review for the industry's most respected pricing and to read more articles just like this.
Visit these great CDN Sponsors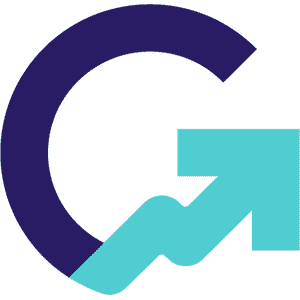 The trusted name in numismatic pricing since 1963, CDN Publishing is home to important industry reference and price guides, including the Greysheet, Greensheet, CPG Rare Coin Market Review, and the CAC Rare Coin Market Review, and the Banknote Book. Located in Virginia Beach, you can find out more at www.greysheet.com, or call 757-655-1056.
---