Palladium:

$2,080.00
$10.00
Bitcoin:

$22,747.65
$601.00
Ethereum:

$1,814.68
$53.03
American Numismatic Society Acquires Historic, Extensive Medallic Art Company Archives
There are perhaps few names greater in the world of exonumia than those of the Medallic Art Company (MACO) and the Northwest Territorial Mint (NWT). Both companies were founded in the 20th century and built their fame on medals, rounds, and tokens.
There are perhaps few names greater in the world of exonumia than those of the Medallic Art Company (MACO) and the Northwest Territorial Mint (NWT). Both companies were founded in the 20th century and built their fame on medals, rounds, and tokens. The Medallic Art Company, founded in New York City in 1907, built its reputation as "America's oldest and largest private mint," designing and striking an array of beautiful medals for various non-profit and for-profit organizations, including pieces commemorating and recognizing various events and people. Among its extensive portfolio were the Pulitzer Prize Medal, Randolph Caldecott Medal, official presidential inauguration medals, a sweeping variety of private-issue commemoratives, and the prestigious Huntington and Saltus Awards for the American Numismatic Society (ANS).

Meanwhile, Seattle-based Northwest Territorial Mint was established in 1984 as a private minting outfit and eventually became a leading bullion distributor, acquiring in 2009 MACO and its extensive archive of medal dies and other material going back to the early 20th century. Despite a successful run over many years, NWTM became embroiled in financial mismanagement problems, leading to long delays of bullion shipments to customers, non-delivery of many orders, and failure to repay creditors. The company filed for bankruptcy court protection in March 2016. Making matters worse for the company? Its owner, Ross Hansen, became entangled in a legal battle with landlord Bradley S. Cohen, after accusing the high-profile Los Angeles real estate investor of involvement with a Ponzi scheme à la convicted fraudster Bernie Madoff. The subsequent libel suit resulted in a $38 million judgement against Hansen who, in a twist of irony, was also accused of a running a Ponzi scheme and was arrested by the FBI in 2018. All told, losses to the company's customers and creditors are estimated to top $50 million.
The bankruptcy proceedings left MACO's collection of dies and galvanos spanning more than 100 years and representing countless luminaries, events, occasions, and other subjects iconic to the 20th century, in a precarious position. Assets of unquestionable value, these relics could have been lost to time if dispersed to various buyers or, possibly worse yet, moved overseas. Most concerning was the potential that some dies would be used to create dubious reissues of famous medals and awards, causing a nightmare scenario for the integrity of the exonumia community and those who authenticate and collect vintage medals and awards. With the aim of rescuing the magnificent MACO collection, the ANS spent many months negotiating a deal with the courts and MACO/NWTM representatives to purchase the collection of dies, galvanos, plaques, documents, and digital archives. At the end of the day, ANS officials announced in September 2018 that they acquired the collection in bankruptcy proceedings for $420,000 – a large sum in dollars and cents, but a drop in the bucket considering the incalculable cultural significance of MACO's archival holdings.
Physically moving the collection, consisting of some 50,000 items, many made of steel, copper, and other metals, proved a logistics challenge for the ANS. Working with Medalcraft, Inc., CEO Jerry Moran, who purchased ore recent dies from the collection dating back to 1998, ANS shipped 20,000 dies and other items to the Medalcraft headquarters in Wisconsin, with the future of these dies being determined as this magazine goes to print. Meanwhile, the fate of some 15,000 galvanos and die shells – mostly made from copper, epoxy, plaster, and other materials – is being decided, though many will certainly head for the permanent collection of the ANS; for now, these items have been packed by former NWTM employee Rob Vugteveen and a dozen students and now safely reside in offsite storage. ANS Executive Director Ute Wartenburg traveled to Nevada where much of the collection was stored to help Vugteveen and his team pack material.
"Without the help of Rob Vugteveen, the ANS would have not been able to achieve this Herculean task," said Wartenburg. "The ANS also owes an enormous gratitude to Fred Holabird, whose local connections made all this possible and who was instrumental in finding an affordable warehouse near Dayton where the material could be stored." The ANS Board of Trustees have created a committee of trustees, staff, and expert members who will collectively decide how best to handle the thousands of items acquired from the MACO collection. It's a monumental task unlike the ANS or any other numismatic organization has ever performed.
"The American Numismatic Society has never previously engaged in such an ambitious project, nor has any other museum or society undertaken a similar project of these proportions. The only comparable project was the acquisition of the American Bank Note Company, which was disbursed without any proper recording," she said. Acquiring such an expansive collection without knowing exactly what it contains leads to inevitable surprises. "Among them is the list of famous artists involved with MACO at one time or another, which just keeps growing," she noted. "Perhaps my own personal favorite right now is a piece by Roy Lichtenstein, the pop artist. It is named 'Salute to Airmail' and was produced in 1968 on behalf of the International Collectors Society, New York. With our reliance on email now, there is something evocative about this piece, which, after all, is part of our just recent past, commemorating the 50th anniversaries of International Airmail service and the United States Airmail service."
Another surprise? Contents of the collection's photographic digital archives, which record the recipients of various medals. "Here we have real contrasts," commented Wartenburg. "On the one hand, we have such famous people such as Captain Rostron of the Carpathia receiving the Congressional Medal of Honor for rescuing survivors from the Titanic. On the other hand, we have an award for Karl Maier, a student born in Germany and since the death of his parents cared for by an uncle in San Francisco; he is shown with the American Legion medal he won for 'service, courage, leadership, scholarship and honor.' That award, incidentally, is still given to students of all ages."
While innumerable MACO works were for academic institutions, non-profit organizations, and the recognition of philanthropic causes, many commissions were for wealthy individuals and major businesses that were – and in many cases remain – prominent on the American landscape, including Dow Chemical, Pepsi-Cola, and the "Big Three" auto manufacturers (Ford, Chevrolet, and Chrysler). Preserving an archival collection of such sociocultural importance required a true collaboration of individuals from both ANS and the MACO family. "I have never encountered a more dedicated group of employees than those that I met at the Medallic Art Company," Wartenburg said. "Even when it came to the final days, they cared deeply about preserving the important material and helped us enormously. Without them, we would not have been able to do all this," she continued. "ANS is also extremely grateful to Jerry Moran, CEO of Medalcraft. Without him, we would not have been able to move the 15,000 dies, which range in weight from tiny ones of a pound or two to massive 50-pounders. Collectively they weigh roughly somewhere between 75,000 to 225,000 pounds, or 38 to 113 tons."
What lay ahead for the collection and its eventual exhibition or distribution has yet to be finalized. Yet perhaps more intriguing still for the numismatic community are the unfolding discoveries of treasures long hidden and long forgotten in the seemingly endless trove of archives. "Rescuing the Medallic Art Company enables the ANS to create a detailed record of all these objects and write a history, or many histories, of 20th century America that will likely benefit numismatic scholars immeasurably. But the true significance of these archives will only become known over time." •••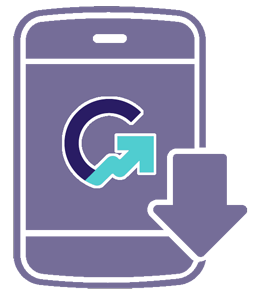 Download the Greysheet app for access to pricing, news, events and your subscriptions.
Subscribe Now.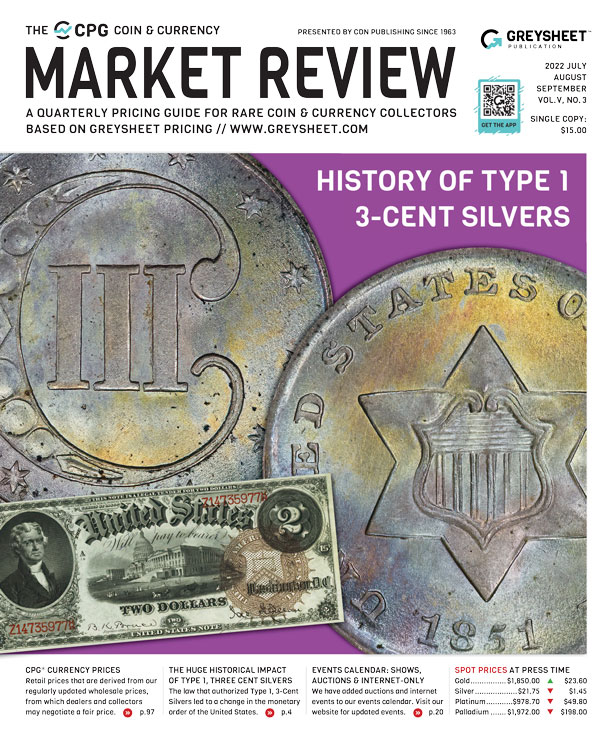 Subscribe to CPG© Coin & Currency Market Review for the industry's most respected pricing and to read more articles just like this.
Visit these great CDN Sponsors
---