December 3, 2020
Industry
News
Vital rare coin & paper money industry updates
Platinum:
$1026.45
$14.54
Palladium:
$2388.00
$1.07
Platinum:
$1026.45
$14.54
Palladium:
$2388.00
$1.07
SEARCH BY CATEGORY
OR PUBLICATION
MONTHLY SUPPLEMENT: RHETT JEPPSON: REVITALIZING THE U.S. MINT
CDN Publishing · Jun 1, 2017

BY MICHAEL "MILES" STANDISH, GUEST CONTRIBUTOR In Rhett Jeppson, we had a rare individual leading the United States Mint. Although he knew his tenure at the Mint would
Monthly Greysheet

for the industry's most respected pricing and to read more articles just like this.

Subscribe to
BY MICHAEL "MILES" STANDISH, GUEST CONTRIBUTOR
In Rhett Jeppson, we had a rare individual leading the United States Mint. Although he knew his tenure at the Mint would likely be brief, that didn't affect his dedication or commitment to his work. Instead, he embraced the challenge wholeheartedly. In 2015 and 2016, the Mint experienced an intense period of increased productivity and collector engagement. Jeppson showed the Mint could be bold and fearless, and he confirmed that it would play a vital role in the hobby's future.
Since 2011, the U.S. Mint has not had a Director, by far the longest gap in its history. Normally, a new Director is nominated by the President; then the Senate votes to approve the nominee. Given the highly partisan climate of the time, it was unclear if a new Director could get confirmed. Sensing the need for new leadership, in January 2015, the Treasury Department acted on its own.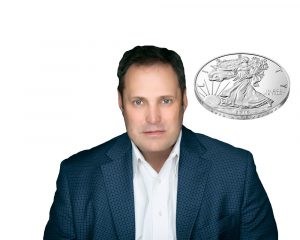 They found a leader in M. Rhett Jeppson. He had served in the Marines for 28 years, including a stint as Deputy Director of Operations for U.S. Forces—Afghanistan from 2009 to 2010. As his military career was ending, he joined the Small Business Administration, rising to the acting chief operating officer in 2014. In 2015, Treasury Sectary Lew named Jeppson to the highest position at the Mint he could. He was to become the first ever Principal Deputy Director of the United States Mint—a position and title designed to impart the full authority of the directorship when no one held that position.
Jeppson hit the ground running, and one measure of his success is seen in the raw numbers. During his two years in office, the Mint returned profit of over $550 million annually to the Treasury General Fund. In the two years prior, the Mint returned an average of under $350 million. This was achieved in part because Jeppson was able to cut unit costs for circulating coinage by roughly 10%. At the same time, the Mint had a perfect delivery record, shipping 16 billion circulating coins 100% on time. Also in 2015, demand for bullion coins surged as metal prices slid. A record amount of silver bullion was sold: 47,870,000 ounces.
The following year, another challenge was admirably met. In 2016, the Mint celebrated the 30th anniversary of the Silver Eagle. By an act of Congress, the Silver Eagle's edge was changed from the standard reeded edge to a lettered edge that noted this milestone. The change occurred on all numismatic/non-bullion examples of this coin. It was the first ever meaningful design change in the series and a technically complex one. The proof and uncirculated (burnished) versions of the coin were released publicly without hiccup or delay.
Jeppson also worked to restore continuity to certain coin and medal programs, a fundament of their collectability. For example, in 2016, Presidential medals for Barack Obama were designed, struck and issued assuring an unbroken chain in this medal series
from Washington to the present. He also returned the bullion Platinum Eagle to production. The collector version of that coin is among the most coveted of all platinum coinage series, but the Mint was having trouble securing planchets for its bullion coinage. During Jeppson's tenure, the Mint overcame this limitation and produced the most one-ounce Platinum Eagles (proof and bullion combined) since 2000.
Several notable new coinage and medal programs were released while Jeppson was Principal Deputy Director. The first was the release of the 2015-W American Liberty High Relief Gold $100, the highest denomination gold coin ever issued by the United States. The 2016 American Liberty silver medals, based on this design, were so successful that they envisaged entirely new one-ounce silver medal programs.
During his tenure, the Mint released the 2016 Centennial Coinage. These gold versions of the Mercury Dime, Standing Liberty Quarter and Walking Liberty Half Dollar are widely lauded for the quality of execution. If there was a shortcoming of this program, it was that household order limits and product limits did not properly align with demand for each issue. Jeppson took action here too.
On October 13, 2016, Jeppson held a numismatic forum in Philadelphia. Along with Mint Officials, 50 leading members of the numismatic community—including myself and Mark Salzberg, NGC chairman—met to discuss ways to revitalize and expand the hobby. Thematically, this was meant to dovetail with the 225th anniversary of the Mint, by looking at the past and better planning for the future. His biggest takeaway, he said in an interview, was "the need for us to have this ongoing dialogue and engagement with the numismatic community."
Before leaving the Mint, Jeppson laid the groundwork for the production and release of a high relief $100 one-ounce gold coin to celebrate the Mint's 225th anniversary. The coin's design is a substantial departure. While an allegorical figure of Liberty has appeared on US coinage since 1792, this coin shows her as an African-American woman, a true first for a U.S. coin. The groundbreaking nature of its design received considerable coverage in the mainstream media. Within the confines of numismatics, a tradition-rich environment, it continues to be the center of discussion.
Jeppson's own comments at the unveiling of this coin on January 12, 2017, reveal that he was looking carefully at its place in history: "Fast forward [thousands of] years from now, someone examining this coin will understand how much we cherish that valued principle of Liberty as Americans, and as they look at this fine workmanship…they'll understand what craftsmen our people are."
Rhett Jeppson again and again referred to his time at the Mint as a "privilege." During his first year, he was honored with a Presidential nomination to become the next Director, and he received Senate committee approval. As predicted, a vote on the floor of the Senate never occurred. The nomination was a double-edge sword: it formalized Jeppson's authority as Principal Deputy Director, but it meant that according to custom and even though he was a Republican, Jeppson's term would end in January 2017, when a new President took office. He left the Mint after two transformative years, guiding it through an energized flurry that put it on better footing for years to come.
Miles Standish is a life long numismatist and rare coin grader, and one of the leading architects of building the modern coin market for collectors who want to collect great U.S. Mint and World Coins. Winner of the U.S. Mint Directors Medal of Excellence.Miles can be reached at: Miles@ngccoin.com
Leave a comment
Please sign in or register to leave a comment.
Your identity will be restricted to first name/last initial, or a user ID you create.
Register