GREYSHEET & CPG® PRICE GUIDE
China Paper Money Values
Tracked Items
Please sign in or create a free account to use this feature.
Sign in
Spot Prices
Gold:
2032.67 0.00
Silver:
$28.21 0.00
Platinum:
$961.75 0.00
dealers only - join today!
CDNX is a dealer-only network where dealers can post bids, set market prices, and communicate in private. Join the community of 200+ members including Heritage, CAC, Witter Coin, Legend, David Lawrence.
Learn more
Smartphone App (Free Download)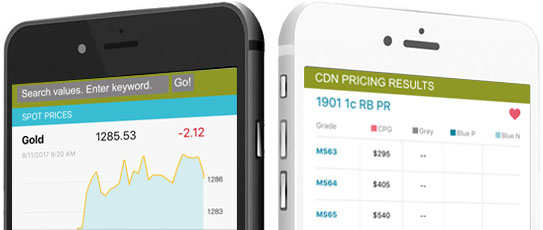 Learn more
Modern China Paper Money Values on CDN
The values listed here are intended to be retail, or collector prices. Prices realized at auction for the same notes may vary substantially due to a number of factors. Wholesale prices when offering notes to a dealer may be different. Notes with problems, such as stains, rust, pinholes, tears, missing pieces, those that have been pressed, flattened or otherwise cleaned or washed, will trade at a discount to this guide's values.
Note: access to CDN pricing information on this subject requires an active subscription to the Modern Chinese Paper Money guide.
Send Feedback
Legal Disclaimer
The prices listed in our database are intended to be used as an indication only. CDN Publishing, LLC does not buy or sell collectible coins or currency and users are strongly encouraged to seek multiple sources of pricing before making a final determination of value. CDN Publishing is not responsible for typographical or database-related errors. Your use of this site indicates full acceptance of these terms.
CDN Terms of Use